Transforming Early Childhood Systems for Future Generations: Obligations and Opportunities
Abstract
In a rapidly shifting twenty-first century context, early childhood education and care (ECEC) must consider contextual, scientific, and policy realities in order to realize its social obligations to young children. The current status of ECEC globally bears both good and bad news; many countries are paying attention to the importance of the early years, yet challenges remain related to quality, inequity, and sustainability. Given the surging importance of ECEC and the many challenges at hand, a new strategy is needed to suit the current context. Systems research represents one promising and exciting method for addressing a new set of global issues. This mode of inquiry takes the ECEC system as its unit of analysis, addressing far more than individual classroom pedagogy or even clusters of programs. Systems research advances the thinking that in order for an early childhood system to exist, in addition to quality programs, there must be a solid infrastructure that supports the programs. An emerging systems approach to ECEC considers sociocultural and temporal variables and transcends traditional domains.
Keywords
Future 
Transformation 
Systems 
Early childhood education and care 
Research 
Policy 
International 
Résumé
Dans le contexte d'un vingt-et-unième siècle en mutation rapide, l'éducation et la garde des jeunes enfants (EGJE) doivent tenir compte des réalités d'ordre contextuel, scientifique et politique afin de remplir leurs obligations sociales envers les jeunes enfants. L'état actuel de l'EGJE à l'échelon mondial comporte de bonnes et de mauvaises nouvelles : beaucoup de pays prêtent attention à l'importance des premières années mais des défis demeurent relativement à la qualité, l'inégalité et la durabilité. Étant donné l'importance croissante de l'EGJE et les nombreux défis à affronter, une nouvelle stratégie est nécessaire pour s'adapter au contexte actuel. La recherche sur les systèmes est une méthode prometteuse et passionnante pour faire face à une nouvelle série de problèmes mondiaux. Ce mode d'enquête prend le système d'EGJE comme son unité d'analyse et examine beaucoup plus que la pédagogie de classes individuelles ou même de regroupements de programmes. La recherche sur les systèmes soutient l'idée selon laquelle, pour qu'un système à la petite enfance existe, outre des programmes de qualité, il faut une infrastructure solide à même de soutenir ces programmes. Une approche systémique de l'EGJE émergente tient compte de variables socioculturelles et temporelles et transcende les domaines traditionnels.
Resumen
Dentro del contexto de un siglo XXI en pleno cambio, la educación y atención a la primera infancia (EAPI*) debe tener en cuenta realidades contextuales, científicas y políticas, para poder responder a sus obligaciones sociales frente a los niñas y niños pequeños. Globalmente, la situación actual de la EAPI genera, paralelamente, novedades positivas y negativas; en muchos países se está prestando atención a la importancia que tienen los primeros años, pero los desafíos siguen ligados a la calidad, desigualdad y sostentabilidad. Dada la importancia creciente de la EAPI, y los múltiples desafíos que se presenta, se necesita una estrategia nueva que esté a la medida del contexto actual. La investigación de sistemas representa un método alentador y fascinante para abordar una serie de temas nuevos en todo el mundo. Este modo de indagación toma al sistema de EAPI como su unidad de análisis, yendo mucho más allá que el abordaje de la pedagogía individual del aula, o hasta de grupos de programas. La investigación de sistemas propone que, además de programas de calidad, para que exista un sistema de primera infancia debe haber una infraestructura sólida que apoye a los mismos. Un enfoque de sistemas al EAPI que está surgiendo tiene en cuenta las variables socioculturales y temporales, sobrepasando los campos tradicionales.
Introduction
Two fundamental premises undergird this chapter: First, international early childhood education and care (ECEC) is at a pivotal point in its social history, having never before commanded so much attention of, and investment by, policymakers; second, in this contemporary era, fresh thinking and fresh action are needed to optimize advantages for all children. Only when the potency of the contemporary zeitgeist is acknowledged, will social obligations to young children be realized and the abundant opportunities before the field will be optimized. Stated simply, it is a new era and yesterday's strategies can no longer address tomorrow's needs. It is time for fresh thinking and fresh action!
The Rationales for Fresh Thinking
The future depends on what you do today.

MAHATMA GANDHI
And in today already walks tomorrow.

SAMUEL TAYLOR COLERIDGE
The future is upon us, and how we handle it depends on what we think and how we act today. It has long been understood that an alteration in thinking presupposes major shifts in action. Presently, shifts in scientific, political, and contextual thinking are fueling changes in ECEC, which sits at the vortex of all three. Such changes provide the rationale for why ECEC must think afresh and focus on the future.
Contextual Realities
Four major contextual realities shape the lives of children and families globally. Each is shifting rapidly and contours why we need to consider ECEC with fresh perspectives.
Social Realities
Patterns and places of daily living, along with the nature of relationships, are being altered with staggering speed. Changes in the nature of governmental interactions have altered the pace of cross-country mobility, resulting in ascending immigration rates. Many families are being separated and forced to adjust to new living conditions that sometimes necessitate the acceptance of new and diverse cultural patterns. Additionally, children are growing up with new configurations of 'family,' in which women work outside the home; there are same-sex partnerships; and blended families are far more common.
Economic Realities
Interconnected as never before, global economic conditions are volatile. In today's world economy, the idea abounds that 'when a leading global economy sneezes, it causes pneumonia in the rest of the world' (New Internationalist 2009; p. 1). There have also been changes in the way the world understands economic phenomena. Poverty is now conceptualized as not only an economic condition, but as a social problem that is influenced by noneconomic factors including home environment, parental interactions, and neighborhood conditions (Brooks-Gunn and Duncan 1997). Scholars and policymakers are also refining conceptions of poverty by distinguishing between chronic and episodic poverty (Najman et al. 2009). This changing zeitgeist has been accompanied by greater investments in the reductions of poverty globally (Binswanger and Landell-Mills 2016).
Technological Realities
Today's world is characterized by astonishing rates of technological changes, resulting in the need for constant adaptation. Today, technology modifies how we learn, interact, shop, and live. It expands new scientific horizons, influencing the nature of knowledge and goods produced. In short, technology guides contemporary life, and tomorrow's young children will need to be technologically agile in order to succeed.
Environmental Realities
Climate change and its associated effects on our planet can no longer be reasonably refuted (Collins et al. 2013). These changes are accompanied by well-documented increases in natural disasters, as well as the spread of environmental toxins and rapidly infectious diseases (Field 2012; Tshala-Katumbay et al. 2015). All of these variables alter the face of child and family life and command unprecedented economic and human resources.
Scientific Realities
The contextual realities discussed above are not the only shifts impacting ECEC; tremendous advances in science also alter our conceptions of ECEC and young children. Five domains of scientific inquiry are immediately germane to ECEC.
Policy Realities
These scientific findings have not remained in academia or the laboratory; rather, they have been disseminated, via effective communication strategies, into the worlds of policy and practice. The prevalence of research and the press to make 'data-driven' decisions have informed policymakers of the benefits of investing in ECEC. Countries are now turning their attention and investments toward young children, expecting that such efforts will yield positive outcomes for children, families, and countries overall.
Dissemination of Research for Policy
Scholarship, once the purview of the 'philosopher-kings' who developed it, and primarily reserved for academic journals, now proliferates throughout the print and broadcast media (Kagan 1993). Data are routinely collected with policy in mind, and entire fields of discourse are now solely devoted to policy research. Just as the use of data has expanded, so too have the types of data being used for policy work. Reports take different forms: some are benchmarking documents, in which data are compared across countries (Economist Intelligence Unit 2012); others are studies explicitly designed for their policy implications (Neuman and Devercelli 2013); and still others include more basic studies from which policy findings were developed (Hart and Risley 1995).
Universal Policy Documents
Throughout the history of ECEC, specific policy documents have called attention to services for young children and successfully influenced public action. The Millennium Development Goals (MDGs) demonstrated a commitment to ensuring each child receive a quality primary education, protection against disease, and defense from abuse and discrimination (UNICEF 2003). With the document, Education for All, an even more explicit focus on educating young children was evident (UNESCO 2000). Most recently, the United Nations' Sustainable Development Goals (SDGs) manifest the importance of addressing young children in numerous goals and indicators (UN General Assembly 2015). Goal 4.2 states that: 'By 2030, ensure that all girls and boys have access to quality early childhood development, care, and pre-primary education so that they are ready for primary education' (p. 21).
In short, it is clear that the contextual, scientific, and policy realities that shape young children's development are rapidly changing, demanding a fresh way to understand and improve the status of young children globally.
Understanding Today's Realities
Study the past and present if you want to define the future.

CONFUCIUS
We live our lives forward, but understand them backward.

KIERKEGAARD
Acknowledging the Gains: The Good News
There is a great deal of good news when considering the current status of ECEC. More countries are acknowledging the paramount importance of the early years. This attention is manifest in increasing governmental expenditures for, and access to, ECEC across the world. For example, Chile now spends close to 3% of its total government expenditure on pre-primary education, doubling what was spent in 2002 (UNESCO 2015b). In 2000, just 41% of children were enrolled in pre-primary education in Colombia. Today, this figure surpasses 85% (UNESCO 2015b). Investments like these are being made throughout the world, yielding increased access to ECEC services for thousands of young children.
Beyond increased investments and access, scores of new programmatic, workforce, and curricular initiatives are emerging. For example, innovations in curricula are manifest in Korea's Nuri Curriculum and New Zealand's Te Whãriki Curriculum, both of which represent attempts to provide children with holistic, play-based learning strategies (KICCE 2013; Te One 2003). Workforce quality is exemplary in Finland, where a minimum standard is set for ECEC staff and management, qualifications are aligned between pre-primary and primary teachers, and the workforce is intentionally diversified (Taguma et al. 2012).
Overall, ECEC is also receiving a huge infusion of public attention. Articles appear routinely in the media, with scores of national headlines reporting on increased investments, innovative funding strategies, and pioneering interventions. Such articles have appeared all over the world, in countries including Australia, South Africa, Kenya, and Nepal (Munro 2016; Gardiner and Gustafsson-Wright 2016; Mail and Guardian Africa 2016; Kathmandu Post 2016).
Acknowledging the Difficulties: The Challenges
The good news, however, is not foolproof; it is accompanied by many latent challenges that ECEC still faces on a global level, instigated by the rapid expansion of the field. For purposes of this discussion, these challenges can be separated into three categories: quality, equity, and sustainability.
The Challenge of Inadequate Quality
Although it is well known that poor quality care leads to poor outcomes for children (Penn 2010), countries around the world continue to struggle to meet basic quality goals. Negative conditions, such as a lack of materials and resources, hamper efforts to implement acceptable minimum standards for ECEC practice in many countries (Whitebread et al. 2014). ECEC is particularly meager in developing countries throughout Africa, Asia, the Middle East, and Latin America, where the world's poorest and most at risk children have the most to gain from high-quality services (Engle et al. 2011).
A critical concern is that the early childhood workforce tends to not be of very high-quality (Whitebread et al. 2014). Despite awareness that ECEC professionals can more effectively support child development with specialized preparation, staff training and qualifications are inconsistent both across and within countries (Mathers et al. 2014). An Education for All report found that in 40 of 75 countries surveyed, less than 75% of teachers are trained to their pre-primary national standard (UNESCO 2015a). Moreover, in-service training requirements for ECEC staff are weak and access to quality professional development is quite limited. In Cambodia, for example, only five days per year are allotted to in-service training for teachers, while seven days are dedicated to management, monitoring, and evaluation for pre-primary principals (Shaeffer 2015). Moreover, in many countries such as Peru, the low pay and poor status of ECEC teachers undermines the possibility of retaining high-quality staff (Karuppiah 2014). The skills, status, and pay for the ECEC workforce must be addressed in order to attain better outcomes for young children.
The Challenge of Inequity
Inequities in ECEC access can be assessed according to various characteristics, including geographic region, wealth, and urban versus rural residence. Statistics on gross enrollment in pre-primary education by region reveal great geographic disparities. In 2014, the enrollment rate in North America and Western Europe was 86%, compared with 76% in East Asia and the Pacific, 72% in Latin America and the Caribbean, 69% in Central and Eastern Europe, 34% in Central Asia, 26% in the Arab States, 21% in Sub-Saharan Africa, and 18% in South and West Asia (UNESCO 2015c). Disparities by wealth are manifest around the globe; children living in the poorest households are up to ten times less likely to attend programs than those living in the richest families (UNICEF 2016). In Nigeria, 70% of the richest children attend programs, compared to 7% of the poorest; in Serbia, 63% of the richest attend, compared with 7% of the poorest; and in Ghana, 81% of the richest children attend, as opposed to 22% of the poorest (UNICEF 2012). In many countries, living in a rural area also dramatically reduces a child's chances of attending an ECEC program (UNICEF 2016). In Togo, for example, 60% of services are located in two of the country's main cities (Neuman et al. 2015).
Merely increasing access will not relieve these disparities. Research demonstrates that inequity between groups often increases even as higher proportions of children attend early learning programs, as a result of trade-offs between increased access, uneven attendance, and decreased quality (UNESCO 2015c). This disparity is fairly common in rural communities where providing programs does not necessitate a family's ability to attend. Additionally, expanded access often results in diluted quality if resources are limited to begin with (OECD 2012). In short, increased provision of services alone is not enough, and countries tend to fail their most disadvantaged children (Global Partnership in Education 2013).
The Challenge of Sustainability
The field of ECEC is riddled with inconsistencies in both governance and finance, which together create a challenge for sustainability. True in many countries around the world, there is a lack of both vertical coordination among levels of government, and horizontal coordination between sectors (Bruner et al. 2004; Jochim and May 2010). In terms of vertical coordination, responsibility for early childhood is often distributed across various levels (e.g., national, regional, and local). Bertram and Pascal (2016) found that among eight studied countries, all but one governs ECEC at both national and subnational levels, creating immense challenges for cohesive service delivery. Although ECEC requires the coordination of services to appropriately address the holistic development of children (Britto et al. 2013), typically no single sector governs early childhood. Instead, responsibilities for ECEC service provision are often dispersed across the ministries of education, health, and social protection, with little inter-sectoral coordination (Britto et al. 2013). Such a split in governance structures tends to muddle, or even duplicate, the roles and responsibilities of those involved, hampering the ability to develop a coherent and sustainable system.
Sustainability in ECEC is further hindered by the complicated nature of financing. Revenues from federal governments are often inconsistently provided, and long-term fiscal planning is almost nonexistent (Cooper and Costa 2012). Funding for ECEC is marked by a mix of public, private, and voluntary; this is the case even in countries where universal entitlement is secured (Bertram and Pascal 2016). Finally, financing schemes tend to focus on quantity instead of quality, which does not bode well for the longevity of programs and, as explained above, often occurs at the expense of equity. When service provision depends on private funding or market forces, the sustainability of ECEC services is further undermined.
Creating a New Think: Thinking Systems
The past can't see you, but the future is listening.

TERRI GUILLEMETS
Education is our passport to the future, for tomorrow belongs to the people who prepare for it today.

MALCOLM X
The Need for Systems Thinking
Given the surging importance of, and interest in, ECEC, there is an opportunity to redress some of the challenges presented immediately above. Yet, it is clear that simply repeating the strategies used in the past will not eradicate the challenges they have evoked. Moreover, contemporary strategies and policies need to transcend the traditional approach of proffering yet another programmatic strategy. Instead, they must be based on far richer conceptualizations of the process of social change and the systems that need to be in place to affect such changes. This work needs to accept the results from first generation research, which affirms the impact of high-quality early childhood services on children's lives, as well as from second generation research, which defines aspects of quality. We must now move to a third generation of scholarship that focuses on the systemic nature of such services, exploring how and why they do, or do not, function effectively.
To that end, systems thinking seeks to understand services and supports from a structural perspective, with the goal of maximizing their efficiency and effectiveness. Systems thinking can apply to disciplines, fields, groups, institutions, and policies and has been regarded as a thoughtful and productive approach to understanding and improving contemporary ECEC efforts.
Systems Thinking Defined
Systems thinking is gaining traction. Supported by a strong body of literature, much of it emerging after World War II, systemic theory seeks to understand and explain the relationship of individuals to their organizational environments. It rebukes the idea that the individual can be fully understood outside of the multiple contexts in which the individual is situated. Instead, it suggests that there is a prominent interaction between individuals and the institutions, communities, and societies that surround them.
A related body of work on theories of change is now closely associated with systems work. Predicated on ecological, developmental, new institutional, and complex adaptive theory, theories of change, like systems thinking, have many benefits that are well documented in the literature (Fulbright-Anderson et al. 1998; Kagan and Cohen 1996; Yin 1992). Theory of change work provides a 'systematic and cumulative study of the links between activities, outcomes, and the contexts of the initiative' (Connell and Kubisch 1998, p. 16). Often conflated, systems thinking and theories of change are widely applied in fields as diverse as organizational development, industrial and social development, and health. As such, they provide a framework for understanding some of the most perplexing issues that challenge contemporary society.
Systems Thinking in ECEC
Rationale for Systems Work in Early Childhood Now
Systems thinking has taken root in early childhood for a number of reasons. First, there is a strong precedent in the ECEC field to use data as a rationale for service enhancement. Second, as ECEC grows and new services burgeon, there is a need for greater coordination among more players. Third, although studying the existence of quality in early childhood settings is necessary, it is not sufficient to render improvements. To fully understand why quality does or does not exist, we must understand the interactions between cultural, economic, structural, and political variables, and how they influence quality. Systemic thinking enables such analyses and also offers the opportunity to better understand the cadre of new administrative organizational configurations (i.e., boundary-spanning mechanisms) that are being established to overcome decades of organizational fragmentation. This information cannot be discerned using a pedagogical lens alone.
Seminal Thinking Regarding Systems Work in Early Childhood
Given the potency of systems thinking in other fields, select ECEC scholars have begun to adopt the systems lens. Although many of these scholars define and view systems a bit differently, all agree that the funding of direct services for children is not enough to produce the results that children need and society demands. Alternatively, they suggest that funding must address the infrastructure that supports the services, and all of these infrastructural supports must be linked with each other and the programs. Bruner et al. (2004) propose that an early childhood system must address health and nutrition, family support, early care and education services, and services for children with special needs. Neuman and Devercelli (2013) recommend the establishment of a supportive environment, the wide-scale implementation of services, and the monitoring and assurance of quality. Vargas-Barón (2013) asserts that a system must include the following: equity and rights; multi-sectorality, integration, and coordination; governance; legislation, standards, regulations, and agreements; quality improvement; accountability; and investment, policy advocacy, and social communications.
Related to much of this work, Kagan and Cohen (
1996
) advanced the thinking that, like flowers in an un-manicured garden, societies have planted scores of early childhood efforts. Like too many flowers that die from a lack of essential nutrients in the soil, ECEC programs—lacking nutrients—are also in jeopardy of dying, or not living up to their full potential. ECEC programs (the flowers) must have the necessary mechanisms (nutritious soil) to thrive. Seven infrastructural mechanisms are identified: (1) governance; (2) finance; (3) program quality, standards, and transition; (4) assessment, data, and accountability; (5) human capacity; (6) family and community engagement; and (7) linkages. These ECEC 'nutrients' are depicted below in Fig. 
1
, as gears that must be linked to function. The programs (flowers) and the infrastructure (gears) must all be present to have a system. Represented in a formula, this approach suggests that programs + infrastructure = an ECEC system. Another formula, 8–1 = 0, asserts that all seven gears, plus the programs, must be present in order to have a system. If even one item is missing, the system cannot produce high-quality programs.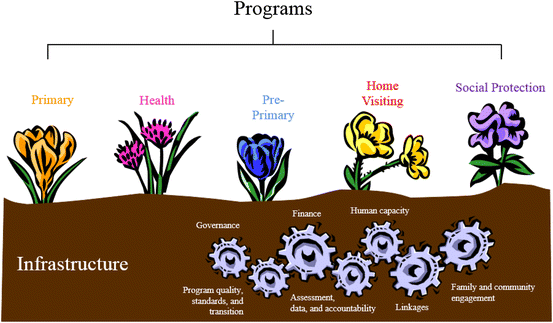 Broadened Conceptualizations of Systems Thinking in ECEC
Systems thinking has advanced in ECEC, with new understandings emerging regularly. One recent study postulated that in order to optimize ECEC systems work, four conditions must be met (Araujo et al. 2016). First, the theory must be expressed through a conceptual framework that is broad enough to encase diverse programs and services for young children and their families, that pays attention to contextual and architectural variables, and that can be applied within and across diverse institutional settings. Second, the framework must incorporate the theoretical work upon which it is built and hopes to advance. Third, it must demonstrate the nature of social change within the swirl of rapidly changing political and economic events that characterizes the field and the involved countries. Fourth, the theory needs to be respectful of several guiding assumptions related to ECEC, specifically: (1) quality is a non-negotiable factor that influences the social and economic utility of ECEC services; and (2) quality is contingent on a number of important, yet understudied, infrastructural elements.
In attempt to better understand ECEC systems and to honor these four conditions, Kagan et al. (
2016
) developed a nuanced theory of change. Figure 
2
, below, suggests that sociocultural [H] (values and beliefs) and temporal [G] (political, economic, and environmental) variables both frame and contour the context in which policies and programs exist. These are represented by rectangles that encase the systems theory of change being advanced. Working backwards, this theory of change suggests that improved child and family well-being [F] will only be achieved when systemic outcomes (equitably distributed, high-quality, and sustainable) [D] are combined with family outcomes (meaningfully involved and organizationally supported) [E]. In order for these conditions to exist, a well-conceptualized, effective ECEC system [C] must be in place. To render such a system operational, programs and services (together with boundary-spanning efforts) [A] must be supported by an infrastructure articulated around essential elements of infrastructure [B], which, in turn, must be clear, linked, and deemed worthy of support.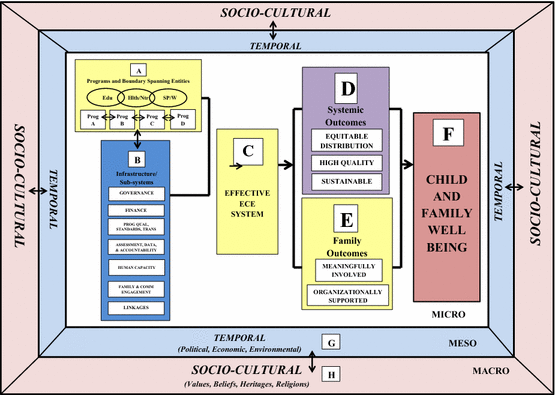 The theory of change suggests that programs and services (including boundary-spanning efforts), along with the infrastructure, together constitute the system, which, in turn, has the potential to produce positive systemic and family outcomes to improve the well-being of young children and their families. Systems theory helps articulate how things change and the variables that heavily influence these changes. Moreover, systems theory makes it possible to understand ECEC through a lens that is quite different from the traditional pedagogical or developmental lens. Finally, systems thinking provides a roadmap for untangling some of the very knotty problems that have both plagued, and gone under-addressed, in ECEC for decades.
Strategies for Forward Thinking
The future belongs to those who believe in the beauty of their dreams.

ELEANOR ROOSEVELT
The best way to predict your future is to create it.

ABRAHAM LINCOLN
The purpose of this article has been to suggest that early childhood policy is a legitimate domain of inquiry for those who wish to advance the conditions and services for young children. Second, it has sought to transcend traditional pedagogical domains of inquiry by suggesting that systems thinking has great import for the way the field is conceptualized and advanced. With this in mind, we will next consider how to further establish systems thinking as early childhood programs are designed and systems are developed.
Vision
The vision for ECEC expansion must be considered in light of the overall system, rather than only program expansion. Attention must be given to all of the seven gears discussed above, plus the programs, with a special focus on understanding and planning for their interactions. It is also necessary to think long term. So much planning for young children is done to accommodate the terms of elected officials, bowing to their needs for quick-fix interventions. As early childhood leaders, it is our responsibility to discern the potential short- and long-term consequences of policy efforts and actions. This may mean staving off evaluations of interventions until they have had time to establish themselves; it may mean serving fewer children at the outset, but serving them more effectively by establishing quality staff and facilities; and it may mean thinking about inventive approaches to financing. In short, the unit of policy analysis must extend beyond the classroom to affect elements of the infrastructure that will impact the quality, equity and sustainability of programs.
Strategic Thinking
As visions are developed, consideration must be given to the participants, or whoever is 'at the table' who are making decisions about young children. Clearly, broad-based representation from diverse sectors is needed as ECEC expands. Parents and providers are often missing from the discussion, and their engagement is fundamental to the crafting of new policies. ECEC leaders also need to carefully consider timing: when to take up different issues, when to consider leadership issues, and when to court policy leaders. Moreover, consideration must be given to resources (generation, utilization, distribution); governance (primary, secondary, and tertiary roles); regulations and monitoring (mechanisms for quality control and program improvement); and accountability (documenting successes and understanding challenges). Finally, it is helpful to draw 'systems maps' that indicate where the system is currently, and to where, given planning and resources, it may evolve.
Dissemination
As noted, a commitment to young children is flourishing throughout the world. In reality, however, the notion of the ECEC system remains remote to most individuals. One important strategy for forward thinking is to make communities aware of the developmental and systemic aspects of ECEC through the dissemination of information. Strategies for dissemination are highly context driven and change rapidly due to inordinately rapid technological advances, making it difficult to recommend specific approaches. Communications experts recommend that materials need to be easily understood, taking into consideration native languages and extant reading levels (Kendall-Taylor and Haydon 2014). Messages should also be delivered using multiple modalities so that the reach can be far and wide.
Conclusion
This article has set the stage for a new approach to advancing ECEC. It contends that simply addressing classroom pedagogy or individual programs, while necessary, is insufficient to render the major social change that will result not only in higher-quality programs and services, but in services that are equitably distributed and sustained over time. In so doing, the article makes a case for both thinking and acting systemically. To demonstrate how systems thinking can and does take hold in ECEC, it explicates the rationale for applying systems to the field, offers some examples of systems thinking, and recommends strategies for moving forward systemically. Taking a fresh perspective on how best to achieve the goals of ECEC, this article underscores the need to move beyond conventional thinking about quality and to extend the desired outcomes to those that include quality, equity, and sustainability. Only if, and when, these outcomes are addressed, will ECEC achieve its full potential for all young children.
Copyright information
© Springer Science+Business Media B.V. 2017