Abstract
Obesity is a risk factor for vascular endothelial cell dysfunction characterized by low-grade, chronic inflammation. Increased levels of arginase I and concomitant decreases in l-arginine bioavailability are known to play a role in the pathogenesis of vascular endothelial cell dysfunction. In the present study, we focused on changes in the systemic expression of arginase I as well as l-arginine metabolism in the pre-disease state of early obesity prior to the onset of atherosclerosis. C57BL/6 mice were fed a control diet (CD; 10% fat) or high-fat diet (HFD; 60% fat) for 8 weeks. The mRNA expression of arginase I in the liver, adipose tissue, aorta, and muscle; protein expression of arginase I in the liver and plasma; and systemic levels of l-arginine bioavailability and NO2 − were assessed. HFD-fed mice showed early obesity without severe disease symptoms. Arginase I mRNA and protein expression levels in the liver were significantly higher in HFD-fed obese mice than in CD-fed mice. Arginase I levels were slightly increased, whereas l-arginine levels were significantly reduced, and these changes were followed by reductions in NO2 − levels. Furthermore, hepatic arginase I levels positively correlated with plasma arginase I levels and negatively correlated with l-arginine bioavailability in plasma. These results suggested that increases in the expression of hepatic arginase I and reductions in plasma l-arginine and NO2 − levels might lead to vascular endothelial dysfunction in the pre-disease state of early obesity.
This is a preview of subscription content, log in to check access.
Access options
Buy single article
Instant unlimited access to the full article PDF.
US$ 39.95
Price includes VAT for USA
Subscribe to journal
Immediate online access to all issues from 2019. Subscription will auto renew annually.
US$ 99
This is the net price. Taxes to be calculated in checkout.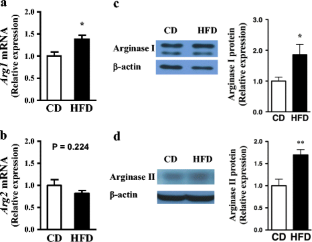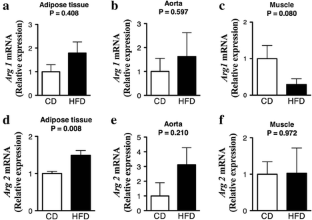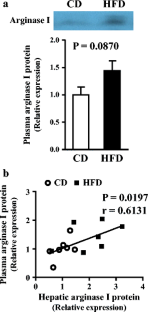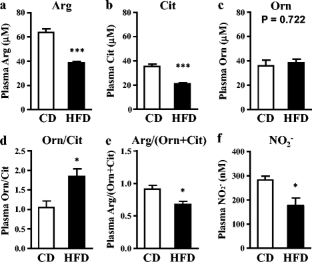 References
1.

Aleksanrrova K, Stelmach-Mardas M, Schlesinger S (2016) Obesity and liver cancer. Recent Results Cancer Res 208:177–198

2.

Bastien M, Poirier P, Lemieux I, Despres JP (2014) Overview of epidemiology and contribution of obesity to cardiovascular disease. Prog Cardiovasc Dis 56:369–381

3.

Buettner R, Scholmerich J, Bollheimer LC (2007) High-fat diets: modeling the metabolic disorders of human obesity in rodents. Obesity 15:798–808

4.

Caldwell RB, Toque HA, Narayanan SP, Caldwell RW (2015) Arginase: an old enzyme with new tricks. Trends Pharmacol Sci 36:395–405

5.

Chung JH, Moon J, Lee YS, Chung HK, Lee SM, Shin MJ (2014) Arginase inhibition restores endothelial function in diet-induced obesity. Biochem Biophys Res Commun 451:179–183

6.

Erdely A, Kepka-Lenhart D, Salmen-Muniz R, Chapman R, Hulderman T, Kashon M, Simeonova PP, Morris SM Jr (2010) Arginase activities and global arginine bioavailability in wild-type and ApoE-deficient mice: responses to high fat and high cholesterol diets. PLoS One 5:e15253

7.

Furukawa S, Fujita T, Shimabukuro M, Iwaki M, Yamada Y, Nakajima Y, Nakayama O, Makishima M, Matsuda M, Shimomura I (2004) Increased oxidative stress in obesity and its impact on metabolic syndrome. J Clin Invest 114:1752–1761

8.

Gregor MF, Hotamisligil GS (2011) Inflammatory mechanisms in obesity. Annu Rev Immunol 29:415–445

9.

Gronros J, Jung C, Lundberg JO, Cerrato R, Ostenson CG, Pernow J (2011) Arginase inhibition restores in vivo coronary microvascular function in type 2 diabetic rats. Am J Physiol Heart Circ Physiol 300:H1174–H1181

10.

Hotamisligil GS (2006) Inflammation and metabolic disorders. Nature 444:860–867

11.

Ikemoto M, Tsunekawa S, Toda Y, Totani M (2001) Liver-type arginase is a highly sensitive marker for hepatocellular damage in rats. Clin Chem 47:946–948

12.

Ito M, Suzuki J, Tsujioka S, Sasaki M, Gomori A, Shirakura T, Hirose H, Ito M, Ishihara A, Iwaasa H, Kanatani A (2007) Longitudinal analysis of murine steatohepatitis model induced by chronic exposure to high-fat diet. Hepatol Res 37:50–57

13.

Johnson AR, Milner JJ, Makowski L (2012) The inflammation highway: metabolism accelerates inflammatory traffic in obesity. Immunol Rev 249:218–238

14.

Johnson FK, Peyton KJ, Liu XM, Azam MA, Shebib AR, Johnson RA, Durante W (2015) Arginase promotes endothelial dysfunction and hypertension in obese rats. Obesity 23:383–390

15.

Kleiner DE, Brunt EM, Van Natta M, Behling C, Contos MJ, Cummings OW, Ferrel LD, Liu YC, Torbenson MS, Unalp-Arida A, Yeh M, McCullough AJ, Sanyal AJ (2005) Design and vasodilation of a histological scoring system for nonalcoholic fatty liver disease. Hepatology 41:1313–1324

16.

Litvinova L, Atochin DN, Fattakhov N, Vasilenko M, Zatolokin P, Kirienkova E (2015) Nitric oxide and mitochondria in metabolic syndrome. Front Physiol 6:20

17.

Livak KJ, Schmittgen TD (2001) Analysis of relative gene expression data using real-time quantitative PCR and 2−∆∆CT method. Methods 25:402–408

18.

Luiking YC, Ten Have GA, Wolfe RR, Deutz NE (2012) Arginine de novo and nitric oxide production in disease states. Am J Physiol Endocrinol Metab 303:E1177–E1189

19.

Moon J, Do HJ, Cho Y, Shin MJ (2014) Arginase inhibition ameliorates hepatic metabolic abnormalities in obese mice. PLoS One 9:e103048

20.

Morris CR, Kato GJ, Poljakovic M, Wang X, Blackwelder WC, Sachdev V, Hazen SL, Vichinsky EP, Morris SM Jr, Gladwin MT (2005) Dysregulated arginine metabolism, hemolysis-associated pulmonary hypertension, and mortality in sickle cell disease. JAMA 294:81–90

21.

Morris CR, Poljakovic M, Lavrisha L, Machado L, Kuypers FA, Morris SM Jr (2004) Decreased arginine bioavailability and increased serum arginase activity in asthma. Am J Respir Crit Care Med 170:148–153

22.

Morris SM Jr (2007) Arginine metabolism: boundaries of our knowledge. J Nutr 137:1602S–1609S

23.

Munder M (2009) Arginase: an emerging key player in the mammalian immune system. Br J Pharmacol 158:638–651

24.

Nakamura A, Terauchi Y (2013) Lessons from mouse models of high-fat diet-induced NAFLD. Int J Mol Sci 14:21240–21257

25.

North ML, Khanna N, Marsden PA, Grasemann H, Scott JA (2009) Functionally important role for arginase 1 in the airway hyperresponsiveness of asthma. Am J Physiol Lung Cell Mol Physiol 296:L911–L920

26.

Ogino K, Kubo M, Takahashi H, Zhang R, Zou Y, Fujikura Y (2013) Anti-inflammatory effect of arginase inhibitor and corticosteroid on airway allergic reactions in a dermatophogoides farinae-induced NC/Nga mouse model. Inflammation 36:141–151

27.

Ogino K, Murakami I, Wang DH, Tsukiyama Y, Takahashi H, Kubo M, Sakano N, Setiawan H, Bando M, Ohmoto Y (2013) Evaluation of serum arginase I as an oxidative stress biomarker in a healthy Japanese population using a newly established ELISA. Clin Biochem 46:1717–1722

28.

Ogino K, Obase Y, Takahashi N, Shimizu H, Takigawa T, Wang DH, Ouchi K, Oka M (2011) High serum arginase I levels in asthma: its correlation with high-sensitivity C-reactive protein. J Asthma 48:1–7

29.

Ogino K, Takahashi N, Takigawa T, Obase Y, Wang DH (2011) Association of serum arginase I with oxidative stress in a healthy population. Free Radic Res 45:147–155

30.

Ogino K, Wang DH, Kubo M, Obase Y, Setiawan H, Yan F, Takahashi H, Zhang R, Tsukiyama Y, Yoshida J, Zou Y (2014) Association of serum arginase I with L-arginine, 3-nitrotyrosine, and exhaled nitric oxide in healthy Japanese workers. Free Radic Res 48:137–145

31.

Pernow J, Jung C (2013) Arginase as a potential target in the treatment of cardiovascular disease: reversal of arginine steal? Cardiovasc Res 98:334–343

32.

Pourcet B, Pineda-Torra I (2013) Transcriptional regulation of macrophage arginase 1 expression and its role in atherosclerosis. Trends Cardiovasc Med 23:143–152

33.

Reid KM, Tsung A, Kaizu T, Jeyabalan G, Ikeda A, Shao LF, Wu GY, Murase N, Geller DA (2007) Liver I/R injury is improved by the arginase inhibitor, N-omega-hydroxy-nor-L-arginine (nor-NOHA). Am J Physiol-Gastr L 292:G512–G517

34.

Romero MJ, Platt DH, Tawfik HE, Labazi M, El-Remessy AB, Bartoli M, Caldwell RB, Caldwell RW (2008) Diabetes-induced coronary vascular dysfunction involves increased arginase activity. Circ Res 102:95–102

35.

Takahashi N, Ogino K, Takemoto K, Hamanishi S, Wang DH, Takigawa T, Shibamori M, Ishiyama H, Fujikura Y (2010) Direct inhibition of arginase attenuated airway allergic reactions and inflammation in a Dermatophagoides farinae-induced NC/Nga mouse model. Am J Physiol Lung Cell Mol Physiol 299:L17–L24

36.

Takemoto K, Ogino K, Shibamori M, Gondo T, Hitomi Y, Takigawa T, Wang DH, Takaki J, Ichimura H, Fujikura Y, Ishiyama H (2007) Transiently, paralleled upregulation of arginase and nitric oxide synthase and the effect of both enzymes on the pathology of asthma. Am J Physiol Lung Cell Mol Physiol 293:L1419–L1426

37.

Tang WH, Wang Z, Cho L, Brennan DM, Hazen SL (2009) Diminished global arginine bioavailability and increased arginine catabolism as metabolic profile of increased cardiovascular risk. J Am Coll Cardiol 53:2061–2067

38.

Toda N, Okamura T (2013) Obesity impairs vasodilatation and blood flow increase mediated by endothelial nitric oxide: an overview. J Clin Pharmacol 53:1228–1239

39.

Tripolt NJ, Meinitzer A, Eder M, Wascher TC, Pieber TR, Sourij H (2012) Multifactorial risk factor intervention in patients with type 2 diabetes improves arginine bioavailability ratios. Diabet Med 29:e365–e368

40.

Wu G, Bazer FW, Davis TA, Kim SW, Li P, Marc Rhoads J, Carey Satterfield M, Smith SB, Spencer TE, Yin Y (2009) Arginine metabolism and nutrition in growth, health and disease. Amino Acids 37:153–168

41.

Zhang R, Kubo M, Murakami I, Setiawan H, Takemoto K, Inoue K, Fujikura Y, Ogino K (2015) l-Arginine administration attenuates airway inflammation by altering l-arginine metabolism in an NC/Nga mouse model of asthma. J Clin Biochem Nutr 56:201–207
Ethics declarations
The care and handling of animals were in accordance with the Guidelines for the Care and Use of Laboratory Animals at the Shikata Campus of Okayama University. This animal study was approved by the Okayama University Institutional Animal Care and Use Committee (OKU-2014322).
About this article
Cite this article
Ito, T., Kubo, M., Nagaoka, K. et al. Early obesity leads to increases in hepatic arginase I and related systemic changes in nitric oxide and l-arginine metabolism in mice. J Physiol Biochem 74, 9–16 (2018) doi:10.1007/s13105-017-0597-6
Received:

Accepted:

Published:

Issue Date:
Keywords
Obesity

Pre-disease state

Arginase

l

-Arginine metabolism

Nitric oxide