Abstract
Data on the association between hemoglobin (Hb) levels and poststroke cognitive function are limited. We investigated the relationship between Hb concentrations at admission and poststroke cognitive function using a multicenter database. In total, 1081 patients were recruited from seven Chinese medical centers within 6 months after experiencing ischemic stroke. Cognitive status was evaluated with a series of brief neuropsychological tests. A subgroup of 439 patients from a single center was followed up for 4–6 years and was eventually reassessed with a cognitive test. The association between Hb and cognitive impairment was analyzed by multivariable Tobit regression and logistic regression. The mean age of the 920 eligible participants at study entry was 42.5 years; 311 (34%) were women, and all participants were Chinese nationals who lived locally. After adjustment for multiple covariables, Hb levels at admission remained positively associated with poststroke Mini-Mental State Examination (MMSE) scores, with a 0.37-point increase in the MMSE score for every 1-standard-deviation increase in the Hb level. Moreover, an optimal Hb level above 15.0 g/dl was proposed for preventing or alleviating the development of poststroke cognitive impairment in men. After 4–6 years of rehabilitation, the baseline Hb still correlated with MMSE scores. A significant interaction was found between baseline Hb and change in MMSE scores over time, with higher baseline Hb levels predicting faster recovery of global cognitive performance (β, 0.21; 95% confidence interval, 0.03–0.39).These findings warrant further study of anemia as a risk factor for poststroke cognitive impairment.
This is a preview of subscription content, log in to check access.
Access options
Buy single article
Instant access to the full article PDF.
US$ 39.95
Price includes VAT for USA
Subscribe to journal
Immediate online access to all issues from 2019. Subscription will auto renew annually.
US$ 99
This is the net price. Taxes to be calculated in checkout.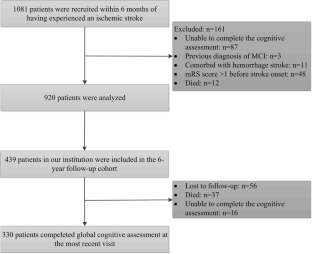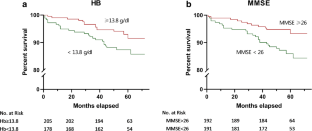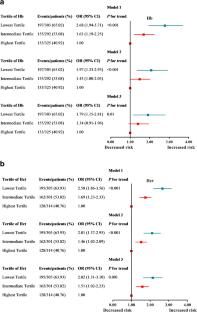 References
1.

Sun J-H, Tan L, Yu J-T. Post-stroke cognitive impairment: epidemiology, mechanisms and management. Ann Transl Med. 2014;2(8):80.

2.

Gottesman RF, Hillis AE. Predictors and assessment of cognitive dysfunction resulting from ischaemic stroke. Lancet Neurol. 2010;9(9):895–905.

3.

Mijajlovic MD, Pavlovic A, Brainin M, Heiss WD, Quinn TJ, Ihle-Hansen HB, et al. Post-stroke dementia—a comprehensive review. BMC Med. 2017;15(1):11.

4.

Sala G, Gobet F. Cognitive training does not enhance general cognition. Trends Cogn Sci. 2019;23(1):9–20.

5.

Shah RC, Buchman AS, Wilson RS, Leurgans SE, Bennett DA. Hemoglobin level in older persons and incident Alzheimer disease: prospective cohort analysis. Neurology. 2011;77(3):219–26.

6.

Winchester LM, Powell J, Lovestone S, et al. Red blood cell indices and anaemia as causative factors for cognitive function deficits and for Alzheimer's disease. Genome Med. 2018;10(1):51.

7.

Andro M, Le Squere P, Estivin S, Gentric A. Anaemia and cognitive performances in the elderly: a systematic review. Eur J Neurol. 2013;20(9):1234–40.

8.

Pendlebury ST, Markwick A, de Jager CA, Zamboni G, Wilcock GK, Rothwell PM. Differences in cognitive profile between TIA, stroke and elderly memory research subjects: a comparison of the MMSE and MoCA. Cerebrovasc Dis. 2012;34(1):48–54.

9.

Chander RJ, Lim L, Handa S, Hiu S, Choong A, Lin X, et al. Atrial fibrillation is independently associated with cognitive impairment after ischemic stroke. J Alzheimers Dis. 2017;60(3):867–75.

10.

Cano SJ, Posner HB, Moline ML, Hurt SW, Swartz J, Hsu T, et al. The ADAS-cog in Alzheimer's disease clinical trials: psychometric evaluation of the sum and its parts. J Neurol Neurosurg Psychiatry. 2010;81(12):1363–8.

11.

Calvin Pak-Wing Cheng S-TC, Tam CW-C, Chan W-C, Chu WC-W, Lam LC-W. Relationship between cortical thickness and neuropsychological performance in normal older adults and those with mild cognitive impairment. Aging Dis. 2018;9(6):1020–30. https://doi.org/10.14336/ad.2018.0125.

12.

Diehl J, Kurz A. Frontotemporal dementia: patient characteristics, cognition, and behaviour. Int J Geriatr Psychiatry. 2002;17(10):914–8. https://doi.org/10.1002/gps.709.

13.

Vas CJ, Pinto C, Panikker D, Noronha S, Deshpande N, Kulkarni L, et al. Prevalence of dementia in an urban Indian population. Int Psychogeriatr. 2001;13(4):439–50.

14.

Adams HP Jr, Bendixen BH, Kappelle LJ, Biller J, Love BB, Gordon DL, et al. Classification of subtype of acute ischemic stroke. Definitions for use in a multicenter clinical trial. TOAST. Trial of Org 10172 in Acute Stroke Treatment. Stroke. 1993;24(1):35–41. https://doi.org/10.1161/01.str.24.1.35.

15.

Taniguchi Y, Shinkai S, Nishi M, Murayama H, Nofuji Y, Yoshida H, et al. Nutritional biomarkers and subsequent cognitive decline among community-dwelling older Japanese: a prospective study. J Gerontol A Biol Sci Med Sci. 2014;69(10):1276–83.

16.

Shan G, Na L, Pin M, Niu J, Yong'an S, Yingda X, et al. Midterm blood pressure variability is associated with poststroke cognitive impairment: a prospective cohort study. Front Neurol. 8:365.

17.

Atti AR, Palmer K, Volpato S, Zuliani G, Winblad B, Fratiglioni L. Anaemia increases the risk of dementia in cognitively intact elderly. Neurobiol Aging. 2006;27(2):278–84. https://doi.org/10.1016/j.neurobiolaging.2005.02.007.

18.

Youdim MBH. Brain iron deficiency and excess; cognitive impairment and neurodegeneration with involvement of striatum and hippocampus. Neurotox Res. 2008;14(1):45–56.

19.

Park SE, Kim H, Lee J, Lee NK, Hwang JW, Yang J-J, et al. Decreased hemoglobin levels, cerebreal small-vessel disease, and cortical atrophy: among cognitively normal elderly women and men. Int Psychogeriatr. 2016;28(01):147–56.

20.

Inzitari M, Studenski S, Rosano C, Zakai NA, Longstreth WT, Cushman M, et al. Anemia is associated with the progression of white matter disease in older adults with high blood pressure: the cardiovascular health study. J Am Geriatr Soc. 2008;56(10):1867–72.

21.

Zhang X, Le W. Pathological role of hypoxia in Alzheimer's disease. Exp Neurol. 2010;223(2):299–303.

22.

Brainin M, Tuomilehto J, Heiss WD, Bornstein NM, Bath PM, Teuschl Y, et al. Post-stroke cognitive decline: an update and perspectives for clinical research. Eur J Neurol. 2015;22(2):229–38, e13-6. https://doi.org/10.1111/ene.12626.

23.

Juarez-Cedillo T, Basurto-Acevedo L, Vega-Garcia S, Manuel-Apolinar L, Cruz-Tesoro E, Rodriguez-Perez JM, et al. Prevalence of anemia and its impact on the state of frailty in elderly people living in the community: SADEM study. Ann Hematol. 2014;93(12):2057–62.

24.

Savica R, Grossardt BR, Carlin JM, Icen M, Bower JH, Ahlskog JE, et al. Anemia or low hemoglobin levels preceding Parkinson disease: a case-control study. Neurology. 2009;73(17):1381–7.

25.

Shah RC, Schneider JA, Leurgans S, Bennett DA. Association of lower hemoglobin level and neuropathology in community-dwelling older persons. J Alzheimers Dis. 2012;32(3):579–86.

26.

Ford AL, Ragan DK, Fellah S, Binkley MM, Fields ME, Guilliams KP, et al. Silent infarcts in sickle cell disease occur in the border zone region and are associated with low cerebral blood flow. Blood. 2018;132(16):1714–23.

27.

Panwar B, Judd SE, Warnock DG, McClellan WM, Booth JN, Muntner P, et al. Hemoglobin concentration and risk of incident stroke in community-living adults. Stroke. 2016;47(8):2017–24.

28.

Kulmala J, Nykanen I, Manty M, Hartikainen S. Association between frailty and dementia: a population-based study. Gerontology. 2014;60(1):16–21.

29.

Wagle J, Farner L, Flekkøy K, Bruun Wyller T, Sandvik L, Fure B, et al. Early post-stroke cognition in stroke rehabilitation patients predicts functional outcome at 13 months. Dement Geriatr Cogn Disord. 2011;31(5):379–87.

30.

Khemka VK, Ganguly A, Bagchi D, Ghosh A, Bir A, Biswas A, et al. Raised serum proinflammatory cytokines in Alzheimer's disease with depression. Aging Dis. 2014;5(3):170–6. https://doi.org/10.14336/AD.2014.0500170.
Acknowledgements
We are deeply appreciative of the participants in this study and their relatives and thank all staff for their support and assistance. The study was supported by the Science and Technology Program of Zhejiang Province (NO. 2017C03011) and the Technology Project co-founded by Zhejiang Province and the Ministry of Health of China (WKJ-ZJ-1612).
Ethics declarations
This study was approved by the Ethics Committee of the First Affiliated Hospital, College of Medicine, Zhejiang University, and was conducted in accordance with the Declaration of Helsinki.
Conflict of Interest
The authors declare that they have no conflicts of interest.
Additional information
Publisher's Note
Springer Nature remains neutral with regard to jurisdictional claims in published maps and institutional affiliations.
Electronic supplementary material
About this article
Cite this article
Meng, F., Zhang, S., Yu, J. et al. Low Hemoglobin Levels at Admission Are Independently Associated with Cognitive Impairment after Ischemic Stroke: a Multicenter, Population-Based Study. Transl. Stroke Res. (2020). https://doi.org/10.1007/s12975-020-00785-1
Received:

Revised:

Accepted:

Published:
Keywords
Hemoglobin

Anemia

Stroke

Cognitive impairment

Dementia

Prevention