Abstract
A polytetrafluoroethylene (PTFE)-covered stent was deployed for enlarging coronary aneurysms in a 73-year-old man. Optical coherence tomography (OCT) and coronary angioscopy performed 3 months later revealed naked stent struts and thin patches of red thrombi covering the PTFE membrane even under dual antiplatelet therapy (DAPT). After 5-month warfarin administration under DAPT, OCT and angioscopy showed a clear extinction of the thin patches of red thrombi on the PTFE membrane and stent struts, although most of the struts were still naked. The addition of anticoagulation therapy to DAPT may reduce thrombosis events in patients treated with PTFE-covered stents.
This is a preview of subscription content, log in to check access.
Access options
Buy single article
Instant unlimited access to the full article PDF.
US$ 39.95
Price includes VAT for USA
Subscribe to journal
Immediate online access to all issues from 2019. Subscription will auto renew annually.
US$ 99
This is the net price. Taxes to be calculated in checkout.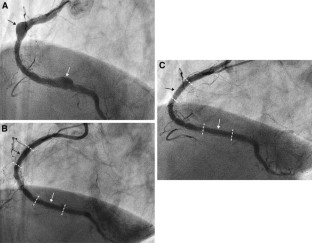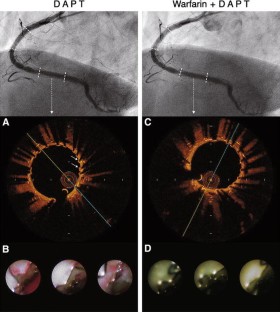 References
1.

Romaguera R, Waksman R. Covered stents for coronary perforation: is there enough evidence? Catheter Cardiovasc Interv. 2011;78:246–53.

2.

Kawamoto H, Tanaka K, Ruparelia N, Takagi K, Yabushita H, Watanabe Y, et al. Short-term and long-term outcomes after polytetrafluoroethylene-covered stent implantation for the treatment of coronary perforation. Am J Cardiol. 2015;116:1822–6.

3.

Takano M, Yamamoto M, Inami T, Murakami D, Seino Y, Mizuno K. Delayed healing of a coronary stent graft. J Am Coll Cardiol Cardiovasc Interv. 2011;4:466–7.

4.

Ferrari E, Benhamou M, Cerboni P, Marcel B. Coronary syndromes following aspirin withdrawal. J Am Coll Cardiol. 2005;45:456–9.

5.

Lip GYH, Frison L, Halperin JL, Lane DA. Comparative validation of a novel risk score for predicting bleeding risk in angicoagulated patients with atrial fibrillation. J Am Coll Cardiol. 2011;57:173–80.

6.

Shireman TI, Mahnken JD, Howard PA, Kresowik TF, Hou Q, Ellerbeck EF. Development of a contemporary bleeding risk model for elderly warfarin recipients. Chest. 2006;130:1390–6.

7.

Sata M, Saiura A, Kunisato A, Tojo A, Okada S, Tokuhisa T, et al. Hematopoietic stem cells differentiate into vascular cells that participate in the pathogenesis of atherosclerosis. Nat Med. 2002;8:403–9.

8.

Ruff CT, Giugliano RP, Braunwald E, Hoffman EB, Deenadayalu N, Ezekowitz MD, et al. Comparison of the efficacy and safety of new oral anticoagulants with warfarin in patients with atrial fibrillation: a meta-analysis of randomized trials. Lancet. 2014;383:955–62.
Ethics declarations
Conflict of interest
None of the authors has any potential financial conflict of interest related to this manuscript.
Ethics
The present study was approved by the ethics committee at each participating site and was conducted in accordance with the Declaration of Helsinki.
Electronic supplementary material
Below is the link to the electronic supplementary material.
Supplementary material 1 (AVI 189908 kb)
Supplementary material 2 (AVI 134107 kb)
About this article
Cite this article
Honda, Y., Wakabayashi, K., Suzuki, T. et al. Does anticoagulation therapy prevent thrombosis in coronary stent grafts?. Cardiovasc Interv and Ther 32, 405–408 (2017) doi:10.1007/s12928-016-0443-8
Received:

Accepted:

Published:

Issue Date:
Keywords
Polytetrafluoroethylene (PTFE)-covered stent

Stent thrombosis

Anticoagulation therapy

Angioscopy