Abstract
We aimed to investigate the effectiveness of a scoring balloon catheter in expanding a circumferentially calcified lesion compared to a conventional balloon catheter using an in vitro experiment setting and elucidate the underlying mechanisms of this ability using a finite element analysis. True efficacy of the scoring device and the underlying mechanisms for heavily calcified coronary lesions are unclear. We employed a Scoreflex scoring balloon catheter (OrbusNeich, Hong Kong, China). The ability of Scoreflex to dilate a calcified lesion was compared with a conventional balloon catheter using 3 different sized calcium tubes. The thickness of the calcium tubes were 2.0, 2.25, and 2.5 mm. The primary endpoints were the successful induction of cracks in the calcium tubes and the inflation pressures required for inducing cracks. The inflation pressure required for cracking the calcium tubes were consistently lower with Scoreflex (p < 0.05, Student t test). The finite element analysis revealed that the first principal stress applied to the calcified plaque was higher by at least threefold when applying the balloon catheter with scoring elements. A scoring balloon catheter can expand a calcified lesion with lower pressure than that of a conventional balloon. The finite element analysis revealed that the concentration of the stress observed in the outside of the calcified plaque just opposite to the scoring element is the underlying mechanism of the increased ability of Scoreflex to dilate the calcified lesion.
This is a preview of subscription content, log in to check access.
Access options
Buy single article
Instant unlimited access to the full article PDF.
US$ 39.95
Price includes VAT for USA
Subscribe to journal
Immediate online access to all issues from 2019. Subscription will auto renew annually.
US$ 99
This is the net price. Taxes to be calculated in checkout.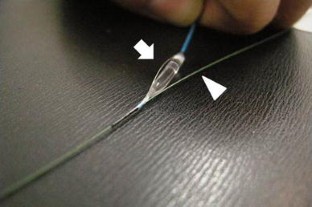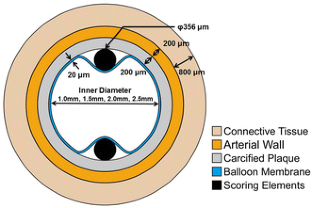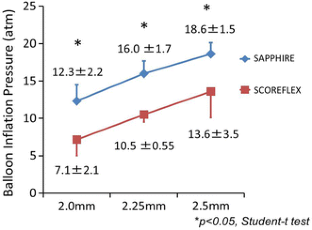 Acknowledgments
The authors would like to thank Mr. Kenataro Takenaka and Prof. Taiji Adachi for their great advice and suggestions in the finite element analysis. Special thanks also go to Ms. Rika Sugiura, Ms. Hiromi Yoshida, and Ms. Yoko Shimizu for their secretarial supports.
Conflict of interest
The Scoreflex and Sapphire balloon catheters were supplied by OrbusNeich Japan. None of the authors have identified a conflict of interest.
Electronic supplementary material
Below is the link to the electronic supplementary material.
Movie 1. The ultra-high-speed movie of 1,250,000 frames per seconds showing that the crack originated from the outside of the calcium tube. (AVI 212 kb)
About this article
Cite this article
Kawase, Y., Saito, N., Watanabe, S. et al. Utility of a scoring balloon for a severely calcified lesion: bench test and finite element analysis. Cardiovasc Interv and Ther 29, 134–139 (2014) doi:10.1007/s12928-013-0232-6
Received:

Accepted:

Published:

Issue Date:
Keywords
Calcified lesion

Scoring balloon

Finite element analysis

Complex lesion

Balloon angioplasty