Abstract
Severe aortic regurgitation due to paraprosthetic leak appears in 1–5% of patients with previous aortic valve replacement. Surgical management is the treatment of choice but has high morbidity and mortality and leak recurrence is not uncommon. Different approaches to percutaneous closure have been tried. Transesophageal echocardiography (TEE) is a key factor to measure and localize leakages. Performing TEE during the procedure implies general anesthesia and prolongs procedure and fluoroscopy times. We report the case of an aortic paraprosthetic leak percutaneous closure using intravascular ultrasound to guide the procedure.
This is a preview of subscription content, log in to check access.
Access options
Buy single article
Instant unlimited access to the full article PDF.
US$ 39.95
Price includes VAT for USA
Subscribe to journal
Immediate online access to all issues from 2019. Subscription will auto renew annually.
US$ 99
This is the net price. Taxes to be calculated in checkout.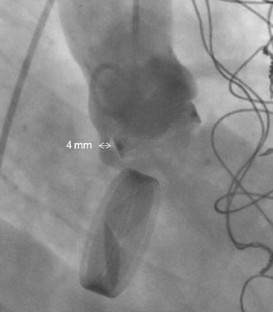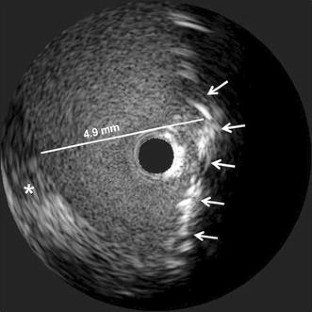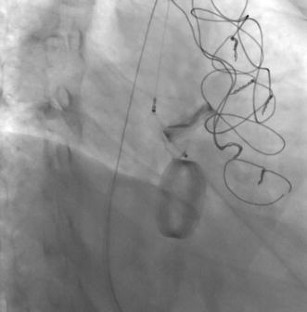 References
1.

Rallidis LS, Moyssakis IE, Ikonomidis I, Nihoyannopoulos P. Natural history of early aortic paraprosthetic regurgitation: a five-year follow-up. Am Heart J. 1999;138:351–7.

2.

Akins CW, Bitondo JM, Hilgenberg AD, Vlahakes GJ, Madsen JC, MacGillivray TE. Early and late results of the surgical correction of cardiac prosthetic paravalvular leaks. J Heart Valve Dis. 2005;14:792–9 (discussion 799–800).

3.

Pate GE, Al Zubaidi A, Chandavimol M, Thompson CR, Munt BI, Webb JG. Percutaneous closure of prosthetic paravalvular leaks: case series and review. Catheter Cardiovasc Interv. 2006;68:528–33.

4.

Sivakumar K, Shahani J. Transcatheter closure of paravalvular mitral prosthetic leak with resultant hemolysis. Int J Cardiol. 2007;115:E39–40.

5.

Cortés M, García E, García-Fernandez MA, Gómez JJ, Pérez-David E, Fernández-Avilés F. Usefulness of transesophageal echocardiography in percutaneous transcatheter repairs of paravalvular mitral regurgitation. Am J Cardiol. 2008;101:382–6.

6.

Nissen SE. Application of intravascular ultrasound to characterize coronary artery disease and assess the progression or regression of atherosclerosis. Am J Cardiol. 2002;89:24–31.
Conflict of interest
The authors report no financial relationships or conflicts of interest regarding the content herein.
Electronic supplementary material
Below is the link to the electronic supplementary material.
Video 1. Short axis transesophageal echocardiogram showing the paraprosthetic aortic leak (WMV 531 kb)
Video 2A. RAO view of baseline aortography showing the posterior paraprosthetic aortic leak causing severe regurgitation. RAO: right anterior oblique (WMV 1646 kb)
Video 2B. LAO view of baseline aortography showing the posterior paraprosthetic aortic leak causing severe regurgitation. LAO: left anterior oblique (WMV 1302 kb)
Video 3. Amplatzer Vascular Plug III deployment through the defect without affecting the discs function (WMV 2708 kb)
Video 4. Aortography showing the Amplatzer Vascular Plug III device positioned across the aortic paravalvular leak, without affecting the coronary ostia and with minimal residual aortic regurgitation (WMV 1271 kb)
Video 5. Control 4-chamber view of transthoracic echocardiogram showing mild residual aortic regurgitation (WMV 817 kb)
About this article
Cite this article
Ávila, P., Sarnago Cebada, F., Elízaga, J. et al. IVUS guidance in percutaneous closure of aortic paraprosthetic leak. Cardiovasc Interv and Ther 27, 137–139 (2012) doi:10.1007/s12928-012-0099-y
Received:

Accepted:

Published:

Issue Date:
Keywords
Intravascular ultrasound

Aortic regurgitation

Paraprosthetic leak

Percutaneous closure