Von Hauteffloreszenzen zum pulmorenalen Syndrom
Eine überraschende Ursache für eine systemische Vaskulitis
Anamnese
Es erfolgte konsiliarisch die nephrologische Vorstellung eines 72-Jährigen mit teils blutiger Diarrhö, hämorrhagischen Hautläsionen und progredienten Beinödemen. Anamnestisch waren ein lokal infiltrierendes Prostatakarzinom, eine arterielle Hypertonie und ein insulinpflichtiger Diabetes mellitus Typ 2 bekannt.
Klinischer Befund
Der Patient zeigte sich in reduziertem Allgemeinzustand mit deutlichen peripheren Ödemen. Eine stamm- und beinbetonte palpable, nicht-pruriginöse, nicht wegdrückbare Purpura fiel auf (Abb.
1
). Der Patient berichtete von distalen Kribbelparästhesien. Die Leber war 2 cm unter dem Rippenbogen tastbar.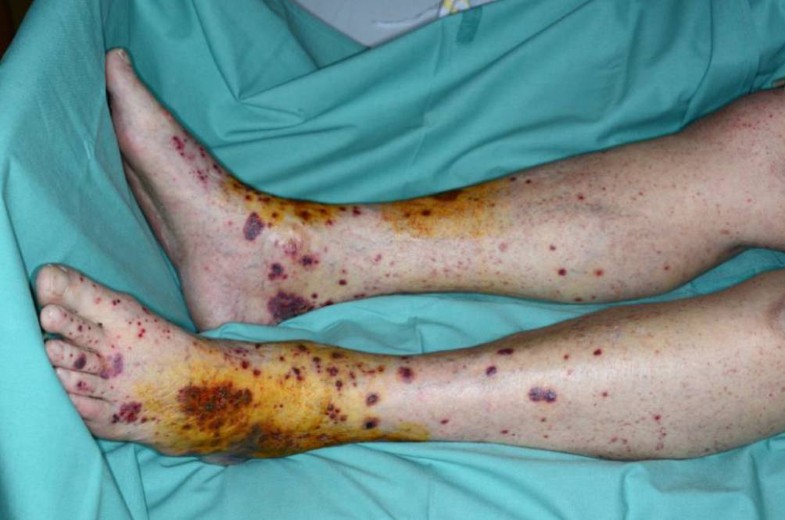 From skin lesions to pulmonary-renal syndrome
An unexpected cause of systemic vasculitis
Notes
Einhaltung ethischer Richtlinien
Interessenkonflikt
J. Schiefer, H.-J. Gröne, T. Tüting, C. Chatzikyrkou und P.R. Mertens geben an, dass kein Interessenkonflikt besteht.
Dieser Beitrag beinhaltet keine von den Autoren durchgeführten Studien an Menschen oder Tieren. Für Bildmaterial oder anderweitige Angaben innerhalb des Manuskripts, über die Patienten zu identifizieren sind, liegt von ihnen und/oder ihren gesetzlichen Vertretern eine schriftliche Einwilligung vor.
Literatur
1.

Cacoub P et al (1999) Extrahepatic manifestations of chronic hepatitis C. MULTIVIRC Group. Multidepartment Virus C. Arthritis Rheum 42(10):2204–2212

CrossRef

Google Scholar

2.

Ioannidis JP, Vassiliou VA, Moutsopoulos HM (2002) Long-term risk of mortality and lymphoproliferative disease and predictive classification of primary Sjogren's syndrome. Arthritis Rheum 46(3):741–747

CrossRef

Google Scholar

3.

Perez-Alamino R, Espinoza LR (2014) Non-infectious cryoglobulinemia vasculitis (CryoVas): update on clinical and therapeutic approach. Curr Rheumatol Rep 16(5):420

CrossRef

Google Scholar
Copyright information
© Springer-Verlag GmbH Austria, ein Teil von Springer Nature 2019