Pd, PdSn, PdBi, and PdBiSn Nanostructured Thin Films for the Electro-Oxidation of Ethanol in Alkaline Media
Abstract
Pd, PdSn, PdBi and PdBiSn nanostructured thin films were prepared on Au substrate using the electrochemical atomic layer deposition technique. The activity of the nanostructured thin films towards the electro-oxidation of ethanol was tested in alkaline media using electrochemical methods. Scanning electron microscopy results showed that the nanoparticles were evenly distributed on the surface, while the elemental analysis confirmed the presence of all elements on the prepared materials. Cyclic voltammetry studies revealed that the addition of Sn and Bi on Pd improved the activity of Pd and that the ternary nanostructured catalyst was more active towards the oxidation of ethanol than the binary catalysts.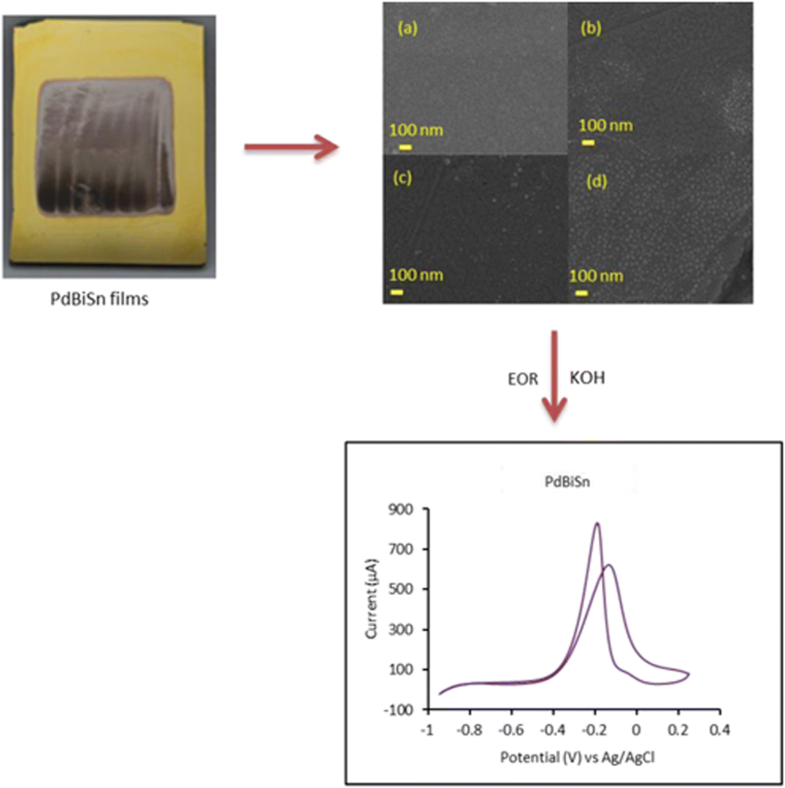 Keywords
Electrodeposition 
Thin films 
Electro-oxidation 
Ethanol 
Notes
Acknowledgements
National Centre for Nano-Structured Materials of the CSIR is acknowledged for the acquisition of SEM/EDS and FIB-SEM images.
Funding Information
This work was funded by the US Air Force Office of Scientific Research (AFOSR) under Dr. Ali Sayir Program grant number FA9550-16-1-0060 and the CSIR-UWC cooperation fund.
Copyright information
© Springer Science+Business Media, LLC, part of Springer Nature 2019