Electrochemical Impedance Spectroscopy Characterization of Silicon-Based Electrodes for Li-Ion Batteries
Abstract
Lithium-ion cells are currently the most promising electrochemical power sources. New high-capacity electrodes made of silicon are presently under intensive study. Besides its high capacity, silicon undergoes a significant volume increase (up to 300%) during lithiation. The main research on the silicon-based electrodes is focused on the nanostructure development and capacity/life cycle measurements. Variations in other electrochemical parameters, SEI layer resistance and charge transfer resistance, are also important and give the information about structural changes and mechanisms of side processes that occur during an electrode lithiation/delithiation. This work presents electrochemical impedance spectroscopy measurements of three silicon–graphite composite electrodes, containing various silicon contents. A clear correlation between the SEI and charge transfer resistances and the active material lithiation level is presented. The effect of the cycle number on the measured parameters is also visible. We present possible mechanisms that lead to observed changes and highlight the requirement of the proper Si-based electrode formation and the correct estimation of operational parameters.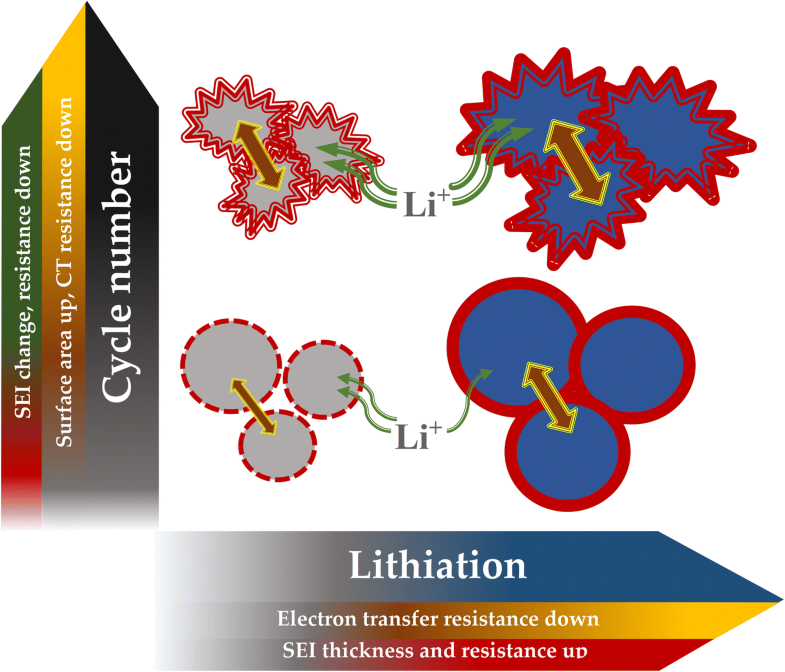 Keywords
Silicon 
Li-ion 
Battery 
Impedance 
SEI layer 
Charge transfer 
Resistance 
Notes
Acknowledgments
This project has received funding from the European Union's Horizon 2020 research and innovation program, under grant agreement No 685716.
Compliance with Ethical Standards
Conflicts of Interest
The authors declare that they have no conflicts of interest.
Copyright information
© Springer Science+Business Media, LLC, part of Springer Nature 2019