Cobalt-Pyrazolate-Derived N-Doped Porous Carbon with Embedded Cobalt Oxides for Enhanced Oxygen Evolution Reaction
Abstract
Developing highly competent and cost-effective electrocatalysts for oxygen evolution reaction (OER) is crucial for clean renewable energy technologies. To this end, the wise assimilation of transition metal compounds with carbon materials is a promising approach to prepare efficient electrocatalysts. Here, we report a facile and cost-effective solvothermal route to synthesize cobalt-pyrazolate framework (Co(pz)) followed by thermal treatment in the air to yield N-doped porous carbon encapsulating uniform cobalt oxides nanoparticles (Co3O4/N–C). The resulting composite material is evaluated as electrocatalyst for the OER in basic media with a low onset potential of ~ 1.52 V (vs. RHE), very small Tafel slope of 44 mV dec−1, and overpotential of only 390 mV to achieve a stable current density of 10 mA cm−2 in 1.0 M KOH. The achieved superior oxygen evolution activity in comparison with the state-of-the-art noble metal catalysts originates from in situ incorporation of metal oxides into highly porous carbon matrix, resulting in strong synergistic effects between Co3O4 and N-doped carbon with ordered mesoporous structure leading to the enhanced charge transport and conductivity, and high structural stability. The excellent electrocatalytic performance and superior stability make the Co3O4/N–C a promising non-precious electrode material for the OER.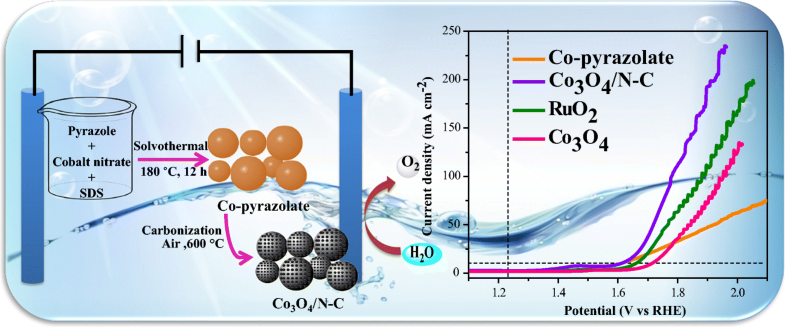 Keywords
Oxygen evolution reaction 
Non-precious electrocatalysts 
Cobalt-pyrazolate framework 
Cobalt oxides/carbon materials 
Nitrogen-doping 
Notes
Funding Information
This work was financially supported by the National Natural Science Foundation of China (Grant No. 21677029).
Copyright information
© Springer Science+Business Media, LLC, part of Springer Nature 2019