One-Pot Synthesis of Highly Efficient Carbon-Supported Polyhedral Pt3Ni Alloy Nanoparticles for Oxygen Reduction Reaction
Abstract
The oxygen reduction reaction (ORR) properties were intensely affected by the facet of electrocatalysts. For example, (111) facet of Pt3Ni alloy has been proved to have excellent ORR electrocatalytic activity. Therefore, it could be very important to synthesize Pt3Ni nanocrystals with large proportion of (111) facet. However, most reported Pt3Ni polyhedron bound by (111) facets were synthesized using capping agents like oleylamine and oleic acid. These organic ligands will hinder the intrinsic ORR performance of catalyst and require tedious process to remove. Here, we report a one-pot synthesis of capping agents free for polyhedron Pt3Ni alloy nanoparticles on carbon (Pt3Ni/C) with large proportion of Pt3Ni (111) facets. The electrocatalysts achieved an enhancement of 224% in mass activity and 8.7-fold specific activity towards ORR in comparison with commercial Pt/C catalyst. The present study provides a simple method for designing highly efficient Pt alloy electrocatalysts.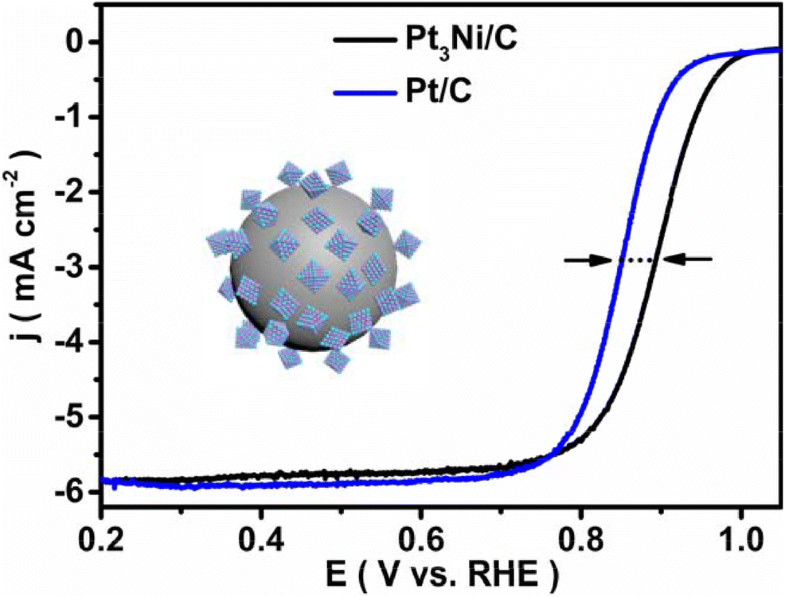 Keywords
Oxygen reduction reaction 
Polyhedral Pt3Ni alloy nanoparticles 
(111) facet 
Notes
Acknowledgments
This work was supported by University of Science and Technology Beijing.
Copyright information
© Springer Science+Business Media, LLC, part of Springer Nature 2019