Bimetallic Pd/SnO2 Nanoparticles on Metal Organic Framework (MOF)-Derived Carbon as Electrocatalysts for Ethanol Oxidation
Abstract
Bimetallic Pd/SnO2 nanoparticle electrocatalysts on metal organic framework-derived carbon (MOFDC) were successfully synthesized using microwave-assisted strategies and explored for ethanol oxidation reaction (EOR) in alkaline solution. The materials were thoroughly characterized using XRD, XPS, TEM, and Raman. TEM showed that Pd/SnO2/MOFDC gave the least average particle size of 5.5 nm compared to its counterparts on carbon black (CB). The Pd/SnO2/MOFDC gave the best electrocatalytic performance in terms of high electrochemical active surface area (ECSA) of 962 cm2 mg−1, low onset potential and overpotential for EOR, and high current density (j) of four times more than those of the Pd/CB electrocatalyst. In addition, Pd/SnO2/MOFDC showed superior kinetic parameter (in terms of the Tafel slope (b) = 216.1 ± 8 mV dec−1) and least combined resistance (R = Rs + Rct). These results show that the Pd/SnO2/MOFDPC nanoparticle electrocatalyst is promising for EOR with improved electrocatalytic properties for application in direct ethanol fuel cell (DEFC).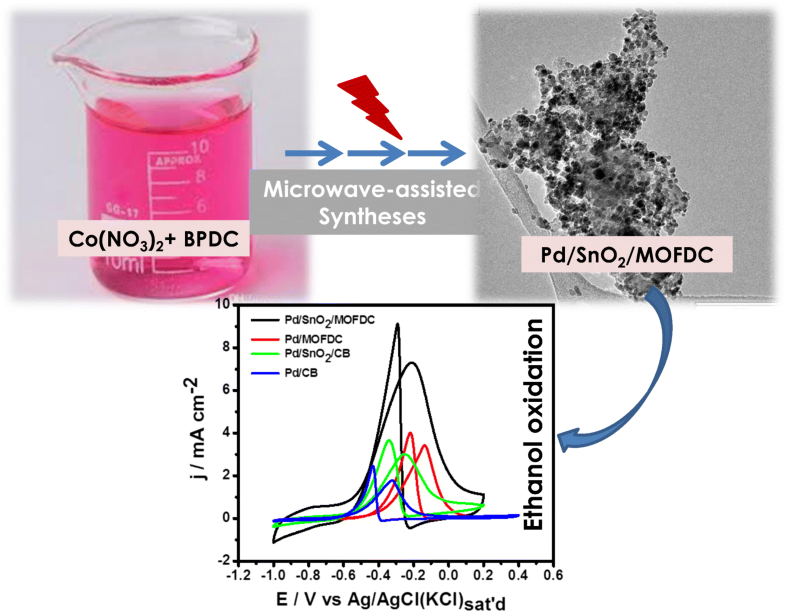 Keywords
MOF-derived carbon 
Pd/SnO2 nano-electrocatalysts 
Microwave-assisted synthesis methods 
Ethanol oxidation reaction 
Tafel slope 
Electrochemical impedance spectroscopy 
Notes
Acknowledgments
A. K. Ipadeola is grateful to the DST-NRF-TWAS African Renaissance for PhD scholarship. Opinions expressed and conclusions of this study are those of the authors and not necessarily to be attributed to DST-NRF-TWAS and Wits University.
Funding Information
This work was supported by the Department of Science and Technology (DST), National Research Foundation (NRF), the World Academy of Science (TWAS), and the University of the Witwatersrand (Wits).
Copyright information
© Springer Science+Business Media, LLC, part of Springer Nature 2019