Activity and Durability of Platinum-Based Electrocatalysts with Tin Oxide–Coated Carbon Aerogel Materials as Catalyst Supports
Abstract
Platinum nanoparticles were deposited onto carbon aerogel with three different tin coatings. The coatings were synthesized at pH = 0.7 or 11.5 and with various masses of SnCl2.H2O precursor: 1, 2, and 10 g. The nanoparticles dispersion was found dependent on the morphological properties of the support, i.e., its specific surface, porosity, and coverage by tin oxide. The material electrochemical activity for the oxygen reduction reaction (ORR) and stability was investigated: two accelerated stress tests (ASTs), mimicking either a base-load cycle procedure (P1) or a start-stop procedure (P2), were performed at T = 80 °C. The sample coated at pH = 0.7 and the sample with the lowest loading, deposited at pH = 11.5, exhibited interesting performances, both in term of stability (under P1) and activity. On the contrary, samples with highly covering tin oxide coating displayed unsatisfactory initial performances, owing to the low electrical conductivity of their catalytic support. In any case, the aging under P2 leads in a dramatic decrease of the electrocatalyst activity. This either resulted from (i) the low degree of organization of the carbon aerogel, the latter being prone to harsh corrosion when non-covered by the tin oxide, or (ii) by the chemical changes undergone by the tin oxide during the AST, leading to the formation of an amorphous, low electrical conductivity support.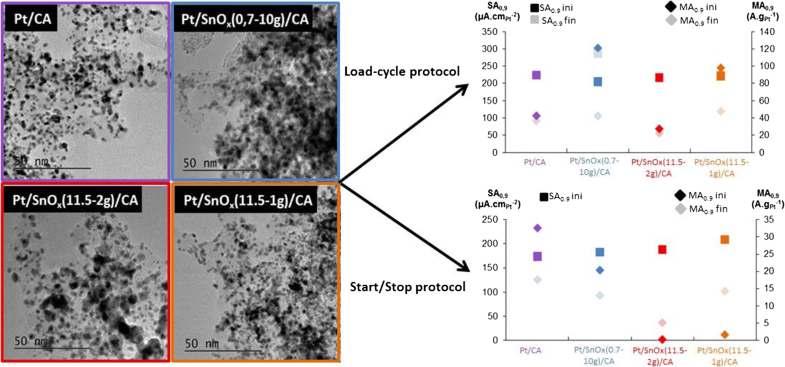 Keywords
Carbon aerogel 
Tin oxide 
Composite 
Electrocatalyst 
Durability 
PEMFC 
Notes
Acknowledgements
The authors wish to thank Pierre Ilbizian for the help with supercritical drying, Suzanne Jacomet for the SEM analysis, Gabriel Monge for the XRD (CEMEF-MINES ParisTech), and Capenergies and Tenerrdis for their support. MC thanks the French IUF for its support.
Funding Information
The French National Research Agency program, (ANR-14-CE05-0047 project CORECAT) funded this work. Some of this work has also been funded within the framework of the Centre of Excellence of Multifunctional Architectured Materials "CEMAM" n° AN-10-LABX-44-01.
Copyright information
© Springer Science+Business Media, LLC, part of Springer Nature 2019