Low-Cost and Highly Efficient Metal-Free Electrocatalysts for Oxygen Reduction Reaction: Environment-Friendly Three-Dimensional B, N Co-doped Graphene Aerogels
Abstract
Nitrogen (N) and boron (B) co-doped graphene materials have been certified as promising catalyst for oxygen reduction reaction (ORR), since the dual doping of foreign atoms could induce a unique electronic structure in graphene and create a synergistic coupling effect between heteroatoms. However, previously reported B, N co-doped graphene materials suffered from shortcomings such as needing highly toxic precursors or high cost or complex preparation procedures. Herein, one highly efficient metal-free ORR catalyst, three-dimensional graphene aerogels (GAs) co-doped with B and N using economical and environmentally friendly melamine and boric acid as heteroatom precursors, was prepared through a one-step hydrothermal method. The as-prepared microporous B, N co-doped GAs showed excellent electrochemical catalytic performances for ORR under alkaline condition (0.1 M KOH) with a much more positive onset potential (0.994 V vs. RHE) than most of the existing B, N co-doped ones, a dominant four-electron transfer mechanism (n = 3.73 at 0.6 V), as well as excellent stability.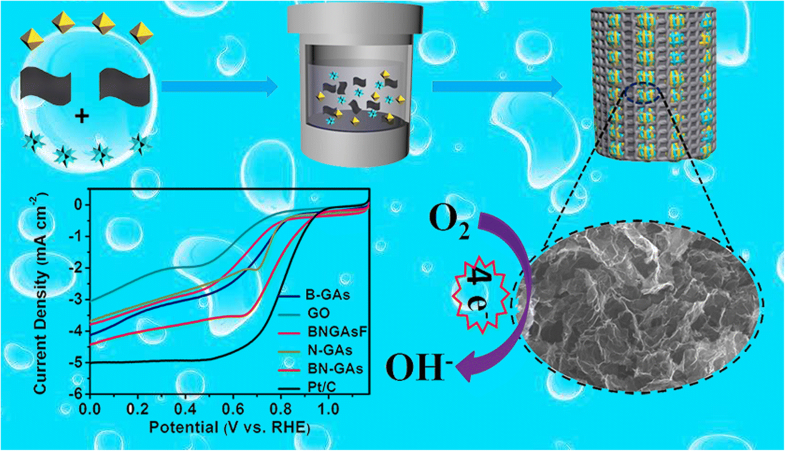 Keywords
Oxygen reduction reaction 
B, N co-doped 
Graphene aerogels 
Three-dimensional porous structure 
Notes
Acknowledgements
This work was supported by the National Nature Science Foundation of China (No 21575071), Qingdao Innovation Leading Expert Program, Qingdao Basic & Applied Research Project (15-9-1-100-jch), Open Funds of the State Key Laboratory of Electroanalytical Chemistry (SKLEAC201601) and Science & Technology Fund Planning Project of Shandong Colleges and Universities (J16LA13), and Training Programme for Outstanding Young Teachers in Higher Education Institutions of Guangdong Province (No. YQ2015203).
Copyright information
© Springer Science+Business Media, LLC, part of Springer Nature 2018