Highly Selective Methane Production Through Electrochemical CO2 reduction by Electrolytically Plated Cu-Co Electrode
Abstract
Among the electrode materials used for electrolytic CO2 reduction, only Cu shows a special function of producing not only carbon monoxide (CO), but also hydrocarbons from CO2. We found that, in electrolytic CO2 reduction using an electrolytically plated Cu-Co electrode, a hydrocarbon product with high faradaic efficiency (FE) could be obtained with low-FE CO. The plated electrodes have a Co solid solution on the Cu surface. The non-localized Co changes the adsorption energy of the reaction intermediate in CO2 reduction. Consequently, by increasing the Co content in Cu, HCOOH can be selectively produced. Further, in electrolytic CO2 reduction with an applied potential of − 1.19 V vs. reversible hydrogen electrode (RHE), the selectivity of methane (CH4) production improved, while the selectivity of ethylene (C2H4) formation lowered. In the reduction using the plated electrode containing 14% Co, the FE of CH4 production reached the highest at 47.7%. These results suggested that mixing Co in Cu promotes the hydrogenation of CH2* to CH3* and inhibits the dimerization of CH2* species. Furthermore, this research on plated electrodes is useful for the development of catalytic electrodes for electrolytic CO2 reduction.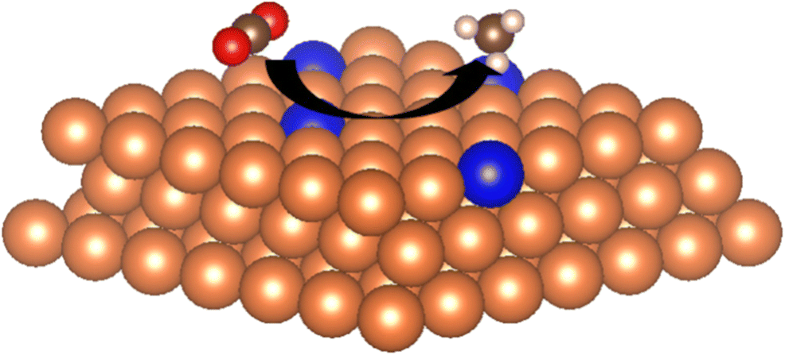 Keywords
CO2 reduction 
Copper 
Cobalt 
Plated electrode 
Methane production selectivity 
Notes
Compliance with Ethical Standards
Conflict of Interest
The authors declare that they have no conflict of interest.
Copyright information
© Springer Science+Business Media, LLC, part of Springer Nature 2018