Ni-Mo Alloy Electrodeposited over Ni Substrate for HER on Water Electrolysis
Abstract
Alkaline water electrolysis is a versatile technology for hydrogen production in situ. In this work, we study two different electrodeposited Ni-Mo alloys, with good electrocatalytic activity to hydrogen evolution reaction (HER). We propose Ni as substrate avoiding the corrosion and electrolyte contamination problem derived from eventual coating failure during long-term operations. The stable behavior of Ni as substrate as well as its known HER catalytic activity in alkaline electrolyzers make it attractive as a good option for our purpose. We prepare and characterize several Ni-Mo coatings over Ni by direct and pulse current supply electrodepositions. Ni-Mo coating prepared by pulse plating with a peak current density of 280 mA·cm−2 and 35% duty cycle exhibited the best electrocatalytic activity for HER. The coating is an amorphous alloy whose XRD peaks correspond to an f.c.c. Ni structure, with Mo substituent atoms and a rough cauliflower-like microstructure, with Mo content of 23 at.%. After 1000 cyclic voltammetry cycles, the electrocatalytic activity of the Ni-Mo electrocatalyst remains practically unchanged, and during 200 h of H2 evolution it maintains an overvoltage reduction of ca. 200 mV compared with bare Ni.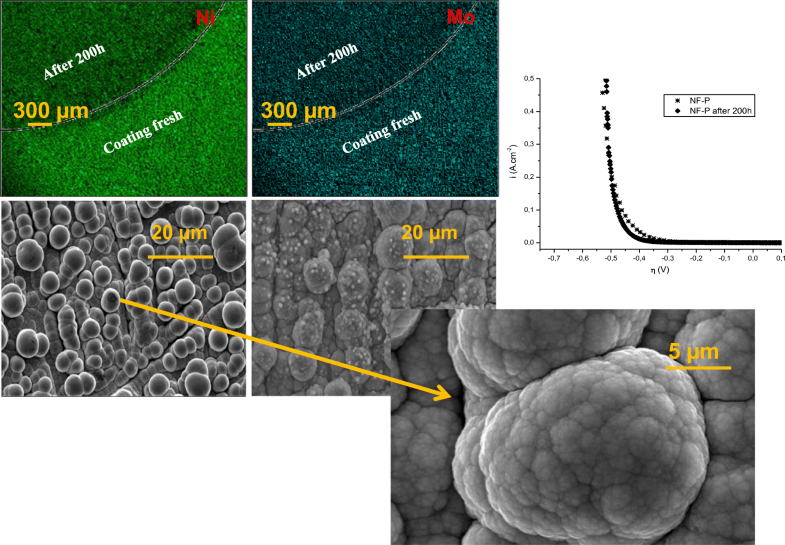 Keywords
Ni-Mo alloy 
Ni substrate 
Electrocatalyst 
Hydrogen evolution reaction 
Water electrolysis 
Notes
Acknowledgments
The authors wish to thank Dra. Paulina Lloret and BSc. Lionel Veiga from nanomaterials group (INTI-Procesos Superficiales) for SEM images, Laboratorio de Especies Cristalinas—DRX (INTI-Química), and Eng. Shaun T. Mc Mahon (INTI-Mecánica) for language revision.
Copyright information
© Springer Science+Business Media, LLC, part of Springer Nature 2018