Theoretical Studies on the CO2 Reduction to CH3OH on Cu(211)
Abstract
CO2 reduction has been pursued for decades as an effective way to produce useful fuels and to mitigate global warming at the same time. Methanol synthesis from CO2 hydrogenation over Cu-based catalysts plays an important role in the chemical and energy industries. However, fundamental questions regarding the reaction mechanism and key reaction intermediates of this process are still unclear. To address these issues, we studied the CO2 hydrogenation process using density functional theory (DFT) combined with van der Waals (vdW) force corrections, finding that the most effective pathway proceeds along the reaction series CO* → CHO* → CH2O* → CH2OH* → CH3OH* with the reactive intermediate CH2O*, which is consistent with experimental findings. Additionally, we find that water molecules play an inhibiting role in the reaction, while H bonds and vdW forces have an essential effect on the reaction mechanisms. These findings shed light on the reaction mechanism of CH3OH formation from CO2 hydrogenation and reveal the essence of H2O in this reaction, providing a useful basis for preceding studies.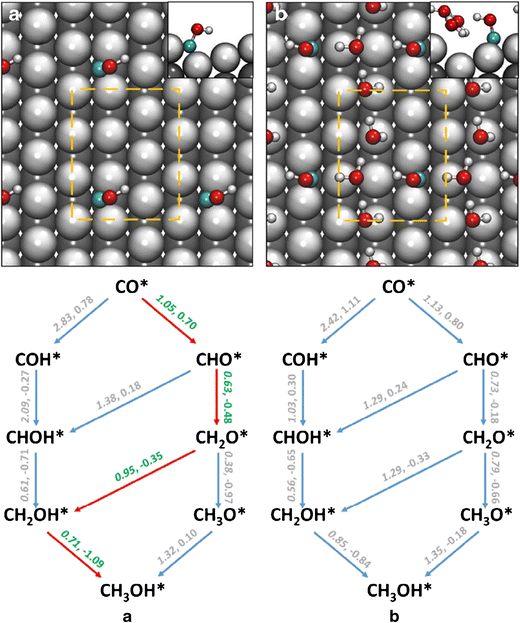 Keywords
Density functional theory 
CO2 reduction 
Electrocatalysis 
Copper 
Notes
Acknowledgements
The authors acknowledge support from the Deutsche Forschungsgemeinschaft (DFG) through the grant proposal (JA1072/9-1 and 9-2), which was part of the research unit DFG-FOR1376. Further, support by the Program for Thousand Young Talents Plan and the National Natural Science Foundation of China (No. 21673095, 51631004), the computing resources of High Performance Computing Center of Jilin University, and National Supercomputing Center in Jinan and in Shenzhen China are acknowledged. Finally, the authors also acknowledge the computer time supported by the state of Baden-Württemberg through the bwHPC project and the DFG through grant number INST40/467-1 FUGG.
Copyright information
© Springer Science+Business Media, LLC 2017