Oxygen Reduction Reaction Catalyzed by Small Gold Cluster on h-BN/Au(111) Support
Abstract
The catalytic activity for the oxygen reduction reaction (ORR) of a hexagonal boron nitride (h-BN) monolayer deposited on a Au(111) surface and decorated by a small planar Au8 cluster has been studied theoretically using density-functional theory. It is shown that gold nanoparticles (Au-NP) deposited on the h-BN/Au(111) surface can provide catalytically active sites for effective ORR at the perimeter interface with the support. Stabilization of oxygen at the perimeter interface between Au-NP and h-BN/Au(111) support promotes OOH* dissociation opening effective 4-electron pathway of ORR with formation of H2O. It is suggested that increase in the perimeter interface area between the supported Au-NP and the surface would result in increase of the ORR activity. Such increase in the perimeter interface area can be achieved by decreasing the size of Au-NP. Our calculations demonstrate the principal ability to functionalize inert materials such as stand-alone h-BN monolayer or Au surface for the ORR and open new way to design effective Pt-free catalysts for fuel cell technology.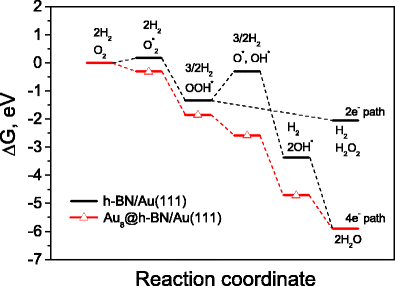 Keywords
Boron nitride 
Gold nanocatalysis 
Oxygen reduction reaction 
Interface effects 
Notes
Acknowledgements
This work was supported by the Japan Society for the Promotion of Science (JSPS KAKENHI Grants 15K05387 and 16KT0047); the FLAGSHIP2020 program supported by the Ministry of Education, Culture, Sports, Science and Technology (MEXT), Japan within the priority study5 (Development of new fundamental technologies for high-efficiency energy creation, conversion/storage and use); and the Development of Environmental Technology using Nanotechnology program from MEXT. The computations were performed at the Research Center for Computational Science, Okazaki, and the Numerical Materials Simulator at NIMS, Tsukuba, Japan.
Copyright information
© Springer Science+Business Media, LLC 2017