Electrodeposition of Ag Overlayers onto Pt(111): Structural, Electrochemical and Electrocatalytic Properties
Abstract
Epitaxially grown Ag overlayers have been fabricated by electrochemical deposition onto Pt(111). The electrochemical behaviour of these Ag overlayers has been studied by cyclic voltammetry, and their adsorption properties are significantly influenced by the underlying Pt(111) substrate and markedly different from those of Ag(111). A characteristic voltammetric peak for OH adsorption on pseudomorphic Ag islands has been observed for alkaline solution. A deposition–dissolution hysteresis in the underpotential deposition region for the Ag bilayer suggests exchange processes between subsurface Ag and Pt atoms. Theoretical DFT calculations confirm the stability of a pseudomorphic Ag monolayer. However, it is shown for two and three Ag layers that the formation of sandwich structures is theoretically favoured, i.e. Ag layers tend to be separated by single Pt layers. While Ag displaces hydrogen adsorbed in the underpotential region, the activity of Ag monolayers for the hydrogen evolution reaction (HER) is very close to that of Pt(111). Also, Tafel slopes for HER on the first pseudomorphic Ag monolayer on Pt(111) and for blank Pt(111) are almost identical, whereas thicker overlayers are more Ag-like. It is shown by theoretical calculations for the case of an Ag monolayer on Pt(111) that hydrogen can be adsorbed on the Pt subsurface layer.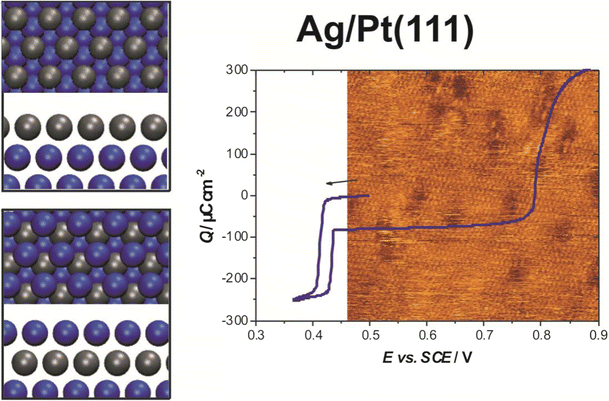 Keywords
Pt(111) 
Ag(111) 
Single crystals 
Ag overlayers 
Cyclic voltammetry 
Hydrogen evolution reaction 
Notes
Acknowledgements
JEM gratefully acknowledges financial support from the Alexander von Humboldt foundation. CW gratefully acknowledges financial support provided by ERASMUS and the Student Support Trust. EJB gratefully acknowledges financial support under the IREU exchange program coordinated by the American Chemical Society within the REU program of the National Science Foundation under award number IIA# 1261104.
Financial support by the Deutsche Forschungsgemeinschaft (Research Unit For-1376, Ki 787/6-1 and 6-2) and by the Fonds der Chemischen Industrie is gratefully acknowledged. The authors also acknowledge the computer time supported by the state of Baden-Württemberg through the bwHPC project and the DFG through grant number INST40/467-1 FUGG.
Copyright information
© Springer Science+Business Media New York 2017