CuO Nanoparticle-Protein Bioconjugate: Characterization of CuO Nanoparticles for the Study of the Interaction and Dynamic of Energy Transfer with Bovine Serum Albumin
Abstract
Here, we aim to disclose the role of two different ranges concentration of copper oxide nanoparticles (CuO NPs) for the adsorption of BSA to CuO NP surfaces and the kinetics of the energy transfer between CuO NPs and BSA molecule by using different spectroscopy, time-resolved fluorescence measurements, and DLS study. The grown ~ 20.31 nm CuO NPs showed 3.60-eV band gap and 1.026-eV Urbach energy. The XRD pattern showed that the unit cell of the synthesized CuO nano-crystal is monoclinic phase. The photoluminescence spectrum of pure CuO NPs showed a high quantum yield of the blue emission. A small red shift of the absorption peak of BSA is determined because of binding with CuO NPs. The calculated value of an apparent association constant (Kapp) in the CuO NPs–BSA bioconjugate was found to be 6.51 × 103 M−1 and 2.16 × 103 M−1 for the small concentration range and large concentration range, respectively. The total change in energy transfer efficiency (ΔEeff) at room temperature is 22% and 5.6% for the use large and small concentration, respectively; at body temperature, this change is 13.6% and 6.6%, respectively. The BSA quenching is a mixed type in lower temperature in the low-concentration range and fully dynamic in the high-concentration range. The nature of interaction is exothermic, electrostatic, and hydrophobic. The fluorescence lifetimes of pure BSA decreased from 4.94 to 1.04 ns upon adsorption onto CuO NPs, corresponding to Eeff of 79.35%. The use of large concentration leads to aggregation rather than individual corona formation under the small concentration of CuO NPs.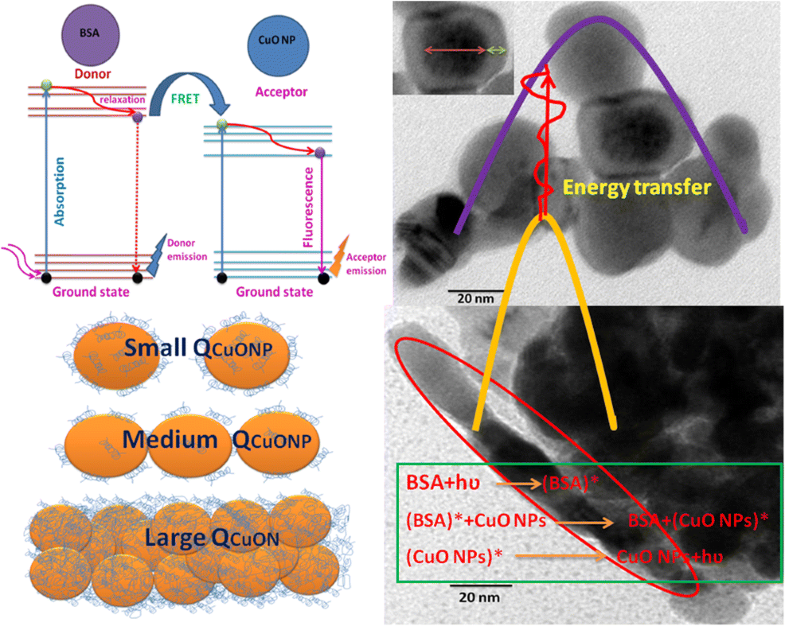 Keywords
CuO nanoparticles 
Absorption 
Fluorescence quenching 
Energy transfer 
Protein-nanoparticle interaction 
Notes
Acknowledgments
The authors are grateful to the Department of Physics and Technophysics of Vidyasagar University and Department of Physics, Gevernment General Degree College at Gopiballavpur-II. The authors are also thankful to CRF, IIT Kharagpur for the TEM measurement facility.
Copyright information
© Springer Science+Business Media, LLC, part of Springer Nature 2019