Callus Extract Mediated Green Synthesis of Silver Nanoparticles, Their Characterization and Cytotoxicity Evaluation Against MDA-MB-231 and PC-3 Cells
Abstract
The green synthesis of nanoparticles using callus extract as reducing agent is an eco-friendly, cost-effective approach. In the present study, silver nanoparticles (AgNPs) were prepared using aqueous callus extract of Hyptis suaveolens and their cytotoxic efficacy against cancer cells namely MDA-MB-231 and PC-3 was reported. Callus growth was observed on Murashige and Skoog (MS) medium supplemented with (BAP) benzylaminopurine (0.5 mg/L) + naphthalene acetic acid (NAA) (2 mg/L), and 45-day-old callus was used as a source for synthesis of AgNPs. The synthesis of AgNPs was identified initially by color change (yellow to brown) of the reaction mixture and was further confirmed by characteristic UV–visible surface plasmon resonance peak at 447 nm. The presence of elemental silver in synthesized AgNPs was confirmed through Energy dispersive X-ray spectroscopy (EDS). Scanning electron microscopy (SEM) and transmission electron microscopy (TEM) analysis revealed randomly dispersed, spherical shaped AgNPs, with size ranging from 12 to 25 nm, and the mean particle diameter is 18 ± 4 nm. Crystalline and monophasic nature of AgNPs was identified using XRD studies and distinct Bragg diffraction peaks corresponding to the planes of face-centered cubic lattice. The hydrodynamic diameter measured by dynamic light scattering was 207 nm, and it is higher than TEM and XRD analyses. The zeta potential of AgNPs in water was found to be − 24.5 mV, reflecting their higher stability, and FTIR revealed the presence of phenolic compounds and proteins. The cytotoxic effects of AgNPs against MDA-MB-231 and PC-3 cells were evaluated and their IC50 values were found to be 74.66 and 173.21 μg/mL, respectively. The results of the present study clearly demonstrate that the AgNPs prepared from Hyptis suaveolens have the potential to exert cytotoxic effect on cancer cell lines.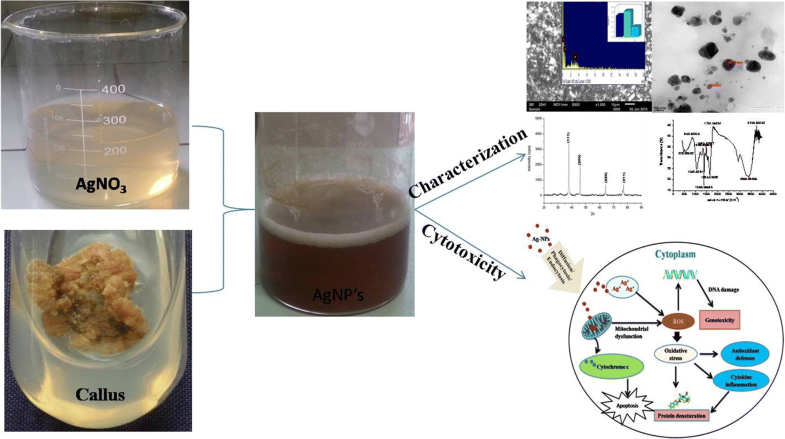 Keywords
Hyptis suaveolens
Callus extract 
Green synthesis 
Silver nanoparticles 
Characterization 
Cytotoxicity 
Abbreviations
AgNPs

Silver nanoparticles

FTIR

Fourier transform infrared spectra

SEM

Scanning electron microscopy

TEM

Transmission electron microscopy

XRD

X-ray diffraction

DLS

Dynamic light scattering

DMEM

Dulbecco's modified Eagle medium

MTT

3-(4,5-Dimethylthiazol-2-Yl)-2,5-diphenyltetrazolium bromide
Notes
Funding Information
This work received financial assistance from the University Grants Commission, New Delhi, India, under the scheme of UGC-National Fellowship (F./2015-16/NFO-2015-17-OBC-AND-36898 /(SA-III/Website) for Students of Other Backward Classes (OBC).
Compliance with Ethical Standards
Conflict of Interest
The authors declare that they have no conflict of interest.
Research involving humans and animals statement
None.
Copyright information
© Springer Science+Business Media, LLC, part of Springer Nature 2019