Effect of Some Charged Polymers on the Activity of Pancreatic Porcine Lipase
Abstract
Lipases play an important role in numerous metabolic reactions in all living species and may be activated at interfaces by some biopolymers in vivo, but inhibited—in vitro. The effect of two chitosan samples with different molecular weights on the activity of lipase from porcine pancreas (LPP) in triacetin hydrolysis was investigated. An equimolar amount or excess of chitosan activates LPP by a factor of 1.2 to 1.6. In order to support these data, a negatively charged polyelectrolyte—sodium polystyrene sulfonate (PSS)—was used instead of chitosan. A small increase in LPP activity was found also at an equimolar amount or excess of PSS. This unexpected effect can be explained as "interfacial activation" of LPP with opening of the hydrophobic channel for triacylglycerol hydrolysis. The observed activation effect is important for fundamental biochemistry of human and animal digestion models, as well as for further lipase applications.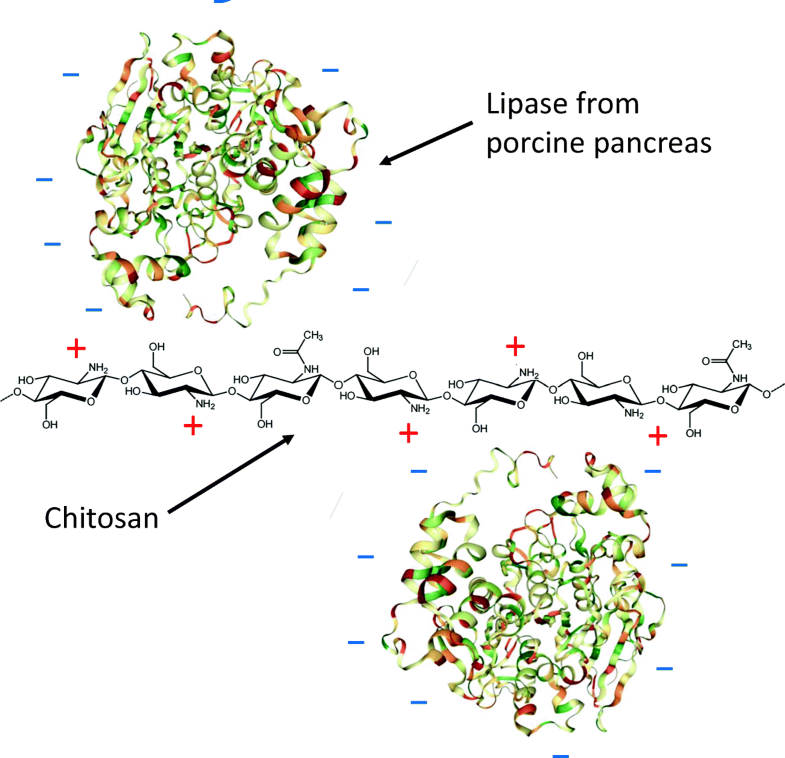 Keywords
Lipase 
Chitosan 
Enzyme immobilization 
Activity 
Triacetin 
Notes
Funding Information
This work was financially supported by the Russian Foundation for Basic Research (RFBR project 19-03-00717).
Compliance with Ethical Standards
Conflict of Interest
The authors declare that they have no conflict of interest.
Copyright information
© Springer Science+Business Media, LLC, part of Springer Nature 2019