Bioaccumulation of Transition Metal Oxide Nanoparticles and Their Influence on Early Growth Stages of Vigna unguiculata Seeds
Abstract
A reasonable understanding of the impact and health risk of the metal oxide nanoparticles treated on edible plants is necessary in order to use nanomaterials in food and medicine. In this study, we investigate the uptake and toxic response of transition metal oxides, namely Fe2O3, CuO and ZnO nanoparticles synthesised by co-precipitation method using nitrate salts of the respective metals as precursors. The characterisation of all the prepared nanoparticles shows the purity above 97% with rod-like morphology. Cowpea (Vigna unguiculata) seeds are soaked in a monodispersed solution of nanoparticles and kept for seed germination and plant growth. Transport and accumulation of the nanoparticles treated in the seeds are assessed through X-ray fluorescence spectroscopy which confirms the uptake of the nanoparticles with respect to the treatment regime. The seeds soaked in CuO nanoparticles reveal better seed germination percentage, an increased coleoptile length and a plant height at 100 ppm concentration than other nanoparticles. This study proves the limitation of CuO nanoparticle application for better growth of cowpea plants whereas iron and zinc oxide nanoparticles show promising response in plant growth, uptake and bioavailability in seeds even at higher treatments.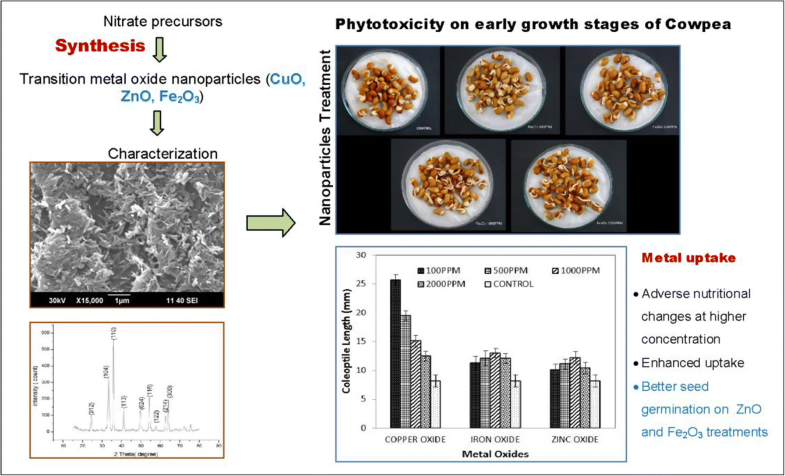 Keywords
Transition metal oxide 
Nanoparticles 
Uptake 
Cowpea 
Phytotoxicity 
Notes
Acknowledgements
One of the authors (R.S) is thankful to the University Grants Commission (UGC), New Delhi, for the award of Post-Doctoral Fellowship for Women (F.15-1/2015-17/PDFWM-2015-17-TAM-36274 dt.12/10/2015) to carry out this research work.
Copyright information
© Springer Science+Business Media, LLC, part of Springer Nature 2018