Abstract
Hardware viewed in current energy models, but no appropriate attention is given to the network environment and parameters. Components of the traditional design of the network are often viewed individually and separately in terms of power consumption. In this paper we, look at all possible sensor operations and generate a model for energy management in its integrated network. The work proposed divides these tasks into five energy consuming parts. The sensor's energy consumption is then modeled on its energy-consuming parts, parameters, and input operations. Thus, the energy consumption of the sensor can be decreased by effectively balancing and performing the chores of its constituents. The suggested strategy improves energy efficiency and can also be used as guide in setting wireless sensor networks (WSNs) parameters. Further more, It can help in designing an energy efficient WSNs. The serious energy limitations, however, pose special challenges for WSNs applications to establish and project scheduling which is usually has a strong influence on achieving energy efficiency and usage. This paper provides a framework for preparing the tasks, in which each node decides to do next according to the observed portion of the request. Within this Framework, we can exchange the application efficiency and the energy consumption provided by a weighted reward function and thus obtain better results in terms of energy/ performance. We can further improve this energy/performance trade off by exchanging data between neighboring nodes. The suggested approach analyzed in a target monitoring program. The simulation experiments show that cooperative approaches for this type of application are superior to non-cooperative approaches.
This is a preview of subscription content, log in to check access.
Access options
Buy single article
Instant unlimited access to the full article PDF.
US$ 39.95
Price includes VAT for USA
Subscribe to journal
Immediate online access to all issues from 2019. Subscription will auto renew annually.
US$ 99
This is the net price. Taxes to be calculated in checkout.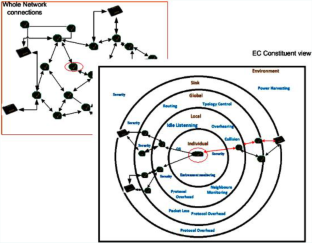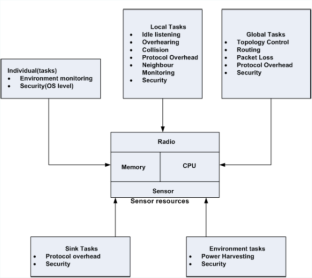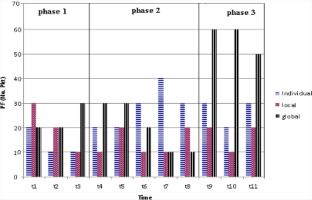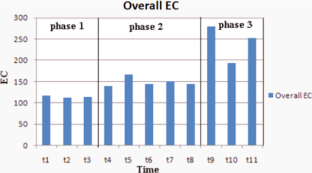 References
1.

Akhtar, F., Rehmani, M.H.: Energy replenishment using renewable and traditional energy resources for sustainable wireless sensor networks: a review. Renew. Sustain. Energy Rev. 45(C), 769–784 (2015)

2.

Nayyar, A., Singh, R.: A Comprehensive review of simulation tools for wireless sensor networks (WSNs). J. Wirel. Netw. Commun. 5(1), 19–47 (2015)

3.

Ezhilarasi, M., Krishnaveni, V.: An evolutionary multipath energy-efficient routing protocol (EMEER) for network lifetime enhancement in wireless sensor networks. Soft. Comput. 23(18), 8367–8377 (2019)

4.

Sharma, N., Nayyar, A.: A comprehensive review of cluster based energy efficient routing protocols for wireless sensor networks. Int. J. Appl. Innov. Eng. Manag. (IJAIEM) 3(1), 441–453 (2014)

5.

Arafa, A., Ulukus, S.: Optimal policies for wireless networks with energy harvesting transmitters and receivers: effects of decoding costs. IEEE J. Sel. Areas Commun. 33(12), 2611–2625 (2015)

6.

Bergonzini, C., Brunelli, D., Benini, L.: Algorithms for harvested energy prediction in batteryless wireless sensor networks. In: 2009 3rd International Workshop on Advances in sensors and Interfaces, Trani, 2009, pp. 144–149

7.

Davidson, J., Collins, M., Behrens, S.: Thermal energy harvesting between the air/water interface for powering wireless sensor nodes. In: Proceedings of SPIE—The International Society for Optical Engineering, pp. 728814 (2009)

8.

Wang, Y., Saksena, M.: Scheduling fixed-priority tasks with preemption threshold. In: Proceedings Sixth International Conference on Real-Time Computing Systems and Applications. RTCSA'99 (Cat. No.PR00306), Hong Kong, China, pp. 328–335 (1999)

9.

Lonare, S., Wahane, G.: A survey on energy efficient routing protocols in wireless sensor network. In: 2013 Fourth International Conference on Computing, Communications and Networking Technologies (ICCCNT), Tiruchengode, pp. 1–5 (2013)

10.

Tripathi, A., adav, N., Dadhich, R.: Secure-SPIN with cluster for data centric wireless sensor networks. In: 2015 Fifth International Conference on Advanced Computing and Communication Technologies, Haryana, pp. 347–351 (2015)

11.

Tahir, M., Javaid, N., Iqbal, A., Khan, Z., Alrajeh, N.: On adaptive energy-efficient transmission in WSNs. Int. J. Distrib. Sens. Netw. 9(5), 923714–21 (2013)

12.

Kim J., Chang, S., Kwon Y.: ODTPC: on-demand transmission power control for wireless sensor networks. In: 2008 International Conference on Information Networking, Busan, pp. 1–5, (2008)

13.

Nagarajan, M., Karthikeyan, S.: A new approach to increase the life time and efficiency of wireless sensor network. In: International Conference on Pattern Recognition, Informatics and Medical Engineering (PRIME-2012), Salem, Tamilnadu, pp. 231–235 (2012)

14.

Wen, Y., Zhu, X., Rodrigues, J.J.P.C., Chen, C.W.: Cloud mobile media: reflections and outlook. IEEE Trans. Multimed. 16(4), 885–902 (2014)

15.

Gao, Y., Guan, H., Qi, Z., Wang, B., Liu, L.: Quality of service aware power management for virtualized data centers. J. Syst. Architect. 59(4–5), 245–259 (2013)

16.

More, A., Raisinghani, V.: A survey on energy efficient coverage protocols in wireless sensor networks. J. King Saud Univ. Comput. Inf. Sci. 29(4), 428–448 (2017)

17.

Snow, S., Buys, L., Roe, P., Brereton, M.: Curiosity to cupboard: self reported disengagement with energy use feedback over time. In: Proceedings of the 25th Australian Computer–Human Interaction Conference: Augmentation, Application, Innovation, Collaboration (OzCHI '13), ACM, New York, NY, USA, pp. 245–254 (2013)

18.

Nagarajan, M., Karthik, S.: Various node deployment strategies in wireless sensor network. Int. J. Comput. Sci. (IIJCS) 5(8), 38–44 (2017)

19.

Erickson, T., Li, M., Kim, Y., Deshpande, A., Sahu, S., Chao, T., Sukaviriya, P., Naphade, M.: The Dubuque electricity portal: evaluation of a city-scale residential electricity consumption feedback system. In: Conference on Human Factors in Computing Systems - Proceedings. pp. 1203–1212 (2013)

20.

Adu-Manu, K., Adam, N., Tapparello, C., Wendi, H.A.: Energy-harvesting wireless sensor networks (EH-WSNs): a review. ACM Trans. Sens. Netw. 14, 1–50 (2018)

21.

Giannecchini, S., Caccamo, M., Shih, Chi-Sheng: Collaborative resource allocation in wireless sensor networks. In: Proceedings. 16th Euromicro Conference on Real-Time Systems, ECRTS 2004, pp. 35–44 (2004)

22.

Shah, K., Kumar, M.: Distributed independent reinforcement learning (DIRL) approach to resource management in wireless sensor networks. IEEE Int. Conf. Mobile Adhoc Sens. Syst. 2007, 1–9 (2007)

23.

York, D., Neubauer, M., Nowak, S., Molina, M.: Expanding the energy efficiency pie: serving more customers saving more energy through high program participation. American Council for an Energy-Efficient Economy (2015)

24.

Sholiyi, A., Alzubi, J.A., Alzubi, O.A., Almomani, O., O'Farrell, T.: Near capacity irregular turbo code. Indian J. Sci. Technol. 8(23), 1–10 (2016)

25.

Alzubi, O.A.: An empirical study of irregular AG block turbo codes over fading channels. Res. J. Appl. Sci. Eng. Technol. 11(12), 1329–1335 (2015)

26.

Al-Najdawi, N., Tedmori, S., Alzubi, O., Dorgham, O., Alzubi, J.: A frequency based hierarchical fast search block matching algorithm for fast video communication. Int. J. Adv. Comput. Sci. Appl. 7(4), 447–455 (2016)
Acknowledgements
The authors would like to thank Al-Balqa Applied University for its continuous support and encouragement.
Ethics declarations
Conflict of interest
The authors declare that they have no conflict of interest.
Additional information
Publisher's Note
Springer Nature remains neutral with regard to jurisdictional claims in published maps and institutional affiliations.
About this article
Cite this article
Alrabea, A., Alzubi, O.A. & Alzubi, J.A. A task-based model for minimizing energy consumption in WSNs. Energy Syst (2019). https://doi.org/10.1007/s12667-019-00372-w
Received:

Accepted:

Published:
Keywords
Wireless sensor networks

Wireless communication

Energy consumption

Energy management

Energy efficiency

Energy model

Sensors