Abstract
The butt welding of bimetal composite pipes generally adopts single-side welding, which easily gives rise to the problems such as high cost or crack initiation. In this paper, the butt welding of L415/316L bimetal mechanical lined pipes was conducted using post-internal-welding process, which is double-side welding process, proposed by the authors. Firstly, the effect of groove shape on the weld process was discussed. Then, microstructures and mechanical and corrosion-resistance properties of welded joints welded using two different welding materials, 309MoL and 309L, were investigated. The results show that the most suitable groove is that L415 is V shape with angle of 60° and blunt edge of 1 mm and 316L is stripped 6–8 mm. The weld of both 309MoL and 309L is composed of austenite and a small amount of ferrite, but the presence of Mo can refine the grains and increase the content of ferrite phase. The width of transition layer is about 0.6–0.8 mm located at the weld junction of stainless steel weld and carbon steel weld, and the transition layer mainly contains martensite. The tensile and bending performances of the welded joints using both 309MoL and 309L do meet the standard requirements. The welding wire 309MoL can improve the corrosion resistance to Cl− compared to 309L. It is advisable to use the post-internal-welding process and 309MoL for the welding of bimetal composite pipes under environments containing Cl−.
This is a preview of subscription content, log in to check access.
Access options
Buy single article
Instant access to the full article PDF.
US$ 39.95
Price includes VAT for USA
Subscribe to journal
Immediate online access to all issues from 2019. Subscription will auto renew annually.
US$ 99
This is the net price. Taxes to be calculated in checkout.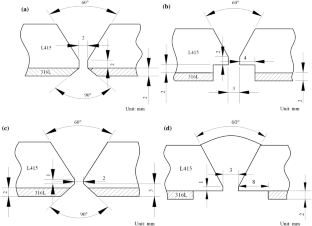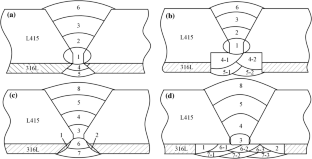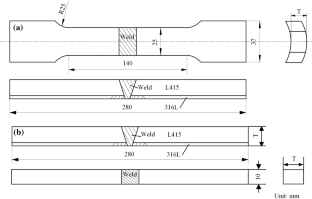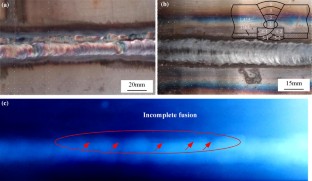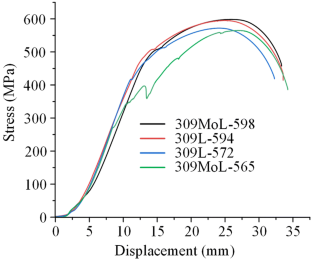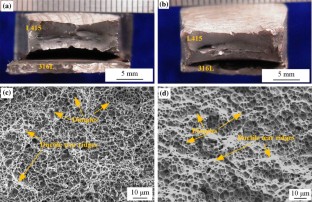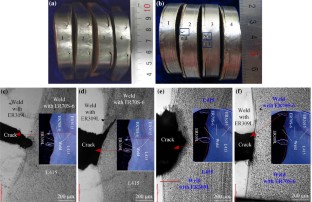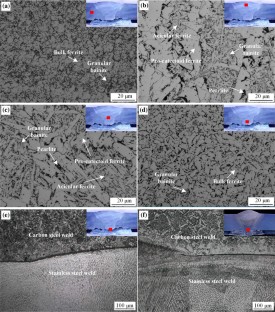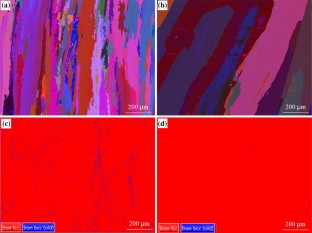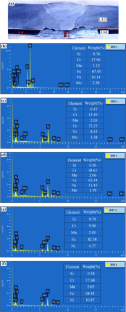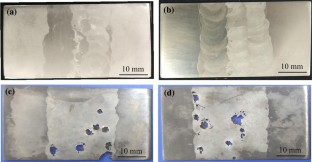 References
1.

Rodionova I G, Rybkin A N, Poretskii S V, Stolyarov V I, and Baklanov O N, Chem Technol Fuels Oil38 (2002) 67.

2.

Song F M, Electrochim Acta55 (2010) 689.

3.

Kermani M B, and Morshed A, Corrosion59 (2016) 659.

4.

Wei B, Li H, and Li F, Oil Gas Storage Transp35 (2016) 343.

5.

Spence M A, and Roscoe C V, Oil Gas J97 (1999) 80.

6.

Chen W C, and Petersen C W, SPE Prod Eng7 (1992) 375.

7.

Serikov O, Metallurgist49 (2005) 347.

8.

Banse J, Stainl Steel World10 (1998) 48.

9.

Gou N N, Zhang J X, Zhang L J, Li Z G, and Bi Z Y, Int J Adv Manuf Technol86 (2016) 2539.

10.

Zhang L J, Pei Q, Zhang J X, Bi Z Y, and Li P C, Mater Des64 (2014) 462.

11.

Russell D K, and Wilhelm S M, SPE Prod Eng6 (1991) 291.

12.

Jiang W, Chen W, Woo W, Tu S T, and Em V, Mater Des147 (2018) 65.

13.

Jiang W, Luo Y, Zhang G D, Woo W, and Tu S T, Mater Des51 (2013) 1052.

14.

Han H, Han B, Li L Y, and Zhang S Y, Electr Weld Mach47 (2017) 17.

15.

Li L Y, Wang C, Han B, and Pu J T, Trans Mater Heat Treat35 (2014) 125.

16.

Huang B S, Chen Q, Zhao X, Zhang R F, and Zhu Y, Trans Indian Inst Met71 (2018) 2933.

17.

Liu D M, Han B, and Li L Y, China Pet Mach44 (2016) 108.

18.

Gou N N, Zhang J X, Wang J L, and Bi Z Y, J Mater Eng Perform26 (2017) 1801.

19.

Chen H, Ma H Z, Chen X M, Jiang S F, and Wang H J, J Fail Anal Prev15 (2015) 563.

20.

GB/T 9711.2-1999, Petroleum and natural gas industries-technical delivery conditions-parts 2: pipes of requirements class B.

21.

GB/T 20878-2007, Stainless and heat-resisting steels-designation and chemical composition.

22.

Li L Y, Xiao J, Han B, and Wang X L, Int J Press Vessel Pip (2019) https://doi.org/10.1016/j.ijpvp.2019.104026.

23.

Pandey C, and Mahapatra M M, J Mater Eng Perform25 (2016) 2761.

24.

Pandey C, Mahapatra M M, Kumar P, and Saini N, Mater Sci Eng A685 (2017) 39.
Acknowledgements
This work was supported by the Natural Science Foundation of Shandong Province (ZR2013EEQ027) and Key Technology Research and Development Program of Shandong (2016ZDJS05B03).
Additional information
Publisher's Note
Springer Nature remains neutral with regard to jurisdictional claims in published maps and institutional affiliations.
About this article
Cite this article
Li, L., Xiao, J., Han, B. et al. Welding L415/316L Bimetal Composite Pipe Using Post-Internal-Welding Process. Trans Indian Inst Met (2020). https://doi.org/10.1007/s12666-020-01868-1
Received:

Accepted:

Published:
Keywords
L415/316L bimetal mechanical lined pipe

Post-internal-welding process

Groove shape

Welding materials

Microstructure

Corrosion resistance