Abstract
The Jinan spring area is one of the fastest developing and most water-stressed regions of China. Because of rapid urban expansion, groundwater recharge has been greatly influenced by land-use/cover change (LUCC). To gain an improved understanding of how the groundwater recharge affected by LUCC from 1960 to 2015, normal years, including 1985, 2000, and 2015, were selected using the Pearson-III distribution. Land-cover types of the normal years were classified using Thematic Mapper images. A loose coupling of an urban expansion model and a hydrological model was used to quantify the impact of LUCC on groundwater recharge. The results showed that land converted to built-up land was mainly mixed forest and arable land. The proportion of land-use types that remained unchanged was generally less than 50%, except for built-up land. In 2030, the area of built-up land will continue to increase, while the area of arable land and mixed forest will decrease correspondingly. The mean annual groundwater recharge was 88.32, 87.95, 73.31, and 76.17 mm for 1985, 2000, 2015, and 2030, respectively, which accounts for 14.01, 12.90, 12.20, and 11.98%, respectively, of the annual precipitation. In the water balance of the study area, only a small fraction (11.98–14.01%) of precipitation recharges the groundwater, and the remainder is lost by evapotranspiration (81.41–82.05%) and to a lesser extent by surface runoff (4.15–6.83%). The amount of groundwater recharge is mainly controlled by precipitation and potential evapotranspiration. Recharge is negatively correlated with the drought index. The ratio of groundwater recharge to precipitation decreased at a rate of − 0.06% from 1985 to 2015. The recharge/precipitation ratio is expected to decrease by a further 0.22% by 2030. The decrease in the ratio is primarily the result of an increase in built-up land areas, and a decrease in mixed forest and arable land areas.
This is a preview of subscription content, log in to check access.
Access options
Buy single article
Instant unlimited access to the full article PDF.
US$ 39.95
Price includes VAT for USA
Subscribe to journal
Immediate online access to all issues from 2019. Subscription will auto renew annually.
US$ 199
This is the net price. Taxes to be calculated in checkout.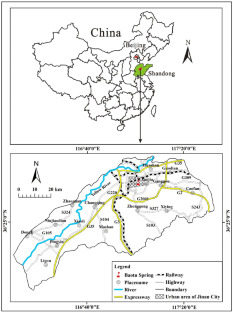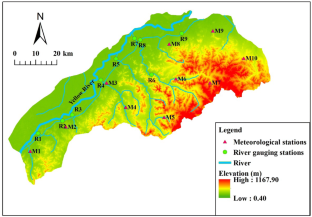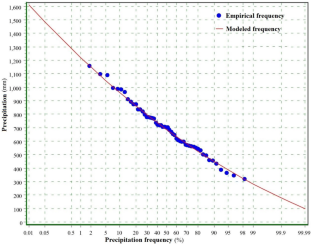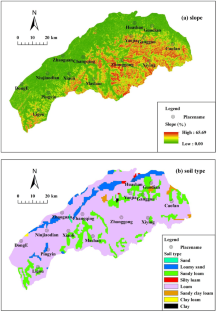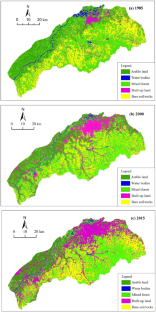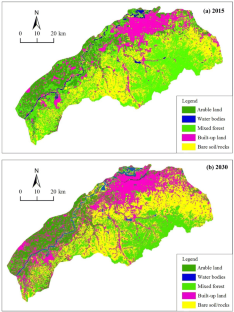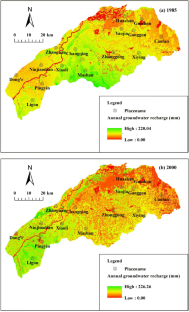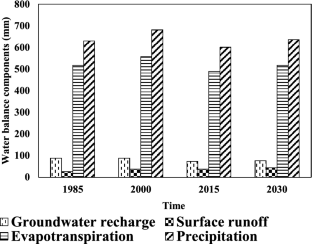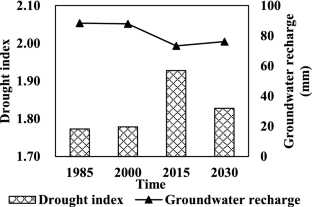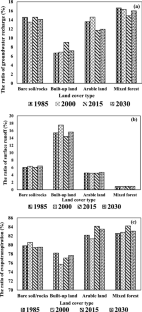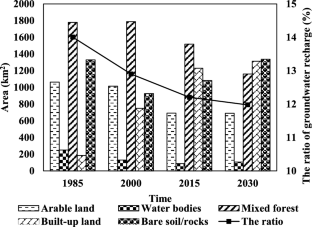 References
Achraf M, Khodayar A, Rouhallah F et al (2017) Groundwater recharge estimation under semi arid climate: case of northern gafsa watershed, tunisia. J Afr Earth Sci 132:37–46

Anuraga TS, Ruiz L, Kumar MSM et al (2006) Estimating groundwater recharge using land use and soil data: a case study in south india. Agric Water Manag 84(1–2):65–76

Azizi A, Malakmohamadi B, Jafari H (2016) Land use and land cover spatiotemporal dynamic pattern and predicting changes using integrated CA–Markov model. Global J Environ Sci Manag 2(3):223–234

Batelaan O, Smedt FD (2007) Gis-based recharge estimation by coupling surface–subsurface water balances. J Hydrol 337(3):337–355

Batelaan O, Smedt FD, Gehrels H et al (2001) WetSpass: a flexible, GIS based, distributed recharge methodology for regional groundwater modelling. IAHS Publ 269:11–18

Batelaan O, Smedt FD, Triest L (2003) Regional groundwater discharge: phreatophyte mapping, groundwater modelling and impact analysis of land-use change. J Hydrol 275(1):86–108

Butt A, Shabbir R, Ahmad SS et al (2015) Land use change mapping and analysis using remote sensing and gis: a case study of simly watershed, Islamabad, Pakistan. Egypt J Remote Sens Space Sci 18(2):251–259

Carrera-Hernández JJ, Gaskin SJ (2008) Spatio-temporal analysis of potential aquifer recharge: application to the Basin of Mexico. J Hydrol 353(3–4):228–246

Cheng T, Xu Z, Hong S et al (2017) Flood risk zoning by using 2d hydrodynamic modeling: a case study in Jinan city. Math Probl Eng 6:1–8

Devlin JF, Sophocleous M (2005) The persistence of the water budget myth and its relationship to sustainability. Hydrogeol J 13(4):549–554

Gebremeskel G, Kebede A (2017) Spatial estimation of long-term seasonal and annual groundwater resources: application of WetSpass model in the Werii watershed of the Tekeze River Basin, Ethiopia. Phys Geogr 38(4):338–359

Gebreyohannes T, Smedt FD, Walraevens K et al (2013) Application of a spatially distributed water balance model for assessing surface water and groundwater resources in the geba basin, tigray, ethiopia. J Hydrol 499(3):110–123

Ghosh P, Mukhopadhyay A, Chanda A et al (2017) Application of cellular automata and markov-chain model in geospatial environmental modeling—a review. Remote Sens Appl Soc Environ 5:64–77

Jafari M, Majedi H, Monavari SM et al (2016) Dynamic simulation of urban expansion through a CA–Markov model case study: Hyrcanian region, Gilan, Iran. Eur J Remote Sens 49(1):513–529

Jat MK, Khare D, Garg PK (2009) Urbanization and its impact on groundwater: a remote sensing and gis-based assessment approach. Environmentalist 29(1):17–32

Jiang W, Chen Z, Lei X et al (2015) Simulating urban land use change by incorporating an autologistic regression model into a clue-s model. J Geogr Sci 25(7):836–850

Kang F, Jin M, Qin P (2011) Sustainable yield of a karst aquifer system: a case study of Jinan springs in northern China. Hydrogeol J 19(4):851–863

Kong F, Nakagoshi N (2006) Spatial-temporal gradient analysis of urban green spaces in Jinan, China. Landsc Urban Plan 78(3):147–164

Li H, Wang S, Ji G et al (2011) Changes in land use and ecosystem service values in Jinan, China. Energy Procedia 5(5):1109–1115

Lychuk TE, Moulin AP, Johnson EN, Olfert OO, Brandt SA, Izaurralde RC (2017) Evaluation of the environmental policy integrated climate model on predicting crop yield in the Canadian prairies: a case study. Can J Soil Sci 97(4):692–702

Macedo MN, Coe MT, Defries R et al (2013) Land-use-driven stream warming in southeastern amazonia. Philos Trans R Soc B Biol Sci 368(1619):20120153

Moon SK, Woo NC, Lee KS (2004) Statistical analysis of hydrographs and water-table fluctuation to estimate groundwater recharge. J Hydrol 292(1–4):198–209

Nejadi A, Jafari HR, Makhdoum MF et al (2012) Modeling plausible impacts of land use change on wildlife habitats, application and validation: lisar protected area, Iran. Int J Environ Res 6(4):883–892

Poelmans L, Rompaey AV, Batelaan O (2010) Coupling urban expansion models and hydrological models: how important are spatial patterns? Land Use Policy 27(3):965–975

Shu B, Bakker MM, Zhang H et al (2017) Modeling urban expansion by using variable weights logistic cellular automata: a case study of nanjing, china. Int J Geogr Inf Syst 31(7):1314–1333

Subedi P, Subedi K, Thapa B (2013) Application of a hybrid cellular automaton—markov (CA–Markov) model in land-use change prediction: a case study of saddle creek drainage basin, Florida. Sci Educ 1(6):126–132

Teklebirhan A, Dessie N, Tesfamichael G (2012) Groundwater recharge, evapotranspiration and surface runoff estimation using wetspass modeling method in illala catchment, northern ethiopia. Momona Ethiop J Sci 27(3):341–343

Turner BLI, Skole DL, Sanderson S et al (1995) Land-use and land-cover change; science/research plan. Global Change Rep 43(1995):669–679

Vaz E, Nijkamp P (2015) Gravitational forces in the spatial impacts of urban sprawl: an investigation of the region of Veneto, Italy. Habitat Int 45:99–105

Viera AJ, Garrett JM (2005) Understanding inter-observer agreement: the kappa statistic. Fam Med 37(5):360–363

Wang B, Jin M, Nimmo JR et al (2008) Estimating groundwater recharge in Hebei plain, china under varying land use practices using tritium and bromide tracers. J Hydrol 356(1–2):209–222

Wang YH, Lei XH, Liao WH et al (2012) Monthly spatial distributed water resources assessment: a case study. Comput Geosci 45(6):319–330

Wang W, Page D, Zhou Y et al (2015) Roof runoff replenishment of groundwater in Jinan, China. J Hydrol Eng 20(3):B5014005

Wang J, Jin M, Lu G et al (2016a) Investigation of discharge-area groundwaters for recharge source characterization on different scales: the case of Jinan in northern China. Hydrogeol J 24(7):1–15

Wang Z, Yang S, Sun Y et al (2016b) Effects of climate and land use change on changes of Aridity Index in Wudinghe River Basin, China: 1982 to 2010. J China Hydrol 36(3):17–23 (In Chinese)

Wu X, Dong W, Lin X et al (2017) Evolution of wetland in Honghe national nature reserve from the view of hydrogeology. Sci Total Environ 609:1370–1380

Wu Z, Xu H, Li Y et al (2018) Climate and drought risk regionalisation in china based on probabilistic aridity and drought index. Sci Total Environ 612:513–521

Xue C, Zheng X, Zhang B et al (2015) Evolution of a multidimensional architectural landscape under urban regeneration: a case study of Jinan, China. Ecol Ind 55:12–22

Yang R, Cui B (2012) Framework of integrated stormwater management of Jinan city, China. Procedia Environ Sci 13:2346–2352

Yang X, Zheng XQ, Lv LN (2012) A spatiotemporal model of land use change based on ant colony optimization, markov chain and cellular automata. Ecol Model 233(2):11–19

Zhang YQ, Liu SL, Cheng FY et al (2017) Wetspass-based study of the effects of urbanization on the water balance components at regional and quadrat scales in Beijing, China. Water 10(1):5
Acknowledgements
We gratefully acknowledge financial support from National Key R&D Program of China (Grant No. 2017YFC0404603), the Major Scientific and Technological Research Project of the Shandong Province Bureau of Geology and Mineral Resources (Grant No. 2012-045) and National Natural Science Foundation of China (Grant Nos. 41772257; 41472216).
Additional information
Publisher's Note
Springer Nature remains neutral with regard to jurisdictional claims in published maps and institutional affiliations.
Weihong Dong and Changsuo Li are equally contributed to this work.
About this article
Cite this article
Wen, C., Dong, W., Meng, Y. et al. Application of a loose coupling model for assessing the impact of land-cover changes on groundwater recharge in the Jinan spring area, China. Environ Earth Sci 78, 382 (2019). https://doi.org/10.1007/s12665-019-8388-8
Received:

Accepted:

Published:
Keywords
LUCC

WetSpass model

CA–Markov model

Groundwater recharge

Jinan spring area