Abstract
The composite of TiO2 and zeolite H-ZSM-5 has great photocatalytic ability for organic contaminants over a very large specific surface area and highlighted adsorption capacity. To describe abiotic degradation of imidacloprid, the photoinduced degradation of the pesticide imidacloprid in aqueous solutions, in the presence of TiO2 supported on H-ZSM-5 as photocatalyst, was performed. The study focused on the comparison of the imidacloprid degradation between photolysis and photocatalysis. The experimental results showed that the degradation of imidacloprid was more rapid in the condition of photocatalytic than that of photolysis or TiO2-only. The identification of possible intermediate products during the degradation was investigated by the high-performance liquid chromatography coupled with electrospray time-of-flight mass spectrometry (HPLC/TOF-MS). The main photocatalytic products were identified as chloronictinic acid, 1-[(6-chloro-3-pyridinyl) methyl]-2-imidazolidinone and 1-[(6-chloro-3-pyridinyl) methyl]-N-nitroso-2-imidazolidimine.
This is a preview of subscription content, log in to check access.
Access options
Buy single article
Instant unlimited access to the full article PDF.
US$ 39.95
Price includes VAT for USA
Subscribe to journal
Immediate online access to all issues from 2019. Subscription will auto renew annually.
US$ 199
This is the net price. Taxes to be calculated in checkout.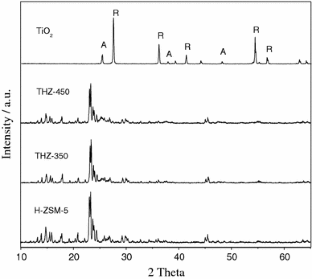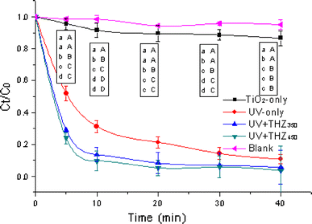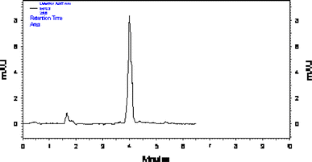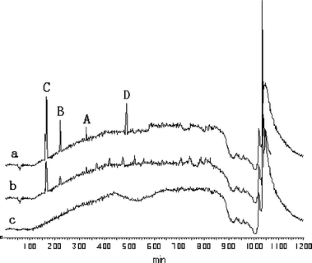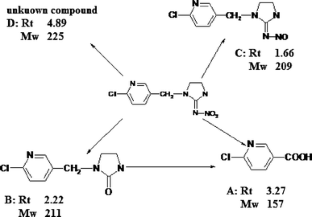 References
Aguera A, Almansa E, Malato S, Maldonado MI, Fernández-Alba AR (1999) Evaluation of photocatalytic degradation of Imidacloprid in industrial water by GC-MS and LC-MS. Analusis. 26(7):245–251

Andreozzi R, Caprio V, Insola A, Marotta R (1999) Advanced oxidation processes (AOP) for water purification and recovery. Catal Today 53(1):51–59

Chiron S, Fernandez-Alba A, Rodriguez A, Garcia-Calvo E (2000) Pesticide chemical oxidation: State-of-the-art. Water Res 34(2):366–377

Felsot AS, Racke KD, Hamilton DJ (2003) Disposal and degradation of pesticide waste. Rev Environ Contam Toxicol 177:123–200

Harrison RM (2006) Water pollution causes effects and control. Chapter 12: pesticide pollution; New Age International Publication; 130–138

Ikehata K, El-Din MG (2006) Aqueous pesticide degradation by hydrogen peroxide/ultraviolet irradiation and Fenton-type advanced oxidation processes: a review. J Environ Eng Sci 5(2):81–135

Kralj MB, Trebse P, Franko M (2007) Applications of bioanalytical techniques in evaluating advanced oxidation processes in pesticide degradation. Trac-Trend Anal Chem 26(11):1020–1031

Malato S, Caceres J, Agüera A, Mezcua M, Hernando D, Vial J, Fernández-Alba AR (2001) Degradation of imidacloprid in water by photo-fenton and TiO2 photocatalysis at a solar pilot plant: a comparative study. Environ Sci Technol 35(21):4359–4366

Pignatello JJ, Oliveros E, MacKay A (2006) Advanced oxidation processes for organic contaminant destruction based on the fenton reaction and related chemistry. Crit Rev Env Sci Technol 36(1):1–84

Van Der Hoek JP, Hofman JAMH, Graveland A (1999) The use of biological activated carbon filtration for the removal of natural organic matter and organic micropollutants from water. Water Sci Technol 40(9):257–264
Acknowledgments
This work was supported by the National Natural Science Foundation of China (No. 51078001), the key project of Science Research (08010301106) and the project of International Science & Technology Cooperation Plan (09080703035) of Anhui Provence.
About this article
Cite this article
Tang, J., Huang, X., Huang, X. et al. Photocatalytic degradation of imidacloprid in aqueous suspension of TiO2 supported on H-ZSM-5. Environ Earth Sci 66, 441–445 (2012) doi:10.1007/s12665-011-1251-1
Received:

Accepted:

Published:

Issue Date:
Keywords
Photocatalysis

Imidacloprid

TiO2

H-ZSM-5