Prevalence of thyroid autoimmunity in first-degree relatives of patients with celiac disease
Abstract
Aim
Patients with celiac disease (CeD) are prone to develop other autoimmune diseases such as autoimmune thyroid disease and type 1 diabetes. While 7.5% of first-degree relatives (FDRs) of patients with CeD develop CeD, it is not clear whether FDRs of patients with CeD are at higher risk of developing autoimmune thyroid disease.
Methods
In this prospective case-control study, we recruited 194 FDRs (males 53.1%) of 91 patients with CeD and 140 age-matched healthy controls (males 76.4%). They were screened for CeD using anti-tissue transglutaminase antibodies (anti-tTG Ab) and thyroid disease using a symptom questionnaire, anti-thyroid peroxidase antibodies (anti-TPO) and serum thyroid-stimulating hormone (TSH). Subjects having positive anti-TPO but a normal TSH were classified as having thyroid autoimmunity and those with elevated TSH with or without positive anti-TPO Ab were classified as having autoimmune thyroid dysfunction.
Results
The prevalence of thyroid autoimmunity and autoimmune thyroid dysfunction in FDRs was significantly higher than that in healthy controls (17.5% vs. 5.0%, p < 0.01; 11.8% vs. 3.5%, p < 0.01), respectively. A significantly higher number of FDRs had a positive anti-tTG Ab in comparison with controls (13.9% vs. 2.2%, p < 0.001). Amongst FDRs having thyroid autoimmunity, 44.1%, 47.0% and 8.8% were siblings, parents and children of patients with CeD, respectively. Familial clustering was seen only in 1 family.
Conclusion
FDRs of patients with CeD have 3-fold higher risk of developing autoimmune thyroid disorders and associated thyroid dysfunction. Therefore, it is advisable for early screening of FDRs for CeD and associated thyroid autoimmune through screening measures.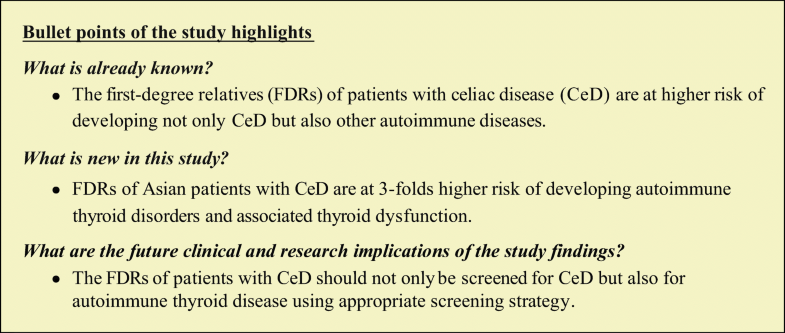 Keywords
Autoimmunity 
Familial 
Genetics 
Thyroid dysfunction 
Notes
Compliance with ethical standards
Conflict of interest
SS, AA, AS, VG, RK, PKC, VA, and GKM declare that they have no conflict of interest.
Ethics statement
The study was performed conforming to the Helsinki declaration of 1975, as revised in 2000 and 2008 concerning human and animal rights, and the authors followed the policy concerning informed consent as shown on Springer.com.
Institutional Ethics Committee approved the study (IEC/NP-202/ 275Q5 08.05.2015, RP-18/2015), and written and informed consent was taken from each participating subject.
Disclaimer
The authors are solely responsible for the data and the contents of the paper. In no way, the Honorary Editor-in-Chief, Editorial Board Members, or the printer/publishers are responsible for the results/findings and content of this article.
Copyright information
© Indian Society of Gastroenterology 2019