Abstract
Introduction
Temporomandibular joint (TMJ) disorders can be treated by both conservative and surgical approaches. Conservative interventions with predictable benefits can be considered as first-line treatment for such disorders. Dextrose prolotherapy is one of the most promising approaches in the management of TMDs, especially in refractory cases where other conservative management has failed.
Aim
To study the efficacy of prolotherapy and to establish it as an effective procedure in patients with TMJ disorders, to provide long-term solution to chronic TMJ pain and dysfunctions.
Patients and Methods
We conducted a study on 25 patients suffering from various TMJ disorders who were treated with prolotherapy, the solution consisting of 1 part of 50% dextrose (0.75 ml); 2 parts of lidocaine (1.5 ml); and 1 part of warm saline (0.75 ml). The standard programme is to repeat the injections three times, at 2-week interval, which totals four injection appointments over 6 weeks with 3-month follow-up.
Results
There was appreciable reduction in tenderness in TMJ and masticatory muscles with significant improvement in mouth opening. The effect of the treatment in improving clicking and deviation of TMJ was found to be statistically significant (P < 0.05). There were no permanent complications.
Conclusion
Our study concluded that prolotherapy is an effective therapeutic modality that reduces TMJ pain, improves joint stability and range of motion in a majority of patients. It can be a first-line treatment option as it is safe, economical and an easy procedure associated with minimal morbidity.
This is a preview of subscription content, log in to check access.
Access options
Buy single article
Instant unlimited access to the full article PDF.
US$ 39.95
Price includes VAT for USA
Subscribe to journal
Immediate online access to all issues from 2019. Subscription will auto renew annually.
US$ 99
This is the net price. Taxes to be calculated in checkout.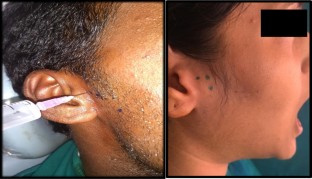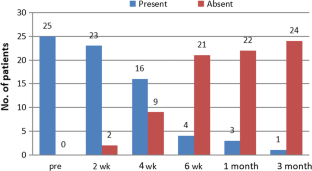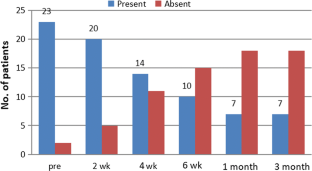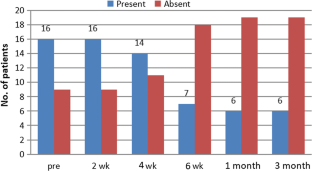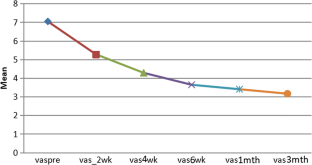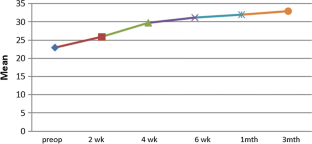 References
1.

Merskey H, Bogduk N (1994) Classification of chronic pain. Task force on taxonomy. International Association for the Study of Pain, 2nd edn. IASP Press, Seattle, pp 210–213

2.

Klein RG, Eek BC, DeLong WB, Mooney V (1993) A randomized double blind trial of dextrose-glycerine-phenol injections for chronic, low back pain. J Spinal Disord 6:23–33

3.

Jeelani S, Krishna S, Reddy J, Reddy V (2013) Prolotherapy in temporomandibular disorders: an overview. Open J Dent Oral Med 1:15–18

4.

Distel LM, Best TM (2011) Prolotherapy: a clinical review of its role in treating chronic musculoskeletal pain. PM&R 3(6 Suppl 1):S78–S81

5.

Hauser RA, Hauser MA, Blakemore BA (2007) Dextrose prolotherapy and pain of chronic TMJ dysfunction. Pract Pain Manag 7:49–56

6.

Milaro M, Ghali GE, Larsen PE, Waite PD (2004) Petersons principles of oral and maxillofacial surgery, 2nd edn. BC Decker Inc, Hamilton

7.

Vankdoth S, Reddy S, Adamala, Talla H (2014) Prolotherapy—a venturing treatment for temporomandibular joint disorder. IJSS Case Rep Rev 1(7):27–30

8.

Hakala RV, Ledermann KM (2010) The use of prolotherapy for temporomandibular joint dysfunction. J Prolother 2:435–446

9.

Hauser RA et al (2016) A systemic review of dextrose prolotherapy for chronic musculoskeletal pain. Clin Med Insights Arthritis Musculoskelet Disord 9:139–159

10.

Majumdar SK et al (2016) Single injection technique prolotherapy for hypermobility disorders of TMJ using 25% dextrose: a clinical study. J Maxillofac Oral Surg 16(2):226–230

11.

Refai H (2017) Long-term therapeutic effects of dextrose prolotherapy in patients with hypermobility of the temporomandibular joint: a single-arm study with 1–4 years' follow up. BJOMS 55:465–470

12.

Zhou H, Ding Y, Hu K (2014) Modified dextrose prolotherapy for the treatment of recurrent temporomandibular joint dislocation. Br J Oral Maxillofac Surg 52(1):63–66
Ethics declarations
Conflict of interest
None declared.
Ethical Approval
All procedures performed in studies involving human participants were in accordance with the ethical standards of the institutional and/or national research committee and with the 1964 Declaration of Helsinki and its later amendments or comparable ethical standards.
Informed Consent
Informed consent was obtained from all individual participants included in the study.
Additional information
Publisher's Note
Springer Nature remains neutral with regard to jurisdictional claims in published maps and institutional affiliations.
About this article
Cite this article
Dasukil, S., Shetty, S.K., Arora, G. et al. Efficacy of Prolotherapy in Temporomandibular Joint Disorders: An Exploratory Study. J. Maxillofac. Oral Surg. (2020). https://doi.org/10.1007/s12663-020-01328-9
Received:

Accepted:

Published:
Keywords
Prolotherapy

TMJ

TMD

Dextrose

Refractory