Abstract
Aim
This prospective study aimed at studying the complications associated with different techniques of anterior segmental maxillary osteotomy.
Material and Method
The study was conducted on 20 cases diagnosed with anteriorly prognathic maxilla with class 1 molar relation. The patients were followed up for a period of at least 1 year. The clinical and demographic data along with the intraoperative and postoperative complications associated with different treatment techniques were recorded.
Results
In five cases, Wassmund technique was followed with average time span of 32 min. Wunderer and Cupar technique took average time span of 23 min. Two patients presented with four non-vital teeth in a follow-up period of 1 year and one patient treated with Cupar's technique had complication of palatal tear. Only one patient reported with relapse in a follow-up period and none of the patients had any complication associated with hemorrhage, neurosensory alteration or requiring plate removal. The findings of our study recommend ASMO as treatment modality of choice in patients with bimaxillary and/or dentoalveolar protrusion with Cupar's technique providing more ease of operation.
This is a preview of subscription content, log in to check access.
Access options
Buy single article
Instant unlimited access to the full article PDF.
US$ 39.95
Price includes VAT for USA
Subscribe to journal
Immediate online access to all issues from 2019. Subscription will auto renew annually.
US$ 99
This is the net price. Taxes to be calculated in checkout.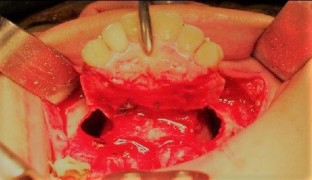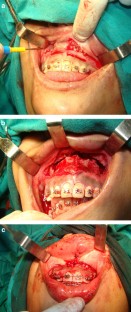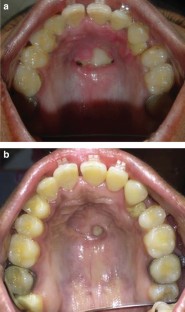 References
1.

Miyajima K, McNamara JA, Kimura T et al (1996) Craniofacial structure of Japanese and European–American adults with normal and well-balanced faces occlusions. Am J Orthod Dentofac Orthop 110:431–438

2.

Chung CS, Kau MC, Walker GF (1982) Racial variation of cephalometric measurements in Hawaii. J Craniofac Genet Dev Biol 2(2):99–106

3.

Cohn-Stock G (1921) Die cbirurgische Immedia-tregulierung der Kiefer, speziell die chirur-gische. Behandlung der Prognathie. Vjschr ZahnheilkBerlin 37:320

4.

Wassmund J (1935) Lehrbuch der praktischen chirurgie de Mundes und der Keifer, vol 1. Barth, Leipzig, pp 260–282

5.

Cupar I (1954) Surgical treatment of alterations in form and position of the maxilla. Osterr Z Stomatol 51:565

6.

Wunderer S (1963) Erfahrungen mit der operativen Behandlung hoch-gradiger Prognathien. Dtsch Zahn Mund Kieferheilk 39:451

7.

Bell WH, Condit CL (1970) Surgical-orthodontic correction of adult bimaxillary protrusion. J Oral Surg 28:578

8.

Gunaseelan R, Anantanarayanan P et al (2009) Intraoperative and perioperative complications in anterior maxillary osteotomy: a retrospective evaluation of 103 patients. J Oral Maxillofac Surg 67(6):1269–1273

9.

Bell WH (1969) Revascularization and bone healing after anterior maxillary osteotomy: a study using adult rhesus monkeys. J Oral Surg 27(4):249–255

10.

Quejada JG, Kawamura H et al (1986) Wound healing associated with segmental total maxillary osteotomy. J Oral Maxillofac Surg 44(5):366–377

11.

Mohnac AM (1966) Maxillary osteotomy in the management of occlusal deformities. J Oral Surg 24:305

12.

Jayaratne YSN, Zwahlen RA, Lo J, Cheung LK (2010) Facial soft tissue response to anterior segmental osteotomies: a systematic review. Int J Oral Maxillofac Surg 39(11):1050–1058

13.

Leibold DG et al (1971) A subjective evaluation of the reestablishment of the neuro-vascular supply of teeth involved in anterior maxillary osteotomy procedures. Oral Surg Oral Med Oral Pathol 32:531–543

14.

Sher MR et al (1984) A survey of complications in segmental orthognathic surgical procedures. Oral Surg Oral Med Oral Pathol 58(5):537–539

15.

Mesgarzadeh A, Motamedi MH, Akhavan H, Tousi TS, Mehrvarzfar P, Eshkevari PS (2010) Effects of Le Fort I osteotomy on maxillary anterior teeth: a 5-year follow up of 42 cases. Eplasty 10:e10

16.

Morris DE et al (2007) Pitfalls in orthognathic surgery: avoidance and management of complications. Clin Plast Surg 34(3):e17–e29

17.

Kiely KD et al (2006) One-year postoperative stability of LeFort I osteotomies with biodegradable fixation: a retrospective analysis of skeletal relapse. Am J Orthod Dentofac Orthop 130(3):310–316

18.

Falter B et al (2011) Plate removal following orthognathic surgery. Oral Surg Oral Med Oral Pathol Oral Radiol Endodontol 112(6):737–743
Ethics declarations
Conflict of interest
The authors declare that they have no conflict of interest.
Ethical Standards
This study was conducted in compliance with the World Medical Association Declaration of Helsinki on medical research protocols and ethics.
Additional information
Publisher's Note
Springer Nature remains neutral with regard to jurisdictional claims in published maps and institutional affiliations.
About this article
Cite this article
Gupta, A., Sharma, S.D., Kataria, V. et al. Experience with Anterior Maxillary Osteotomy Techniques: A Prospective Study of 20 Cases. J. Maxillofac. Oral Surg. 19, 119–124 (2020) doi:10.1007/s12663-019-01234-9
Received:

Accepted:

Published:

Issue Date:
Keywords
Anterior segmental osteotomy

Complications

Experience