Abstract
Background
A routine mandibular fracture matures in about 12 weeks and hence hinders normal function significantly. Alternatives are being researched to hasten the healing and allow early function. This prospective study aimed to assess the osteogenic potential of the drug Cissus quadrangularis (CQ) on the mandibular fracture healing.
Design
Prospective randomized study.
Results
The study between the groups revealed a statistically significant increase in the alkaline phosphatase levels in CQ group in comparison with control group. The radiographic findings (increment in density and rate of change of density), clinical findings (mobility, swelling, reduction in pain) and other biochemical findings (serum calcium, serum phosphorous) did not differ statistically between the CQ and control groups.
Conclusion
Based on the lack of a statistically significant improvement in almost all parameters except for the alkaline phosphatase levels, we believe that a larger sample size is required to ascertain the absolute value of CQ before adding it to the mandibular fracture regimen.
This is a preview of subscription content, log in to check access.
Access options
Buy single article
Instant unlimited access to the full article PDF.
US$ 39.95
Price includes VAT for USA
Subscribe to journal
Immediate online access to all issues from 2019. Subscription will auto renew annually.
US$ 99
This is the net price. Taxes to be calculated in checkout.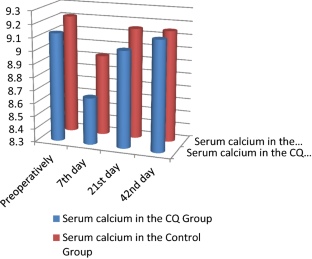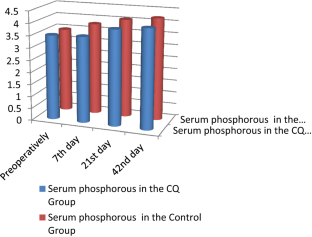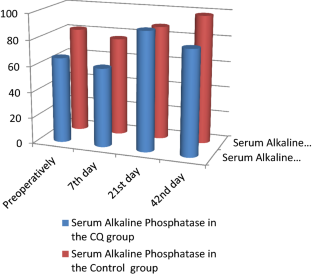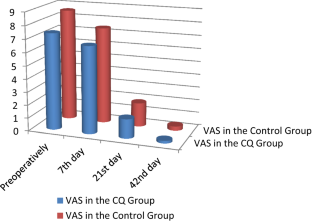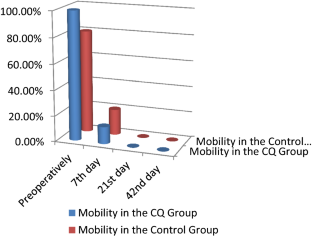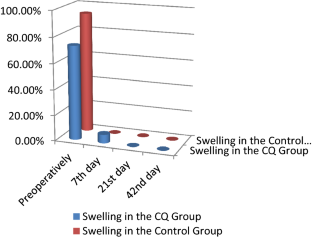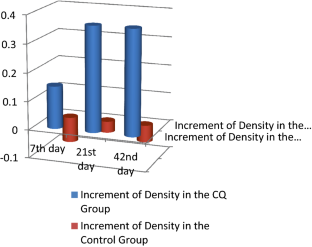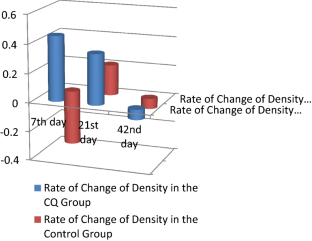 References
1.

Koshy JC, Feldman EM, Chike-Obi CJ, Bullocks JM (2010) Pearls of mandibular trauma management. Semin Plast Surg 24(4):357–374. https://doi.org/10.1055/s-0030-1269765

2.

Singh V, Singh N, Pal US, Dhasmana S, Mohammad S, Singh N (2011) Clinical evaluation of Cissus quadrangularis and Moringa oleifera and osteoseal as osteogenic agents in mandibular fracture. Natl J Maxillofac Surg 2(2):132–136. https://doi.org/10.4103/0975-5950.94466

3.

Singh N, Singh V, Singh RK et al (2013) Osteogenic potential of Cissus quadrangularis assessed with osteopontin expression. Natl J Maxillofac Surg 4(1):52–56. https://doi.org/10.4103/0975-5950.117884

4.

Mohammad S, Pal US, Pradhan R, Singh N (2014) Herbal remedies for mandibular fracture healing. Natl J Maxillofac Surg 5(1):35–38. https://doi.org/10.4103/0975-5950.140167

5.

Brahmkshatriya HR, Shah KA, Ananthkumar GB, Brahmkshatriya MH (2015) Clinical evaluation of Cissus quadrangularis as osteogenic agent in maxillofacial fracture: a pilot study. Ayu 36(2):169–173. https://doi.org/10.4103/0974-8520.175542

6.

Udupa KN, Prasad G, Sen SP (1965) The effect of phytogenic steroid in the acceleration of fracture repair. Life Sci 4:317–327

7.

Deka DK, Lohan LC, Saikia J, Mukti A (1994) Effect of Cissus quadrangularis in accelerating healing process of experimentally fractured radius ulna of dog: a preliminary study. Indian J Pharmacol 26:44–45

8.

Bujtár P, Simonovics J, Zombori G, Fejer Z, Szucs A, Bojtos A et al (2014) Internal or in-scan validation: a method to assess CBCT and MSCT gray scales using a human cadaver. Oral Surg Oral Med Oral Pathol Oral Radiol 117(6):768–779. https://doi.org/10.1016/j.oooo.2014.02.012

9.

Villarreal PM, Junquera LM, Martínez A, García-Consuegra L (2000) Study of mandibular fracture repair using quantitative radiodensitometry: a comparison between maxillomandibular and rigid internal fixation. J Oral Maxillofac Surg 58(7):776–781

10.

Chiodo TA, Milles M (2009) Use of monocortical miniplates for the intraoral treatment of mandibular fractures. Atlas Oral Maxillofac Surg Clin N Am 17(1):19–25. https://doi.org/10.1016/j.cxom.2008.10.008

11.

Shirwaikar A, Khan S, Malini S (2003) Antiosteoporotic effect of ethanol extract of Cissus quadrangularis Linn. on ovariectomized rat. J Ethnopharmacol 89(2–3):245–250

12.

Sanyal A, Ahmad A, Sastry M (2005) Calcite growth in Cissus quadrangularis plant extract, a traditional Indian bone-healing aid. Curr Sci 89(10):1742–1745

13.

Maiti SK, Saravanan B, Singh GR, Kumar N, Hoque M, Lal J et al (2007) Evaluation of the Herb, Cissus quadrangularis in accelerating the healing process of femur osteotomies in dogs. J Appl Anim Res 31(1):47–52

14.

Sharma N, Nathawat RS, Gour R, Patni V (2011) Establishment of callus tissue and effect of growth regulators on enhanced sterol production in Cissus quadrangularis L. Int J Pharmacol 7(5):653–658

15.

Mishra G, Srivastava S, Nagori BP (2010) Pharmacological and therapeutic activity of Cissus quadrangularis: an overview. Int J PharmTech Res 2(2):1298–1310

16.

Muljačić A, Poljak-Guberina R, Turčić J, Živković O, Guberina M et al (2010) The changes of bone-specific alkaline phosphatase (BsALP) associated with callus formation and rate of bone healing. Croat Chem Acta 83(3):315–321

17.

Sawangjit R, Puttarak P, Saokaew S, Chaiyakunapruk N (2017) Efficacy and safety of Cissus quadrangularis L. in clinical use: a systematic review and meta-analysis of randomized controlled trials. Phytother Res. https://doi.org/10.1002/ptr.5783

18.

Datta-Mitra A, Ahmed O Jr (2015) Ayurvedic medicine use and lead poisoning in a child: a continued concern in the United States. Clin Pediatr (Phila) 54(7):690–692. https://doi.org/10.1177/0009922814553397
Acknowledgements
We would like to thank Dr. Lalitha BR, Professor, Government Ayurveda College, Bangalore, who provided insight and expertise that greatly assisted in the current research.
Ethics declarations
Ethical Clearance
All procedures performed in studies involving human participants were in accordance with the ethical standards of the institutional and/or national research committee and with the 1964 Helsinki Declaration and its later amendments or comparable ethical standards. Reference No. 02_D010_43915.
Additional information
Publisher's Note
Springer Nature remains neutral with regard to jurisdictional claims in published maps and institutional affiliations.
About this article
Cite this article
Nayak, T., R, K. An Assessment of the Osteogenic Potential of Cissus quadrangularis in Mandibular Fractures: A Pilot Study. J. Maxillofac. Oral Surg. 19, 106–112 (2020). https://doi.org/10.1007/s12663-019-01230-z
Received:

Accepted:

Published:

Issue Date:
Keywords
Mandibular fracture

Fracture healing

Cissus quadrangularis

Ayurveda