Abstract
The hyoid bone fracture secondary to trauma other than strangulation is a rare event, regarding the literature. Hereby, we presented a rare and interesting case of hyoid bone fracture associated with comminuted mandibular fracture following falling-down in a 13-year-old girl. The importance of timely diagnosis and proper treatment plan would be discussed, as well. The maxillofacial surgeon should be aware of the possibility of a hyoid bone fracture in patients who have suffered maxillofacial trauma. Potentially fatal respiratory complications can develop rapidly unless proper care is given to such injuries.
This is a preview of subscription content, log in to check access.
Access options
Buy single article
Instant unlimited access to the full article PDF.
US$ 39.95
Price includes VAT for USA
Subscribe to journal
Immediate online access to all issues from 2019. Subscription will auto renew annually.
US$ 99
This is the net price. Taxes to be calculated in checkout.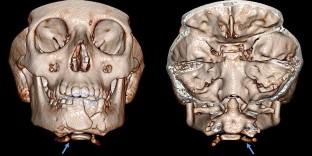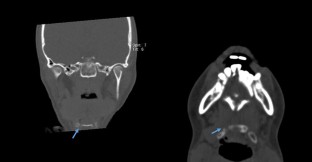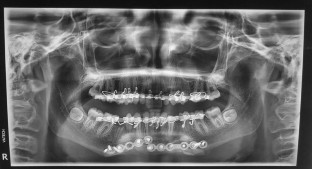 References
1.

Marcocci A, Schiraldi M, Fiorino F (2017) Unsuspected hyoid bone fracture following a sport laryngeal trauma. J Otolaryngol ENT Res 7(6):00223

2.

Keerthi R, Quadri A (2016) Hyoid bone fracture: associated with head and neck trauma—a rare case report. J Maxillofac Oral Surg 15(2):249–252

3.

Dalati T (2005) Isolated hyoid bone fracture: review of an unusual entity. Int J Oral Maxillofac Surg 34(4):449–452

4.

Erdogan B, Erdogan MO, Colak S, Kibici O, Bozan K, Alper B (2015) An isolated hyoid bone fracture caused by blunt trauma to the neck. J Pak Med Assoc 65(11):1233–1234

5.

Ramchand T, Choudhry OJ, Shukla PA, Tomovic S, Kuperan AB, Eloy JA (2012) Management of hyoid bone fractures: a systematic review. Otolaryngol Head Neck Surg 147(2):204–208

6.

Porr J, Laframboise M, Kazemi M (2012) Traumatic hyoid bone fracture–a case report and review of the literature. J Canad Chiropr Assoc 56(4):269

7.

Whyte AM (1985) Fracture of the hyoid bone associated with a mandibular fracture. J Oral Maxillofac Surg 43(10):805–807

8.

Kuo L-C, Lin H-L, Chen C-W, Lee W-C (2008) Traumatic hyoid bone fracture in patient wearing a helmet: a case report. Am J Emerg Med 26(2):251.e1–e2

9.

Chowdhury R, Crocco AG, El-Hakim H (2005) An isolated hyoid fracture secondary to sport injury: a case report and review of literature. Int J Pediatr Otorhinolaryngol 69(3):411–414

10.

Bagnoli ML, Leban SG, Williams FA (1988) Isolated fracture of the hyoid bone: report of a case. J Oral Maxillofac Surg 46(4):326–328
Acknowledgements
The authors appreciate the continued support of the research counselor of Mashhad University of medical sciences, Mashhad, Iran.
Ethics declarations
Conflict of interest
The authors declare no conflicts of interest.
Ethical Approval
All procedures performed in this study involving the human participant were in accordance with the ethical standards of our institutional research committee and with the 1964 Helsinki declaration and its later amendments or comparable ethical standards.
Additional information
Publisher's Note
Springer Nature remains neutral with regard to jurisdictional claims in published maps and institutional affiliations.
About this article
Cite this article
Samieirad, S., Sharifi Rayeni, A. & Tohidi, E. A Rare Case of Hyoid Bone Fracture Concomitant with a Comminuted Mandibular Fracture. J. Maxillofac. Oral Surg. 19, 40–43 (2020). https://doi.org/10.1007/s12663-019-01219-8
Received:

Accepted:

Published:

Issue Date:
Keywords
Hyoid bone fracture

Mandibular fracture

Maxillofacial trauma