Unexplained Trismus: Parasitic Infection?
Introduction
An array of diagnoses comes to mind when a patient presents with trismus. Although infections of masticatory spaces are common, parasitic infections are seldom included in differential diagnosis. We present an atypical case of trismus, which incidentally led to an unusual diagnosis of cysticercosis of temporalis muscle.
Case Report
A 30-year-old female presented with reduced mouth opening (15 mm at first visit) and a painful swelling over right side of head for past 2–3 months. She reported occasional episodes of dizziness and headaches over past 1.5 months with a history of fall, 3 months back. On clinical examination, diffuse, tender, firm swelling was present in right temporal region measuring approximately 1.5 × 2 cm (Fig.
1
).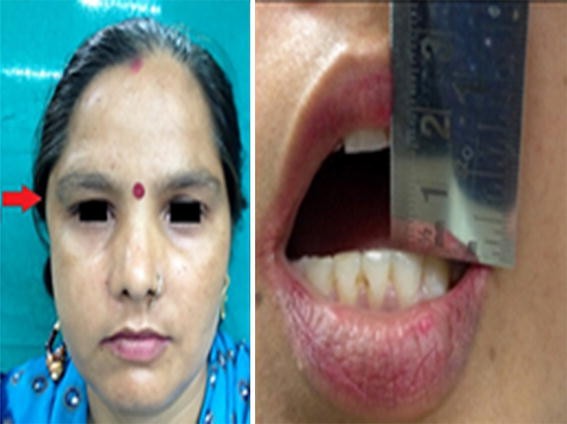 Notes
Compliance with Ethical Standards
Conflict of interest
The authors hereby declare that they have no conflicts of interest.
Informed Consent
Informed consent was obtained from the patient included in the study.
Copyright information
© The Association of Oral and Maxillofacial Surgeons of India 2018