Abstract
In the recent years, increase in the mobile devices and cloud processing the data stored in the cloud in the form of pictures, messages and texts. Cloud service providers cannot trust entirely to authorize the services used by the clients. For enhancing the security in the cloud, new cyber security model is introduced with optimal key selection. In this k-medoid clustering algorithm is used to cluster the information which is secret. It is based on the data distance measure. The data is encrypted and stored in the cloud using blowfish encryption. To improve the accuracy improved dragonfly algorithm is used.
This is a preview of subscription content, log in to check access.
Access options
Buy single article
Instant access to the full article PDF.
US$ 39.95
Price includes VAT for USA
Subscribe to journal
Immediate online access to all issues from 2019. Subscription will auto renew annually.
US$ 99
This is the net price. Taxes to be calculated in checkout.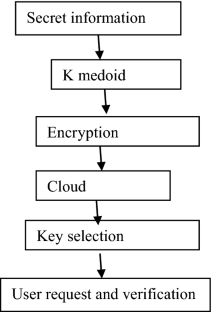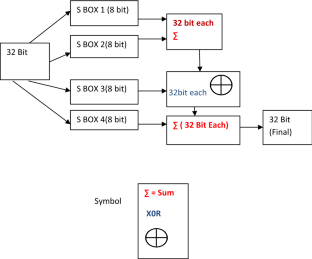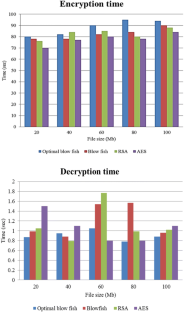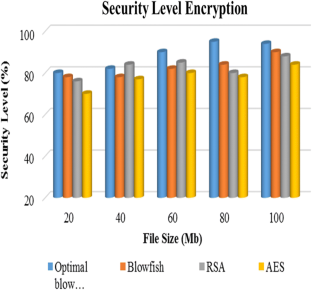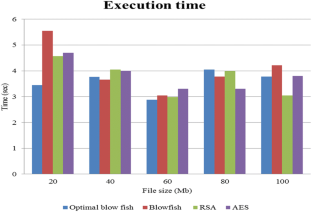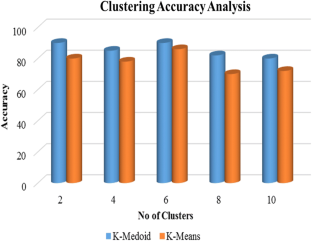 References
Al-Assam H, Hassan W, Zeadally S (2019) Automated biometric authentication with cloud computing. In: Biometric-based physical and cybersecurity systems. Springer, pp 455–475

Algarni A (2019) A survey and classification of security and privacy research in smart healthcare systems. IEEE Access

Ali M, Dhamotharan R, Khan E, Khan SU, Vasilakos AV, Li K et al (2015) SeDaSC: secure data sharing in clouds. IEEE Syst J 11:395–404

Arora VK, Sharma V, Sachdeva M (2019) ACO optimized self-organized tree based energy balance algorithm for wireless sensor network. J Ambient Intell Hum Comput 10:4963–4975. https://doi.org/10.1007/s12652-019-01186-5

Aujla GS, Chaudhary R, Kumar N, Das AK, Rodrigues JJ (2018) SecSVA: secure storage, verification, and auditing of big data in the cloud environment. IEEE Commun Mag 56:78–85

Beulah S, Dhanaseelan FR (2016) Survey on security issues and existing solutions in cloud storage. Indian J Sci Technol 9:13

Chauhan A, Gupta J (2017) A novel technique of cloud security based on hybrid encryption by blowfish and MD5. In: 2017 4th International conference on signal processing, computing and control (ISPCC), pp 349–355

Fan Y, Liu S, Tan G, Lin X, Zhao G, Bai J (2018) One secure access scheme based on trusted execution environment. In: 2018 17th IEEE international conference on trust, security and privacy in computing and communications/12th IEEE international conference on big data science and engineering (TrustCom/BigDataSE), pp 16–21

Gaur A, Jain A, Verma A (2017) Analyzing storage and time delay by hybrid blowfish-Md5 technique. In: 2017 International conference on energy, communication, data analytics and soft computing (ICECDS), pp 2985–2990

Kumar N, Dash D (2019) Flow based efficient data gathering in wireless sensor network using path-constrained mobile sink. J Ambient Intell Hum Comput. https://doi.org/10.1007/s12652-019-01245-x

Kumari S, Karuppiah M, Das AK, Li X, Wu F, Kumar N (2018) A secure authentication scheme based on elliptic curve cryptography for IoT and cloud servers. J Supercomput 74:6428–6453

Li Y, Gai K, Qiu L, Qiu M, Zhao H (2017) Intelligent cryptography approach for secure distributed big data storage in cloud computing. Inf Sci 387:103–115

Li P, Li J, Huang Z, Gao C-Z, Chen W-B, Chen K (2018) Privacy-preserving outsourced classification in cloud computing. Clust Comput 21:277–286

Mudepalli S, Rao VS, Kumar RK (2017) An efficient data retrieval approach using blowfish encryption on cloud ciphertext retrieval in cloud computing. In: 2017 International conference on intelligent computing and control systems (ICICCS), pp 267–271

Nie T, Song C, Zhi X (2010) Performance evaluation of DES and blowfish algorithms. In: 2010 International conference on biomedical engineering and computer science, pp 1–4

Sadiq NA, Abdullahi M, Rana N, Chiroma H, Dada EG (2018) Development of blowfish encryption scheme for secure data storage in public and commercial cloud computing environment. i-Manag J Cloud Comput 5:1

Schneider J, Harvan M, Schlegel R, Obermeier S, Locher T (2018) Encryption scheme using multiple parties. Google Patents

Singh M, Soni SK (2019) Fuzzy based novel clustering technique by exploiting spatial correlation in wireless sensor. J Ambient Intell Hum Comput 10:1361–1378. https://doi.org/10.1007/s12652-018-0900-6

Thangapandiyan M, Anand PR, Sankaran KS (2018) Quantum key distribution and cryptography mechanisms for cloud data security. In: 2018 International conference on communication and signal processing (ICCSP), pp 1031–1035

Timothy DP, Santra AK (2017) A hybrid cryptography algorithm for cloud computing security. In: 2017 International conference on microelectronic devices, circuits and systems (ICMDCS), pp 1–5

Wan Z, Liu JE, Deng RH (2011) HASBE: a hierarchical attribute-based solution for flexible and scalable access control in cloud computing. IEEE Trans Inform Forensics Secur 7:743–754

Wang S, Zhou J, Liu JK, Yu J, Chen J, Xie W (2016) An efficient file hierarchy attribute-based encryption scheme in cloud computing. IEEE Trans Inf Forensics Secur 11:1265–1277

Xiong H, Zhang H, Sun J (2018) Attribute-based privacy-preserving data sharing for dynamic groups in cloud computing. IEEE Syst J. https://doi.org/10.1109/JSYST.2018.2865221

Yan Z, Wang M, Li Y, Vasilakos AV (2016) Encrypted data management with deduplication in cloud computing. IEEE Cloud Comput 3:28–35

Yong P, Wei Z, Feng X, Dai Z-H, Yang G, Chen D-Q (2012) Secure cloud storage based on cryptographic techniques. J China Univ Posts Telecommun 19:182–189
Acknowledgement
This work is done as a part of PhD work.
Additional information
Publisher's Note
Springer Nature remains neutral with regard to jurisdictional claims in published maps and institutional affiliations.
About this article
Cite this article
Gangireddy, V.K.R., Kannan, S. & Subburathinam, K. Implementation of enhanced blowfish algorithm in cloud environment. J Ambient Intell Human Comput (2020). https://doi.org/10.1007/s12652-020-01765-x
Received:

Accepted:

Published:
Keywords
Wireless communication

Security

Privacy and trust

Advanced network architecture

Blowfish encryption

Optimal key selection

IDA

Communication