Remote patient monitoring: a comprehensive study
Open Access
Original Research
Abstract
Healthcare is a field that is rapidly developing in technology and services. A recent development in this area is remote monitoring of patients which has many advantages in a fast aging world population with increasing health complications. With relatively simple applications to monitor patients inside hospital rooms, the technology has developed to the extent that the patient can be allowed normal daily activities at home while still being monitored with the use of modern communication and sensor technologies. Sensors for monitoring essential vital signs such as electrocardiogram reading, heart rate, respiration rate, blood pressure, temperature, blood glucose levels and neural system activity are available today. Range of remote healthcare varies from monitoring chronically ill patients, elders, premature children to victims of accidents. These new technologies can monitor patients based on the illness or based on the situation. The technology varies from sensors attached to body to ambient sensors attached to the environment and new breakthroughs show contactless monitoring which requires only the patient to be present within a few meters from the sensor. Fall detection systems and applications to monitor chronical ill patients have already become familiar to many. This study provides a review of the recent advances in remote healthcare and monitoring in both with-contact and contactless methods. With the review, the authors discuss some issues available in most systems. The paper also includes some directions for future research.
Keywords
Remote patient monitoring 
Mobile health 
e-Health 
Sensors 
Wireless sensor networks 
1

Introduction

Remote healthcare is an emerging research field as the world moves towards remote monitoring, real-time and fast detection of illnesses. Remote healthcare has many categories, (e.g. telehealth, mobile health) all of which mean monitoring of patients outside hospital conditions by the means of technology. The advantages of remote monitoring of patients are: early and real-time detection of illnesses, ability to continuously monitor patients, prevention of worsening of illnesses and untimely deaths, cost reduction in hospitalizations, reduce the number of hospitalizations, obtain more accurate readings while permitting usual daily activities for patients, improve efficiency in healthcare services by utilizing communication technology, emergency medical care, service for patients with mobility issues, emergency care for traffic accidents and other injuries and usage of non-invasive medical interventions.

Remote monitoring of patients target several sub-groups of patients, such as patients diagnosed with chronic illnesses, patients with mobility issues, or other disability, post-surgery patients, neonates and elderly patients. All these types of patients have conditions that are better to be monitored continuously. The aim of good healthcare is the ability to support ordinary life as much comfortable as possible to all patients. Most research follow the policy of allowing the mobility and activity freedom at home or personal environments which are beneficial for the patients rather than being confined into a high-cost hospital room. Therefore, whole systems are being built to support this concept with the use of different technologies. With the new remote health monitoring applications, elderly patients can engage in daily activities without support from a caretaker. So, these applications support activities like sitting, standing, using the bathroom, watching television, reading and sleeping, with least inconvenience to the user. Even if there are wearable sensors, these pose minimum effect to the activities. One such example is smart wrist-watch based sensors.

For the patients of accidents and sudden injuries, the time they are monitored remotely could be only the time they are being transferred to the hospital in an ambulance. Nevertheless, efforts have been focused on safe journey to the hospital and remote monitoring helps for immediate medical interventions for highly critical cases. The doctors can monitor the deterioration or maintenance of the patient while also advising the paramedics who are physically with the patients as necessary.

Basic elements of a remote monitoring system are data acquisition system, data processing system, end-terminal at the hospital and the communication network. Data acquisition system is composed of different sensors or devices with embedded sensors with data transmission capability wirelessly. With the advancement of technology, sensors may not be medical sensors only; it could be cameras or smartphones. This is because, very recent research look into contactless methods where the devices do not touch the body of the patient (McDuff et al. 2015). A most common form of these sensors used in with-contact methods are wireless sensor networks (WSN). These could be further categorized as wireless body area networks (WBAN), body area networks (BAN) or personal area networks (PAN). Data processing system includes a system with data receiving and transmitting capability and a processing unit/circuitry. Terminal at the hospital side can be either a computer (or a database) at the hospital, a dedicated device or the Smartphone of the doctor. Underlying communication network connects the data acquisition system to data processing system and further transmits the detected data and conclusions to a healthcare professional who is connected to the system via the communication network. Based on the complexity of the situation, the patient is either prompted to admit to a hospital (by sending an ambulance etc.), do certain first-aid/caution steps and/or take certain medicines. The available remote health monitoring systems, their technologies, capabilities and actions vary to a large degree. Online databases show that the research in this area have increased in number (Fig. 1). It can be observed that already by mid-2016 the number of research results since 2014 is close to the total number of research during the previous three year period (2011–2013).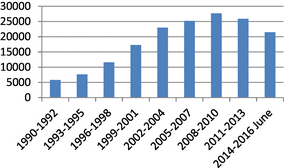 When it comes to designing a remote patient monitoring system, several challenges exist. Choice of whether to use with-contact or contactless method, choice of sensors, processing algorithm and communication network are the main decisions to be made when designing a remote monitoring system. Obtaining accuracy and reliability is another challenge. Receiving the approval of medical community and the consent of the patients is imperative. This study is motivated by above challenges and the importance of these systems to the general public.
With the increasing research, surveys in this field are important for new researchers as they provide an overview of existing technology. Most survey papers discuss the technology in the past two decades. This paper discusses the most recent development in remote health monitoring field from 2012 to 2016. The survey papers in this field of technology present many existing work and discuss issues in these systems, for example (Chen et al. 2014) and (Mainanwal et al. 2015). The difference of this paper is, it discusses technology, algorithms and overall systems from recent literature. Also the existing survey/review papers mainly cover with-contact methods and systems. To the best of our knowledge, there is no survey paper on contactless remote monitoring systems that analyse the studies done during 2012–2016, under the same targeted diseases discussed here. This paper aims to fulfil the requirement of a survey paper that analyses both with-contact and contactless, image-based remote health monitoring systems from very recent literature i.e. developed/proposed between 2012 and 2016.
Therefore, the contributions of this paper are;
Discussion of with-contact remote health monitoring systems in the time period 2012–2016

Analysis of contactless image-based methods in remote patient monitoring in the time period 2012–2016

Discuss other applications related to remote monitoring systems
This paper is organized as follows: Sect. 2 presents most recent reviews on remote patient monitoring methods and different technologies. Section 3 provides a detailed review of significant studies categorised based on the targeted disease with a further subdivision based on the method of data acquisition (with-contact or contactless). Section 4 includes a learning outcome based on technologies in each different category and some insights into future research directions. Section 5 concludes the paper.
2

Remote patient monitoring

Remote patient monitoring systems are designed to obtain a number of physiological data from patients. Most common data are Electrocardiogram (ECG), Electroencephalogram (EEG), heart beats and respiration rate, oxygen volume in blood or pulse oximetry, signals from the nervous system, blood pressure, body/skin temperature and blood glucose level. In addition to these, sometimes, weight of the patient, level of activity of the patient and sleep data are collected. A number of researches have been done for wound management and sleep monitoring applications.

Traditional systems collect data using sensors attached to the body. But these systems pose difficulty in terms of mobility for the patient and a patient's activities in daily living. Since this kind of devices influence patient's comfort, sensitive physiological data get influenced. So the readings may not represent a patient's actual illness but rather the discomfort a patient, especially an elderly patient, is undergoing at the time a physiological reading is being taken. While there are many situations that invasive or with -contact interventions are necessary, novel research look into methods for obtaining physiological data as non-invasively as possible. For this end, contactless methods are being researched on extensively during the past few years. In this paper we discuss both with-contact (i.e. contact-based) and contactless methods as both these types of systems are important for a researcher in the field.

The remainder of this section briefly lists past general reviews on remote health monitoring systems. Disease-specific reviews are given in the Sect. 3 under each disease type.

General surveys on contact-based RPM systems Remote patient monitoring concept first came up with contact-based methods. These systems use different sensors, processing technologies, communication technologies, post-processing actions, databases and receivers/end-terminals. They also target different diseases. The variety in systems may exist due to the designer's choice or the desired outcome of other special features (embedded, low cost, low power etc.) the system designer planned for its users. For example, the designer may have been targeting a system with increased power efficiency or medication management.

This section gives an introduction on recent survey papers on contact-based remote monitoring systems.

In the review paper (Silva et al. 2015), developments in Mobile Health (m-Health) and mobile health applications in the market are discussed. This paper reviews papers on applications such as foetal heart rate monitor using mobile phone, medical health record system for paediatric human immunodeficiency virus (HIV), haemoglobin meter, mobile phone image transmission for diagnosis in addition to typical applications such as pulse oximeter. Reviews on two studies which use serious gaming approaches for learning ultrasound needle placement skills and collaborative exergaming applications for child obesity epidemic using peer-to-peer architectures have been given (Silva et al. 2015). Radio Frequency Identification (RFID) positioning, bio-patch and system-on-chip systems, cognitive stimulation through digital TV, ViCare (Hossain and Ahmed 2012)—an elderly people monitoring and virtual reality based surgical simulator are some significant work discussed in this paper. Additionally, it reviews a few papers based on technological improvements of WBSN and Wi-Max and ICT platforms generally.

In survey paper (Sawand et al. 2015) security issues in wireless body area networks and some existing solutions are discussed. It describes eHealth systems to have three key usages such as the patients, medical service providers and health professionals. They present architecture of eHealth systems with layers in terms of functionality. The paper also stresses on the importance of different security aspects such as patient's information, physiological data recordings and about the patient's environment. In a remote monitoring system, these data will be obtained by sensors and the sensor system together with other system components will need to have advanced security and privacy protection features in order to face any malicious attacks. Any malicious attack can harm the software as well as the functionality of the hardware which will pose a greater threat to the patient. Also emphasis is given on ensuring safe device-to-device communication and further data transmission (beyond the WBAN). Some important remedies for these issues have been suggested as role based access control, use of data based on accountability and revocability in case of a malicious attack. For the security in the communication and network level, secure routing protocols, cipher based algorithms and digital signature usage are presented. For the transmission of information beyond the personal area network, the paper suggests data encryption, data integrity, freshness protection and authentication. In Sawand et al. (2015) some existing solutions are given for data storage related security breaches and data access related security breaches. For the former case, they show the findings of another research where data is encrypted and divided into a number of blocks which will be saved in a number of different nodes. The data blocks will have algebraic signatures which will be useful for identifying the data. This method has been understood as to have low computational overhead. For the data access related security breaches, good countermeasures shown are symmetric key cryptography based schemes and public key cryptography based schemes. Biometric cryptography using key management for the inter-WBAN communications are also presented. Use of advanced image and signal processing is also suggested.

Another important aspect of this paper is to discuss energy management in WBANs. Power-saving hardware and light weight routing algorithms are suggested. Usage of hybrid encryption techniques like elliptic curve cryptography has been cited in Francis et al. (2015). This further speaks about weighted user access control, other encryption methods and data encryption such as set partitioning in hierarchical trees (SPIHT) based encryption method used for encrypting ECG signals. Further, a security architecture for eHealth systems is presented in this paper.

The survey paper (Chen et al. 2014) is on advancement of machine to machine communications in healthcare, energy management and entertainment applications. According to the paper, machine to machine communication systems are composed of three domains; namely, machine to machine device domain, network domain and application domain. The device domain is where the data collection, processing and issues like power saving of the devices will be considered. In the network domain, making compatible network between large co-existing points are addressed while in the application domain various monitoring, controlling and management services are focused. Then, the remaining discussion of the paper has been focused to wireless body area subnetworks and use of mobile cloud computing in the area of remote healthcare. Some of the commercially available sensors are given here such as accelerometer/gyroscope, wireless pulse oximeter sensor, electromyogram (EMG) sensor, electroencephalogram (EEG) sensor, various environmental status monitoring sensors (such as carbondioxide-CO2 sensor, humidity, temperature sensor), infrared (IR) sensors, occupancy and motion detection sensors, and power sensors. Most importantly, various important issues in machine to machine communications; interference, channel dynamics, resource constraints, device heterogeneity, self-organization, quality of service (QoS) Support and Security are also raised in the paper.

Security issues in WBANs, 'the necessity of secure and dependable distributed data storage, and fine grained distributed data access control' are discussed in the review paper (Mainanwal et al. 2015). It also discusses the importance of the following: data confidentiality, data integrity, data authentication, data freshness, secure localization, availability and secure management.

Another recent brief survey (Tsakalakis and Bourbakis 2014) compares some existing systems. Recent work based on wearable sensor based systems, implantable sensor systems and portable and implantable biosensor based systems are compared.

A lot of important developments in the field such as cuff-less blood pressure meter, wrist-watch based fall detection method and cane-based fall detection system are reviewed in Patel et al. (2012). Some existing systems for infant monitoring are analysed in Zhu et al. (2015). In the paper (Hu et al. 2013), discussions about photoplethysmography technology and some comparisons between these systems with existing with-contact methods are done.

General surveys on contactless RPM systems Contactless remote health monitoring methods can be categorised mainly into two sections; image-based methods and radar-based methods. Image-based systems analyse images of patients as their data and detect illnesses or falls, radar based methods used radio frequencies to get inputs for their systems and also sometimes have patient localization capability. These systems are comparatively new (only few years since inception) so there are a lot of areas for improvement. Although it is the case, some works of research have achieved good outcomes. The remainder of this section discusses some of the very recent reviews on contactless image-based patient monitoring methods.

McDuff et al. (2015) review photoplethysmographic imaging methods for non-contact remote health monitoring. This technique uses camera colour signals that are processed to recover the blood volume pulse signal out of which physiological data such as pulse rate, pulse rate variability, respiration rate and blood oxygen levels can be obtained.

A recent survey gives an insight to the studies carried out in vision based patient monitoring (Sathyanarayana et al. 2015). They present the analysis in seven different applications (including detection of illnesses, sleep monitoring and activity monitoring) and the advancement of vision-based patient monitoring technology for these applications. Use of single cameras, multi-camera arrangements, infrared cameras, time-of-flight cameras and other sensors such as bio-inspired vision sensors and monocular vision sensors is discussed.

Baig and Gholamhosseini (2013) compare several smart health monitoring systems and discuss challenges and issues in the current systems. This paper analyses the advancements of health monitoring systems under two categories; smart systems and traditional systems. Smart systems include remote health monitoring systems, mobile health monitoring systems and wearable health monitoring systems while traditional category is on wired health monitoring systems (i.e. general health monitoring systems).

Erden et al. (2016) has done a very recent survey on sensors used in assisted living. In this review, the focus is on signal and image processing methods used in recent systems. They point out that assisted living systems should be low cost, with high accuracy and user acceptance while there should also be mechanisms for better privacy and protection of data while sharing the minimal private data essential for being monitored remotely. The review also stresses that machine-learning algorithms customized for sensors should be used as there are a number of various sensors (passive infrared sensors, vibrational and acoustic sensors, cameras, etc.) used in a system for assisted living. Several algorithms are used for these multi-sensor systems. These algorithms include Discrete Fourier Transform, Discrete Wavelet Transform, complex wavelet transform techniques etc. Classifiers mentioned in the review include machine learning methods such as support vector machines and k-nearest neighbour methods.

With the above reviews available in the literature, the authors of this paper review the studies during the period 2012–2016. A few very recent studies (from 2017) have also been included considering their importance for a reader who would pursue further research in this area. As mentioned before, the systems are categorized based on the targeted disease. We chose only four categories based on the criticality and prevalence of them in the present society. As such, the scope of this paper is limited to the following four categories which will be discussed in detail in Sect. 3.
1.

Cardiovascular System and Respiratory System related diseases

 

2.

Fall detection and Mobility related diseases

 

3.

Brain, Neurological Disorders and Mental Health

 

4.

 
The above four sections were decided to be included in the view that most of the patients monitoring technologies target the ailments that fall under the above four. In each category, two further classifications present contact-based and contactless efforts.
Summary of reference articles classified by the target diseases are given in Table 1.
Table 1
Research articles on various remote patient monitoring systems
| Category | References |
| --- | --- |
| Cardiovascular system and respiratory system related diseases | Szydlo and Koneiczny (2015), Kozlovszky et al. (2015), Ricci et al. (2013), Ramesh et al. (2012), Ling et al. (2015), Kumar and Kotnana (2012), Otoom et al. (2015), Thelen et al. (2015), Bisio et al. (2015a, b), Papon et al. (2015), Donnelly et al. (2015), Mishra and Agrawal (2015), Pinheiro et al. (2013), Karlen et al. (2014), Tanantong et al. (2015), Bifulco et al. (2014), Luprano et al. (2013), Thakur and Anoop (2015), Malhi et al. (2012), Bogdan et al. (2015), Monkaresi et al. (2014), Lukáč et al. (2014), Eastwood-Sutherland et al. (2014), Chandrasekar et al. (2012), Parnandi and Gutierrez-Osuna (2013), Alzahrani and Whitehead (2015), Colantonio et al. (2015), González-López et al. (2015), Mishra et al. (2015), Ganesan et al. (2015), Shao et al. (2016), Pereira et al. (2013), Couderc et al. (2014), Sugita et al. (2015), Rodríguez and Castro (2015), Janssen et al. (2016), Alves et al. (2015), Hassan et al. (2017), Sharma et al. (2017), Tarassenko et al. (2014) and Elfaramawy et al. (2017) |
| Fall detection and mobility related diseases monitoring systems | Sannino et al. (2015), Wang et al. (2013), Gibson et al. (2016), Paoli et al. (2012), Naranjo-Hernandez et al. (2012), Cao et al. (2012), Yu et al. (2012), Bai et al. (2012), Mastorakis and Makris (2014), Mubashir et al. (2013), Khan and Hoey (2017), Greene et al. (2016) and Cippitelli et al. (2017) |
| Brain, Neurological Disorders and Mental Health | Adams et al. (2017), Lanata et al. (2015), Rasmussen et al. (2015), Fioravanti et al. (2015), Nadeem et al. (2015), Karan et al. (2012), Shakshuki et al. (2015), Zhan et al. (2016), Suh et al. (2012), Price et al. (2015), Abramiuc et al. (2015), Lam et al. (2015), Dhulipala et al. (2016), Sola-Valls et al. (2015), Casacci et al. (2015), Karakostas et al. (2015), Almagooshi et al. (2015), Naslund et al. (2015), Schneider and Biglan (2017), Giggins et al. (2017), Block et al. (2016), Prabhakar and Rajaguru (2017) and Faurholt-Jepsen et al. (2014) |
| Diabetes | Rodbard (2016), El-Gayar et al. (2013), Vashist (2012), Hood et al. (2016), Szydlo and Koneiczny (2015), Kozlovszky et al. (2015), Rasmussen et al. (2015), Fioravanti et al. (2015), Suh et al. (2012), O'Grady et al. (2012), Ly et al. (2014), Askew et al. (2012) and Hazenberg et al. (2012) |
| Other related applications | Aldaz et al. (2015), Guo et al. (2012), Ferreira et al. (2015), Mobasheri et al. (2015), Bauer and Mendes (2015), Rotariu et al. (2015), Khattak et al. (2014), Gonzalez et al. (2015), Patel et al. (2012), Hegde et al. (2013), Benelli et al. (2012), Zhang et al. (2015), Magno et al. (2013), Sardini et al. (2015), Sorwar and Hasan (2012), Serhani et al. (2016), Al-Naji et al. (2017) and Wang et al. (2015a, b) |
3

Remote patient monitoring systems by diseases
4

Future research directions and trends

Although the technology has advanced over the years, there are some significant lacks in the research. Some of the main issues that have not been addressed to the required level are the security and privacy issues. All of the above literature shows good technology usage, but only a few discusses about their systems' capabilities for ensuring privacy and security. For example, in Sawand et al. (2015) there is a good discussion about most relevant security and privacy issues in wireless sensor networks, but jamming attacks where one or few of the sensor nodes are compromised due to an attack is highlighted as an area which needs more investigation.

It is quite clear that most systems are confined to a specific operating system (Szydlo and Koneiczny 2015). This makes it difficult to combine devices with other operating systems and this is a major limitation in most researches.

Issues with usage are unique for every system. The general procedures of obtaining physiological data can be common to many systems. System adaptability to the person is very important. For instance, the fall detection systems suffer from the issues of adapting to each and every patient because every individual has unique gait values which make it difficult for systems to be designed under a common set of design parameters. Therefore this issue must be resolved in designing fall detection systems. The other issue with usage is comfort of the patient. The comfort of a patient can directly or indirectly influence physiological readings to a certain extent. The choice of sensors is therefore imperative. Some systems have very low comfort to the patient (Ferreira et al. 2015).

Contactless image-based methods have a lot of developments to be made. For example, motion artefact removal has not been fully solved. In this, patient motion as well as camera's motion must be addressed. Also lack of a dataset to be used in research also is mentioned in McDuff et al. (2015). The world moves fast towards contactless methods, newer technology needs to be found for contactless methods. This paper only discussed about image-based methods. However there exists radar/microwave based methods. A combination of the two technologies could be a new path for research.

Although researchers, together with the medical professionals may like to move towards contactless methods, it might not be feasible or advisable at this stage of research as there are still a few significant problems to be solved in contactless monitoring. Therefore, before moving to completely contactless systems, some combination of both types can be more reliable. From this review, we can summarise a few approaches that can be useful for systems with higher accuracy, precision, dependability and usability. These are given in Table 6.

Table 6

Tools and technologies based on disease categories
 

System type based on disease

Cardiac and respiratory systems related diseases

Fall detection and mobility related disease

Brain, neurological disorders and mental health

Diabetes

Promising technologies

Camera based feature extraction combined with signal processing techniques (PCA, ICA, Filtering etc.) and supervised machine learning methods (see Sect. 3.1 and Table 3)

Mixture of contact-based (accelerometers) and camera based systems with fuzzy logic based processing (see Sect. 3.2 and Table 4)

Mixture of contact-based (nodes for autonomous nervous system response), camera based systems (for tracking emotions) and self-answered short questionnaire (see Sect. 3.3 and Table 5)

Self-managed Diabetes Monitoring systems or systems based on absorption spectroscopy, heat detection or ultrasound systems (see Sect. 3.4)
Overall, more studies need to be done to see the acceptance of these technology based methods with the medical community and patients. Although some trial studies have been done, error correction methods in the technology have not been able to win the medical professionals' complete trust.
5

Conclusion

This paper has reviewed remote patient monitoring systems in the current literature. Heart and blood related systems, fall detection systems, brain and nervous system related systems, diabetics and mental health research have been discussed. Most recent development in contactless camera-based methods has also been discussed here. Based on many categories the existing research has been presented. The review shows that this emerging field of technology is making substantial impact on the society as well as the research community. As the technology advances, the outcomes are also increased. The paper concludes with some suggestions for future research.
Notes
Acknowledgements
This project is funded by "SmartLink: South-East-West Mobility for Advanced Research, Learning, Innovation, Network and Knowledge" project which is funded under Erasmus Mundus Action 2 (EMA2) – Strand I - Call for Proposals EACEA/18/13.
Compliance with ethical standards
Conflict of interest
The authors declare that they have no conflict of interests.
Copyright information
© Springer-Verlag GmbH Germany, part of Springer Nature 2017
Open AccessThis article is distributed under the terms of the Creative Commons Attribution 4.0 International License (http://creativecommons.org/licenses/by/4.0/), which permits unrestricted use, distribution, and reproduction in any medium, provided you give appropriate credit to the original author(s) and the source, provide a link to the Creative Commons license, and indicate if changes were made.