The Graph Landscape: using visual analytics for graph set analysis
Abstract
In a variety of research and application areas, graphs are an important structure for data modeling and analysis. While graph properties can have a crucial influence on the performance of graph algorithms, and thus on the outcome of experiments, often only basic analysis of the graphs under investigation in an experimental evaluation is performed and a few characteristics are reported in publications. We present Graph Landscape, a concept for the visual analysis of graph set properties. The Graph Landscape aims to support researchers to explore graphs and graph sets regarding their properties, to allow to select good experimental test sets, analyze newly generated sets, compare sets and assess the validity (or range) of experimental results and corresponding conclusions.
Graphical Abstract
Graphical Abstract text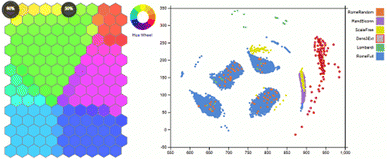 Keywords
Graphs 
Multidimensional data 
Visualization 
Analysis 
Notes
Acknowledgments
We gratefully acknowledge the support of the Australian Research Council through Discovery Project Grant DP140100077. We also thank Peter Eades for fruitful discussions and his advice on and support of the project. Some of the work has been done while K. Klein was with the University of Sydney.
Copyright information
© The Visualization Society of Japan 2016