Abstract
We present the results of three-dimensional time-dependent numerical simulations of incremental spin-up of a thermally stratified fluid. The fluid inside a vertical cylindrical container of radius R and height 2H is water characterized by the kinematic viscosity ν and thermal diffusivity κ. Initially, its density (temperature) varies linearly with height and is characterized by a constant buoyancy frequency N, which is proportional to the density gradient. The system undergoes an abrupt change in the rotation rate from its initial value Ωi, when the fluid is in a solid-body rotation state, to the final value Ωf. The aim of this contribution is to show the formation of columnar vortices in a high Rossby number spin-up flow.
Graphical Abstract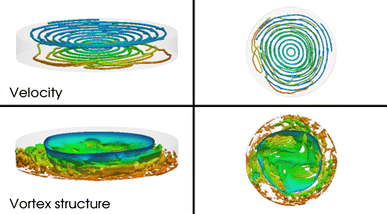 This is a preview of subscription content, log in to check access.
Access options
Buy single article
Instant unlimited access to the full article PDF.
US$ 39.95
Price includes VAT for USA
Subscribe to journal
Immediate online access to all issues from 2019. Subscription will auto renew annually.
US$ 99
This is the net price. Taxes to be calculated in checkout.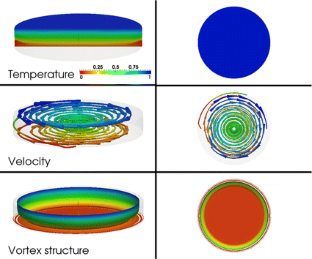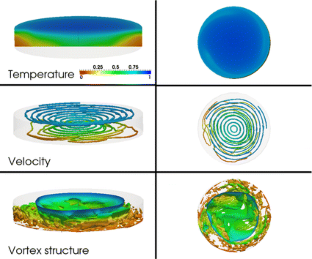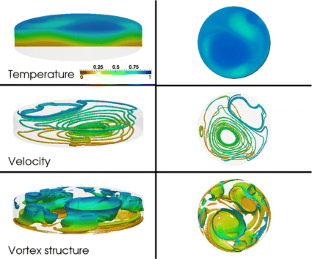 References
Flór JB, Bush JWM, Ungarish M (2004) An experimental investigation of spin-up from rest of a stratified fluid. Geophys Fluid Dyn 98:277–296

Greenspan HP (1980) A note on the spin-up from rest of a stratified fluid. Geophys Fluid Dyn 15:1–5

Hewitt RE, Duck PW, Foster MR (1999) Steady boundary-layer solutions for a swirling stratified fluid in a rotating cone. J Fluid Mech 384:339–374

Hunt J, Wray A, Moin P (1988) Eddies, stream, and convergence zones in turbulent flows. Techical report, Annals of Research Briefs 1988, Center for Turbulence research, CTR-S88

Kanda I (2004) A laboratory study of columnar baroclinic vortices in a continuously stratified fluid. Dyn Atmos Oceans 38:69–92

Linden PF, Van Heijst GJF (1984) Two-layer spin-up and frontogenesis. J Fluid Mech 143:69–94

Smirnov S, Pacheco JR, Verzicco R (2009) Numerical simulations of nonlinear thermally-stratified spin-up in a circular cylinder. J Fluid Mech (submitted)

Verzicco R, Camussi R (1997) Transitional regimes of low-Prandtl thermal convection in a cylindrical cell. Phys Fluids 9:1287–1295

Verzicco R, Camussi R (1999) Prandtl number effects in convective turbulence. J Fluid Mech 383:55–73
Acknowledgements
The authors acknowledge Texas Advanced Computing Center (TACC) at the University of Texas at Austin and Ira A. Fulton High Performance Computing Initiative at Arizona State University, both members of the NSF-funded Teragrid, for providing HPC and visualization resources.
Electronic supplementary material
Below is the link to the electronic supplementary material.
Supplementary material (MPG 1.26 MB)
About this article
Cite this article
Smirnov, S.A., Pacheco, J.R. & Verzicco, R. Three-dimensional vortex visualization in stratified spin-up. J Vis 13, 81–84 (2010). https://doi.org/10.1007/s12650-009-0015-4
Received:

Accepted:

Published:

Issue Date:
Keywords
Spin-up

Rotation

Stratification