Fermented Cassava Residue Lignin Prepared by Sequential Acid Steam-Explosion and Hot-Alkaline Treatment and Its Antioxidant Properties
Abstract
Fermented cassava residue (FCR) is a solid waste generated in cassava-based ethanol production that constitutes a major environmental challenge and wastes a natural resource. In the present study, a process involving sequential acid steam-explosion and hot-alkaline treatment was developed to prepare an antioxidant lignin in high yield and purity from FCR. Two-dimensional NMR analysis indicates that FCR lignin belongs to a guaiacyl/syringyl/hydroxyphenyl (G/S/H) class of lignin. 31P NMR analysis, after hydroxyl group phosphorylation, indicates that phenolic hydroxyl in FCR lignin attributable to mostly G-OH. One FCR lignin (No. 3) possessed the antioxidant activity similar to that of butylated hydroxytoluene. This FCR lignin may have potential applications as a food antioxidant or in other industrial processes as an antioxidant.
Graphic Abstract
The present study provided an efficient process of sequent acid steam-explosion and hot-alkaline treatment to improve the added value of fermented cassava residue (FCR).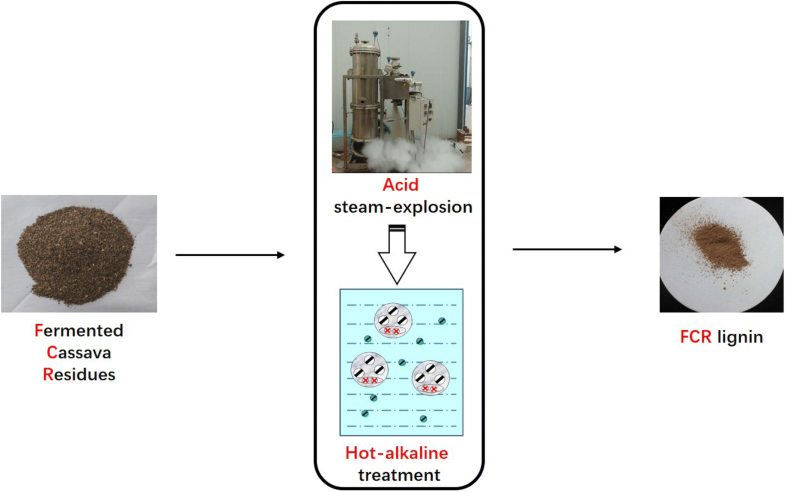 Keywords
Fermented cassava residue 
Lignin 
Steam-explosion 
Antioxidant activity 
Notes
Acknowledgements
This work was supported by the National Key Research and Development Program of China (No. 2016YFD0400601), State Key Laboratory of Pulp and Paper Engineering (201760), Natural Science Foundation of China (NSFC 21576153).
Compliance with Ethical Standards
Conflict of interest
The authors have no conflict of interest.
Research Involving Human and Animal Rights
This article does not contain any studies with human participants or animals performed by any of the authors.
Copyright information
© Springer Nature B.V. 2019