Effects of Tryptophan Along with Sodium Pyruvate and Sodium Thiosulfate on Chlorella vulgaris Growth
Abstract
Microalgae could serve as an ideal bioenergy resource for third-generation biofuels because of its endless features. However, in an effort to render it as a commercially viable bioenergy resource, certain improvements that enhance its productivity are required. In the present study, the role of three independent substrates, tryptophan, sodium thiosulfate, and sodium pyruvate, and their incorporation in modified BG-11 towards maximizing the Chlorella vulgaris FACHB-8 productivity was studied. These substrates could strongly impart a stimulating effect on microalgal productivity, firstly, either by promoting faster growth and chlorophyll content (tryptophan), or secondly by quenching the reactive oxygen species out of the culture medium (pyruvate), or thirdly by reducing the culture medium (thiosulfate). Response surface mediated optimal design model was effective in calculating the optimal concentration of these three independent substrates in modified BG-11. The observed actual values (1.54 g L−1—biomass and 1.91 µg L−1—chlorophyll) of the model were in close agreement with the predicted values (1.4 g L−1—biomass and 1.82 µg L−1—chlorophyll), thus, indicating the validity to the model. Tryptophan (2.2 times-chlorophyll and 2.5 times-biomass) was most effective in stimulating microalgal growth as compared with other substrates in modified BG-11. This study supported the concept that tryptophan after following one of the three pathways acted as the precursor for the production of indole acetic acid that in turn acted as a phytostimulator for microalgal growth. The outcomes of the present study would offer a step towards resolving the gaps present in producing viable, sustainable, high chlorophyll producing microalgal biomass.
Graphical Abstract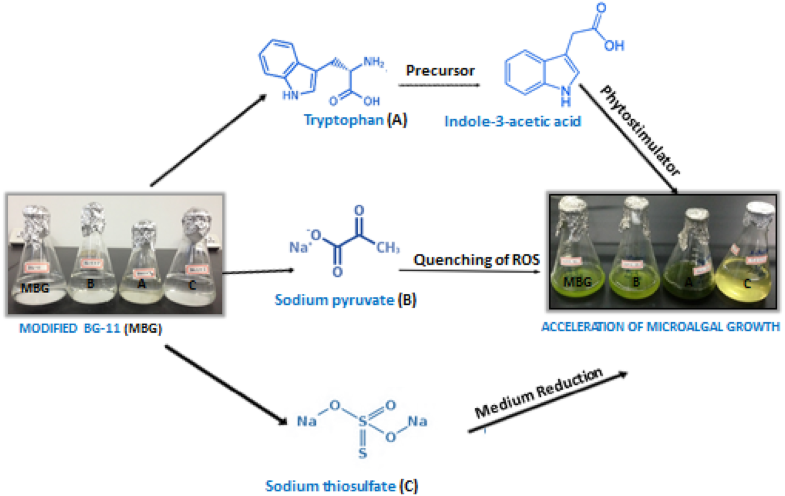 Keywords
Microalgae 
Chlorella vulgaris 
Tryptophan 
Indole-3-acetic acid 
Response surface methodology 
Notes
Acknowledgements
This work was supported, by the National Natural Science Foundation of China (21476139) and Participation in Research program (PRP) (T160PRP30006) from Shanghai Jiao Tong University.
Author Contributions
QJ and AS overall coordinated, debated and finalized the manuscript. PT wrote the manuscript after preparation of design, acquisition of data, interpretation of data and other information. All authors read and approved the final draft of the manuscript. LH participated in manuscript design and finalization of the manuscript. All authors read and approved the final draft of the manuscript.
Compliance with Ethical Standards
Conflict of interest
All authors declare that they have no conflict of interest.
Ethical Approval
This article does not contain any studies with human participants or animals performed by any of the authors.
Copyright information
© Springer Nature B.V. 2019