Abstract
Laser pulse shape effect has been considered to estimate the self-generated magnetic field in laser-plasma interaction. A ponderomotive force based physical mechanism has been proposed to investigate the self-generated magnetic field for different spatial profiles of the laser pulse in inhomogeneous plasmas. The spatially inhomogeneous electric field of a laser pulse imparts a stronger ponderomotive force on plasma electrons. Thus, the stronger ponderomotive force associated with the asymmetric laser pulse generates a stronger magnetic field in comparison to the case of a symmetric laser pulse. Scaling laws for magnetic field strength with the laser and plasma parameters for different shape of the pulse have been suggested. Present study might be helpful to understand the plasma dynamics relevant to the particle trapping and injection in laser-plasma accelerators.
This is a preview of subscription content, log in to check access.
Access options
Buy single article
Instant access to the full article PDF.
US$ 39.95
Price includes VAT for USA
Subscribe to journal
Immediate online access to all issues from 2019. Subscription will auto renew annually.
US$ 99
This is the net price. Taxes to be calculated in checkout.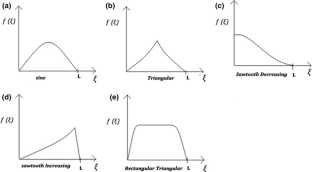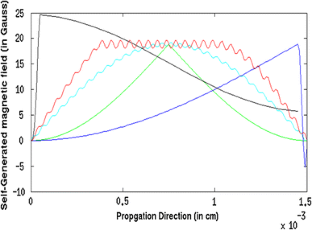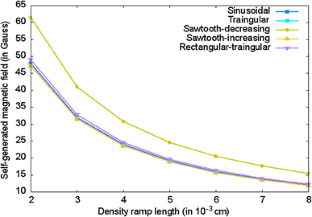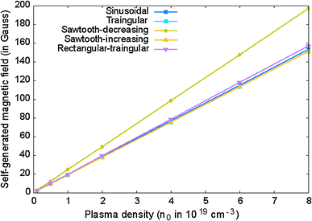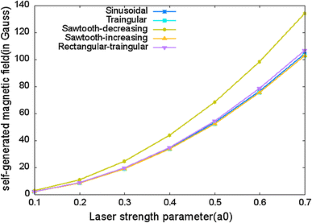 References
[1]

E Esarey, C B Schroeder, W P Leemans Rev. Mod. Phys. 81 1229 (2009)

[2]

A Flacco, J Vieira, A Lifschitz, F Sylla, S Kahaly, M Veltcheva, L O Silva and V Malka Nature 11 409 (2015)

[3]

J Vieira, S F Martins,V B Pathak, R A Fonseca, B Mori and L O Silva Phys. Rev. Lett. 106 225001 (2011)

[4]

T Katsouleas and J M Dawson Phys. Rev. Lett. 51 392 (1983)

[5]

DN Gupta, K Gopal, I H Nam, V V Kulagin, H Suk Laser Part. Beams 32 449 (2014)

[6]

M S Hur, D N Gupta and H Suk Phys. Lett. A 372 2684 (2007)

[7]

J D Lindl, P Amendt, R L Berger, S G Giendinning, S H Glenzer, S H Haan, R L Kauffman, O L Landen, and L J Sutter Phys. Plasmas 11 339 (2004)

[8]

H Hora, B Malekynia, M Ghoranneviss, G H Miley and X He Appl. Phys. Lett. 93 011101 (2008)

[9]

L Biermann Zeitschrift Naturforschung Teil A, 5A 65 (1950)

[10]

E S Weibel Phys. Rev. Lett. 2 83 (1959)

[11]

M E Diekmann Plasma Phys. Control. Fusion 51 065015 (2009)

[12]

J Deschamps, M Fitaire and M Lagoutte Phys. Rev. Lett 25 1330 (1970)

[13]

Z Najmudin, M Tatarakis, A Pukhov, E L Clark, R J Clarke, A E Dangor, J Faure, V Malka, D Neely, M I K Santala, and K Krushelnick Phys. Rev. Lett. 87 215004 (2001)

[14]

I V Karpman and H Washimi J. Plasma Phys. 18 173 (1977)

[15]

B J Green, P Mulser Phys. Lett. A 37 319 (2002)

[16]

O M Gradov and L Stenflow Phys. Lett. A 95 233 (1983)

[17]

A Brandenburg, D Sokoloff, and K Subramanian Space Sci. Rev. 169 123 (2012)

[18]

S W Kulsrud, M Russell and S W Anderson Astrophys. J. 396 606 (1992)

[19]

S C Wilks, W L Kruer, M Tabak and A B Longdon Phys. Rev. Lett. 69 1383 (1992)

[20]

V K Tripathi and C S Liu Phys. Plasmas 1 990 (1994)

[21]

T Lehner Phys. Scr. 49 704 (1994)

[22]

V Y Bychenkov and V T Laser Part. Beams 14 55 (1996)

[23]

A Pukhov and J Meyer-ter-Vehn Phys. Rev. Lett. 76 3975 (1996)

[24]

P Kolodner and E Yablonovitch Phys. Rev. Lett. 43 1402 (1979)

[25]

Y Horovitz, S Eliezer, A Ludmirsky, Z Henis, E Moshe, R Shpitalnik, and B Arad Phys. Rev. Lett. 78 1707 (1997)

[26]

K Gopal, D N Gupta, Y K Kim, M S Hur and H Suk J. Appl. Phys. 119 123101 (2016)

[27]

D N Gupta, J Kim, V V Kulagin, H Suk Laser Phys. Lett. 11 056003 (2014)

[28]

J Krall, E Esarey, P Sprangle and G Joyce Phys. Plasmas 1 1738 (1994)

[29]

V I Berezhiani and I G Murusidze Phys. Scr. 45 87 (1992)

[30]

A S Sakharov and V I Kirsanov Phys. Rev. E 49 3274 (1994)

[31]

E Yazdani, R Sadighi-Bonabi, H Afarideh, J Yazdanpanah and H Hora Laser Part. Beams 32 509 (2014)

[32]

H Hora, P Lalousis and S Eliezer Phys. Rev. Lett. 53 1650 (1984)

[33]

V E Fortov and I T Jakubov The Physics of Non-ideal Plasmas (Singapore: World Scientific) (2002)

[34]

S Eliezer, H Hora, G Korn, N Nissim and J M M Val Phys. Plasmas 23 050704 (2016)

[35]

H Hora et al. Laser Part. Beams 33 607 (2015)
Acknowledgements
K. Gopal thanks to Council of Science and Industrial Research (CSIR) for the financial support to carry out his thesis work. This work is financially supported by the DST-DAAD joint program 2014.
About this article
Cite this article
Gopal, K., Raja, M.A., Gupta, D.N. et al. Laser-pulse shape effects on magnetic field generation in underdense plasmas. Indian J Phys 92, 919–925 (2018). https://doi.org/10.1007/s12648-018-1167-7
Received:

Accepted:

Published:

Issue Date:
Keywords
Self-generated magnetic field

Ponderomotive force

Laser-plasma interaction
PACS No.