Removal of Cr(VI) from Wastewater of the Tannery Industry by Functionalized Mesoporous Material
Abstract
A previously synthesized PABA-MCM-41 mesoporous material was used to remove Cr(VI) in leather samples. The optimization step was performed using univariate method for the following variables: pH, concentration of Cr(VI) standard, time, dose, and reuse of PABA-MCM-41 adsorbent material. The optimum pH of the adsorption process was equal to 3, the adsorbed amount (qe) increased with the increase in initial Cr(VI) concentration, as well as with increase of PABA-MCM-41 dose. The adsorption efficiency increased with the time and the equilibrium was reached in approximately 80 min, with maximum adsorption efficiency of 98.3%. The adsorption kinetic and equilibrium data were better fitted with the non-linear pseudo-first order and Freundlich models, respectively. Leather samples presented Cr(VI) concentration values above of the maximum values regulated by European Union. The PABA-MCM-41 presented Cr(VI) removal percentage values for the real samples between 97.5–99.2%. The PABA-MCM-41 had not matrix effect in the adsorption process, and thus allowing its application in wastewater contaminated with heavy metals.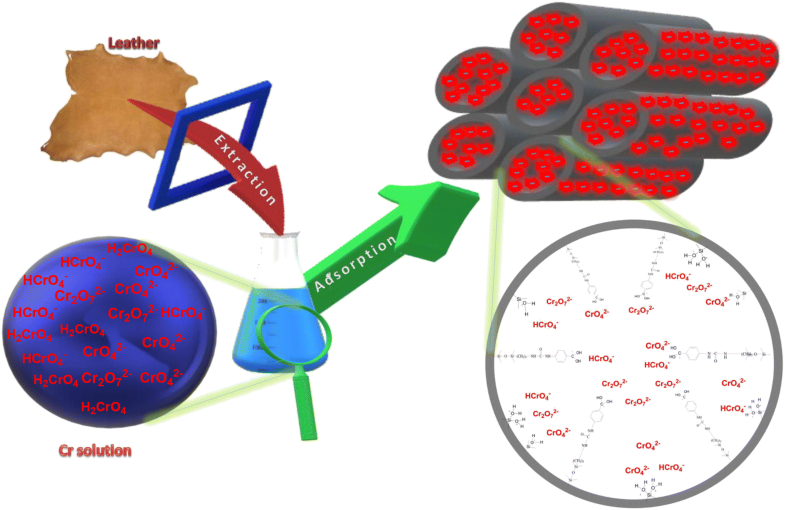 Keywords
Potential toxic elements 
Mesoporous materials 
Decontamination 
Adsorption 
Cr(VI) 
Notes
Acknowledgements
The authors thank FAPESP (Research Support Foundation of the State of São Paulo) (Grants 2014/05679-4, 2017/06775-5, and 2018/18894-1), CAPES (Coordination for the Improvement of Higher Education Personnel) (Grant 309342/2010-4), and CDMF (Center for the Development of Functional Materials) (Grant 2013/07296-2) for the financial support.
Compliance with Ethical Standards
Conflict of Interest
The authors declare that they have no conflict of interest.
Copyright information
© Springer Nature B.V. 2019