Synthesis, Spectral Characterization and Biological Study of Heterobinuclear Complexes of Cu(II) with Si(IV)
Abstract
Monometallic complexes of Cu(II) of type [Cu(C12H14N4XCl)]Cl2 (where X=Cl or F) were synthesized by treating CuCl2 with the two diamines 4-chloro 1,2-phenylenediamine and 4-fluoro 1,2-phenylenediamine separately in 1:2 stiochiometric proportions. These synthesized complexes were further utilized for the preparation of heterobimetallic complexes of copper with organosilicon dichlorides (R2SiCl2) [where R=C6H5 or CH3] of the type [Cu(C36H30N4Si2XCl3)] and [Cu(C16H22N4Si2XCl3)] (where X=Cl or F). All the complexes were characterized by elemental analysis, conductance measurement, electronic spectra, IR, ESR, mass spectra and X-ray powder diffraction studies. These complexes were then evaluated for their antimicrobial efficacy with Bavistin and Streptomycin used as standards. The complexes were also tested for their plant growth regulating activity against gram plant and the results attained were quite promising.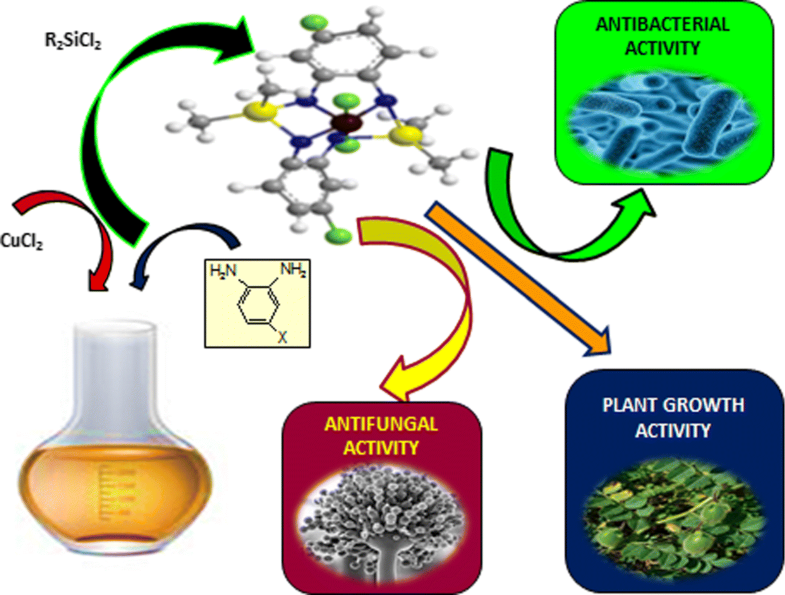 Keywords
Heterobimetallic complexes 
Monometallic complex 
Copper 
Silicon 
Antimicrobial activity 
Plant growth regulating activity 
Notes
Acknowledgements
The authors are grateful to the Council of Scientific and Industrial Research (CSIR), New Delhi, India for financial assistance in the form of SRF vide letter no. 09/105(0221)/2015-EMR-I.
Copyright information
© Springer Nature B.V. 2018