Zusammenfassung
Hintergrund
Die stabile Fixierung des Neoseptums und der Dreiecksknorpel am Os nasale mittels Naht ist ein essenzieller Schritt bei der Durchführung einer extrakorporalen Septumkorrektur. Nur durch die sichere Rekonstruktion dieser anatomisch wichtigen Struktur können Unregelmäßigkeiten des Nasenrückens mit Einsattelung oder Inverted-V-Deformierungen verhindert werden. Eine weitere wichtige Indikation ist die Vermeidung einer Verbreiterung des Nasenrückens durch Auseinanderweichen der osteotomierten Nasenbeine.
Zielsetzung
Es erfolgt die Vermittlung der Methodik verschiedener Nahttechniken zur Rekonstruktion der Keystone Area.
Schlussfolgerung
Die Criss-cross-Technik, die TTC-suture ("transcutaneous transosseous cerclage suture")-Technik sowie die mTTC-suture ("modified transcutaneous transosseous cerclage suture")-Technik sind verlässliche und einfache Techniken zur Erzielung eines reproduzierbaren ästhetischen und funktionellen Ergebnisses.
Abstract
Background
Securing a stabile fixation of the upper lateral cartilage, the nasal bone and the septum with a suture is a crucial step when performing extracorporeal septoplasty. Irregularities of the nasal bridge with saddle formation or inverted-V deformation can only be prevented by a secure reconstruction of this anatomically important structure. A further important indication is avoidance of widening of the nasal bridge by dehiscence of the nasal bone after osteotomy.
Objective
This review highlights the different suture techniques for keystone reconstruction and fixation of the septum to the nasal bone and stabilization of the narrowed nasal pyramid.
Conclusion
The criss-cross technique as well as the transcutaneous transosseous cerclage (TTC) suture and modified transcutaneous transosseous cerclage (mTTC) suture are reliable and simple techniques, which achieve reproducible and aesthetically pleasing results.
This is a preview of subscription content, log in to check access.
Access options
Buy single article
Instant unlimited access to the full article PDF.
US$ 39.95
Price includes VAT for USA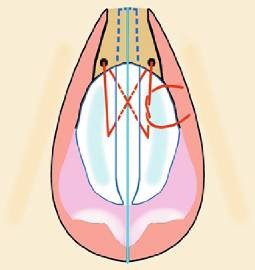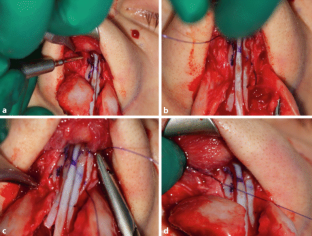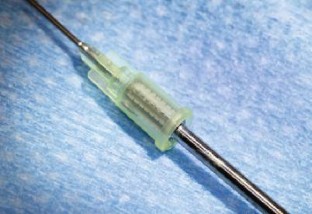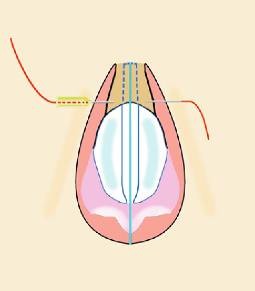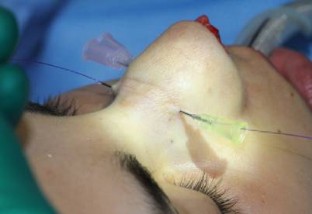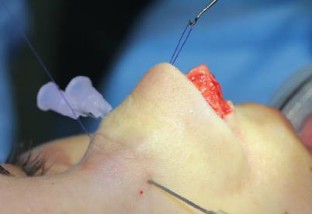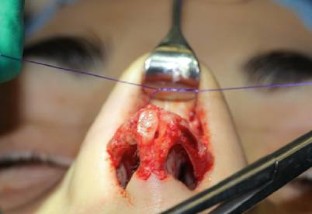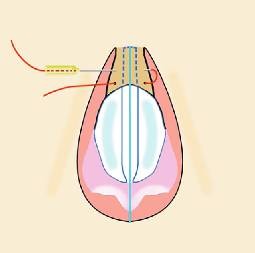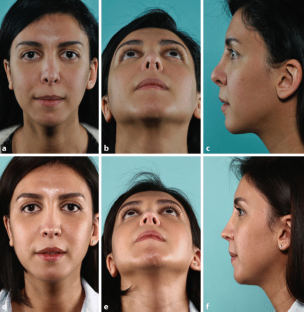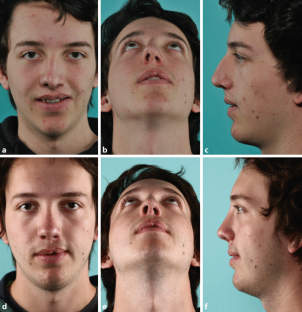 Literatur
1.

Converse JM (1955) The cartilaginous structures of the nose. Ann Otol Rhinol Laryngol 64(1):220–229

2.

Converse JM (1950) Corrective surgery of nasal deviations. Arch Otolaryngol Head Neck Surg 52(5):671–708

3.

Gubisch W (1995) The extracorporeal septum plasty: a technique to correct difficult nasal deformities. Plast Reconstr Surg 95:672–682

4.

Gubisch W, Constantinescu MA (1999) Refinements in extracorporal septoplasty. Plast Reconstr Surg 104:1131–1139

5.

Gubisch W (2015) Treatment of the scoliotic nose with extracorpo- real septoplasty. Facial Plast Surg Clin North Am 23:11–22

6.

Gubisch W (2005) Extracorporeal septoplasty for the markedly deviated septum. Arch Facial Plast Surg 7(4):218–226

7.

Hoehne J, Gubisch W, Kreutzer C, Haack S (2016) Refining the nasal dorsum with free diced cartilage. Facial Plast Surg 32(4):345–350

8.

Lee SB, Jang YJ (2014) Treatment outcomes of extracorporeal septoplasty compared with in situ septal correction in rhinoplasty. JAMA Facial Plast Surg 16(5):328–334

9.

Palhazi P, Daniel RK, Kosins AM (2015) The osseocartilaginous vault of the nose: anatomy and surgical observations. Aesthet Surg J 35(3):242–251

10.

Rezaeian F, Gubisch W, Janku D, Haack S (2016) New suturing techniques to reconstruct the keystone area in extracorporeal septoplasty. Plast Reconstr Surg 138(2):374–382
Ethics declarations
Interessenkonflikt
M. Brandstetter, S. Mann, W. Gubisch und S. Haack geben an, dass kein Interessenkonflikt besteht.
Dieser Beitrag beinhaltet keine von den Autoren durchgeführten Studien an Menschen oder Tieren. Alle Patienten, die über Bildmaterial oder anderweitige Angaben innerhalb des Manuskripts zu identifizieren sind, haben hierzu ihre schriftliche Einwilligung gegeben.
Caption Electronic Supplementary Material
Video 1 Video Criss-cross-suture-Technik
About this article
Cite this article
Brandstetter, M., Mann, S., Gubisch, W. et al. Techniken zur Rekonstruktion der Keystone Area. J Ästhet Chir 10, 21–25 (2017) doi:10.1007/s12631-016-0071-2
Schlüsselwörter
Septum

Naht

Techniken

Funktionalität

Ästhetik
Keywords
Septum

Suture

Techniques

Functionality

Aesthetics