This is a preview of subscription content, log in to check access.
Access options
Buy single article
Instant access to the full article PDF.
US$ 39.95
Price includes VAT for USA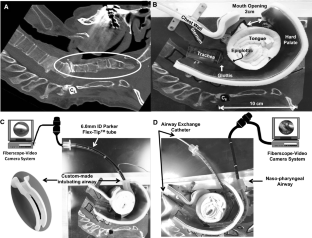 References
1.

Law JA, Broemling N, Cooper RM, et al.; The Canadian Airway Focus Group. The difficult airway with recommendations for management – part 2 – the anticipated difficult airway. Can J Anesth 2013; 60: 1119-38.

2.

Nørskov AK, Rosenstock CV, Wetterslev J, Astrup G, Afshari A, Lundstrøm LH. Diagnostic accuracy of anaesthesiologists' prediction of difficult airway management in daily clinical practice: a cohort study of 188 064 patients registered in the Danish Anaesthesia Database. Anaesthesia 2015; 70: 272-81.

3.

Nørskov AK, Wetterslev J, Rosenstock CV, et al. Effects of using the simplified airway risk index vs usual airway assessment on unanticipated difficult tracheal intubation - a cluster randomized trial with 64,273 participants. Br J Anaesth 2016; 116: 680-9.

4.

Park L, Price-Williams S, Jalali A, Pirzada K. Increasing access to medical training with three-dimensional printing: creation of an endotracheal intubation model. JMIR Med Educ 2019; https://doi.org/10.2196/12626.

5.

Malpas G, Hung O, Gilchrist A, et al. The use of extracorporeal membrane oxygenation in the anticipated difficult airway: a case report and systematic review. Can J Anesth 2018; 65: 685-97.
Funding statement
We received no specific funding for this work.
Competing interests
None.
Editorial Responsibility
This submission was handled by Dr. Steven Backman, Associate Editor, Canadian Journal of Anesthesia.
Additional information
Publisher's Note
Springer Nature remains neutral with regard to jurisdictional claims in published maps and institutional affiliations.
About this article
Cite this article
Nagasaka, A., Shimizu, T., Minami, T. et al. Anticipated difficult airway management using a model of the upper airway. Can J Anesth/J Can Anesth (2020). https://doi.org/10.1007/s12630-020-01590-y
Received:

Revised:

Accepted:

Published: