Abstract
This module will introduce the concept of a point-of-care ultrasound (POCUS) examination for perioperative clinicians. A focused cardiac examination of ventricular filling and function is presented. An examination of the inferior vena cava is also reviewed as a tool to assess volume status. Finally, a brief examination of the lung and pleura is explored to aid the clinician in situations of patient hypoxia and difficult ventilation. Limited ultrasound cardiorespiratory examinations can be performed by non-cardiologists and non-radiologists. Information drawn from POCUS may aid in diagnosis and early rescue in perioperative care. Point-of-care ultrasound is likely to become standard of care for anesthesiologists in the same way that stethoscopy is presently.
Résumé
Ce module introduira le concept d'examen échographique au point d'intervention (POCUS) pour les cliniciens chargés des soins périopératoires. Nous présentons un examen cardiaque orienté sur le remplissage et la fonction ventriculaires. L'examen de la veine cave inférieure est également abordé comme outil d'évaluation de la volémie. Nous explorerons pour terminer un bref examen des poumons et des plèvres pour aider le clinicien confronté à un patient hypoxique et dont la ventilation est difficile. Des examens cardiopulmonaires limités par échographie peuvent être pratiqués par des non-cardiologues et des non-radiologues. Les renseignements obtenus grâce à une échographie POCUS peuvent contribuer au diagnostic et à un traitement rapide en soins périopératoires. L'échographie au point d'intervention est susceptible de devenir la norme de soins pour les anesthésiologistes au même titre que l'utilisation du stéthoscope l'est actuellement.
This is a preview of subscription content, log in to check access.
Access options
Buy single article
Instant unlimited access to the full article PDF.
US$ 39.95
Price includes VAT for USA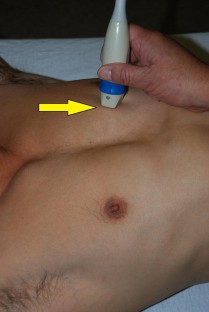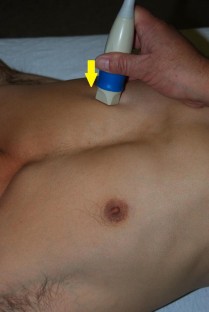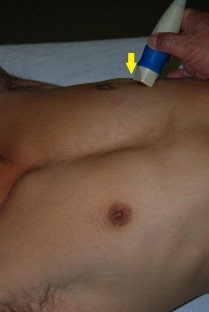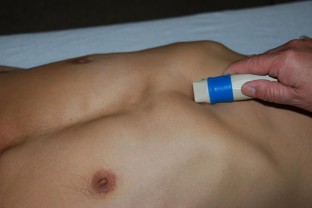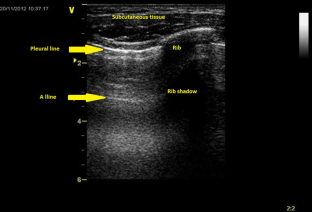 References
1.

Mulvagh SL, Bhagra A, Nelson BP, Narula J. Handheld ultrasound devices and the training conundrum: how to get to "seeing is believing". J Am Soc Echocardiogr 2014; 27: 310-3.

2.

Weiner MM, Geldard P, Mittnacht AJ. Ultrasound-guided vascular access: a comprehensive review. J Cardiothorac Vasc Anesth 2013; 27: 345-60.

3.

Perlas A. Evidence for the use of ultrasound in neuraxial blocks. Reg Anesth Pain Med 2010; 35(2 Suppl): S43-6.

4.

Neumar RW, Otto CW, Link MS, et al. Part 8: adult advanced cardiovascular life support: 2010 American Heart Association Guidelines for Cardiopulmonary Resuscitation and Emergency Cardiovascular Care. Circulation 2010; 122(18 Suppl 3): S729-67.

5.

Yang H. Perioperative medicine: why do we care? Can J Anesth 2015; 62: 338-44.

6.

McKenney MG, McKenney KL, Compton RP, et al. Can surgeons evaluate emergency ultrasound scans for blunt abdominal trauma? J Trauma 1998; 44: 649-53.

7.

American College of Emergency Physicians. Emergency ultrasound guidelines. Ann Emerg Med 2009; 53: 550-70.

8.

Salen PN, Melanson SW, Heller MB. The focused abdominal sonography for trauma (FAST) examination: considerations and recommendations for training physicians in the use of a new clinical tool. Acad Emerg Med 2000; 7: 162-8.

9.

Durham B. Emergency medicine physicians saving time with ultrasound. Am J Emerg Med 1996; 14: 309-13.

10.

Burnette RE Jr, Butler RC. Ruptured ectopic pregnancy after elective termination of intrauterine pregnancy discovered by use of ultrasonography in the emergency department. Acad Emerg Med 2000; 7: 830-3.

11.

Socransky S; Emergency Department Targeted Ultrasound Interest Group, Canadian Association of Emergency Physicians. Emergency department targeted ultrasound. update. CJEM 2006; 2006(8): 170-4.

12.

Pace J, Arntfield R. Focused assessment with sonography in trauma: a review of concepts and considerations for anesthesiology. Can J Anesth 2018; 65: 360-70.

13.

Denault A, Vegas A, Royse C. Bedside clinical and ultrasound-based approaches to the management of hemodynamic instability - Part I: focus on the clinical approach: continuing professional development. Can J Anesth 2014; 61: 843-64.

14.

Vegas A, Denault A, Royse C. A bedside clinical and ultrasound-based approach to hemodynamic instability - Part II: bedside ultrasound in hemodynamic shock: continuing professional development. Can J Anesth 2014; 61: 1008-27.

15.

Lang RM, Badano LP, Mor-Avi V, et al. Recommendations for cardiac chamber quantification by echocardiography in adults: an update from the American Society of Echocardiography and the European Association of Cardiovascular Imaging. J Am Soc Echocardiogr 2015; 28(1–39): e14.

16.

Denault AY, Langevin S, Lessard MR, Courval JF, Desjardins G. Transthoracic echocardiographic evaluation of the heart and great vessels. Can J Anesth 2018; 65: 449-72.

17.

Hope MD, de la Pena E, Yang PC, Liang DH, McConnell MV, Rosenthal DN. A visual approach for the accurate determination of echocardiographic left ventricular ejection fraction by medical students. J Am Soc Echocardiogr 2003; 16: 824-31.

18.

Kircher BJ, Himelman RB, Schiller NB. Noninvasive estimation of right atrial pressure from the inspiratory collapse of the inferior vena cava. Am J Cardiol 1990; 66: 493-6.

19.

Goffi A, Kruisselbrink R, Volpicelli G. The sound of air: point-of-care lung ultrasound in perioperative medicine. Can J Anesth 2018; 65: 399-416.

20.

Cavayas YA, Girard M, Desjardins G, Denault AY. Transesophageal lung ultrasonography: a novel technique for investigating hypoxemia. Can J Anesth 2016; 63: 1266-76.

21.

Pelosi P, Corradi F. Ultrasonography in the intensive care unit: looking at the world through colored glasses. Anesthesiology 2012; 117: 696-8.

22.

You-Ten KE, Siddiqui N, Teoh WH, Kristensen MS. Point-of-care ultrasound (POCUS) of the upper airway. Can J Anesth 2018; 65: 473-84.

23.

Perlas A, Chan VW, Lupu CM, Mitsakakis N, Hanbidge A. Ultrasound assessment of gastric content and volume. Anesthesiology 2009; 111: 82-9.

24.

Geeraerts T, Launey Y, Martin L, et al. Ultrasonography of the optic nerve sheath may be useful for detecting raised intracranial pressure after severe brain injury. Intensive Care Med 2007; 33: 1704-11.

25.

Rigamonti A, Ackery A, Baker AJ. Transcranial Doppler monitoring in subarachnoid hemorrhage: a critical tool in critical care. Can J Anesth 2008; 55: 112-23.

26.

Mehta M, Jacobson T, Peters D, et al. Handheld ultrasound versus physical examination in patients referred for transthoracic echocardiography for a suspected cardiac condition. JACC Cardiovasc Imaging 2014; 7: 983-90.
Conflict of interest
Dr. Chen is a member of CAE Healthcare speakers' bureau.
Editorial responsibility
This submission was handled by Dr. Stéphane Lambert, CPD Editor, Canadian Journal of Anesthesia.
Conflit d'intérêts
Le Dr Chen est membre du bureau des conférenciers de CAE Healthcare.
Responsabilité éditoriale
Cet article a été traité par le Dr Stéphane Lambert, Éditeur pour le DPC, Journal canadien d'anesthésie.
Additional information
Publisher's Note
Springer Nature remains neutral with regard to jurisdictional claims in published maps and institutional affiliations.
Electronic supplementary material
Below is the link to the electronic supplementary material.
VIDEO 9 Lung point-of care ultrasound demonstrating lung hepatization. A curvilinear probe was placed in the same position and orientation (radiology convention) as video 7 and video 8. Note the appearance of the lung in the center of the field, in comparison with the liver on the opposite side of the diaphragm (on the right side of the screen). A small simple pleural effusion is also present. (WMV 1787 kb)
VIDÉO 9Échographie POCUS du poumon, démontrant une hépatisation du poumon droit. Une sonde sectorielle est placée dans la même position et orientation que dans les vidéos 7 et 8. Veuillez noter l'apparence du poumon au centre de l'image, et comparez avec l'apparence du foie de l'autre côté du diaphragme (à droite de l'écran). Un petit épanchement pleural simple est aussi présent. (WMV 1787 kb)
About this article
Cite this article
Chen, R. Synopsis of the point-of-care ultrasound assessment for perioperative emergencies. Can J Anesth/J Can Anesth 66, 448–460 (2019). https://doi.org/10.1007/s12630-019-01303-0
Received:

Revised:

Accepted:

Published:

Issue Date: