Anesthesia for interventional pulmonology procedures: a review of advanced diagnostic and therapeutic bronchoscopy
Review Article/Brief Review
Abstract
Purpose
Interventional pulmonology is a growing subspecialty of pulmonary medicine with flexible and rigid bronchoscopies increasingly used by interventional pulmonologists for advanced diagnostic and therapeutic purposes. This review discusses different technical aspects of anesthesia for interventional pulmonary procedures with an emphasis placed on pharmacologic combinations, airway management, ventilation techniques, and common complications.
Source
Relevant medical literature was identified by searching the PubMed and Google Scholar databases for publications on different anesthesia topics applicable to interventional pulmonary procedures. Cited literature included case reports, original research articles, review articles, meta-analyses, guidelines, and official society statements.
Principal findings
Interventional pulmonology is a rapidly growing area of medicine. Anesthesiologists need to be familiar with different considerations required for every procedure, particularly as airway access is a shared responsibility with pulmonologists. Depending on the individual case characteristics, a different selection of airway method, ventilation mode, and pharmacologic combination may be required. Most commonly, airways are managed with supraglottic devices or endotracheal tubes. Nevertheless, patients with central airway obstruction or tracheal stenosis may require rigid bronchoscopy and jet ventilation. Although anesthetic approaches may vary depending on factors such as the length, complexity, and acuity of the procedure, the majority of patients are anesthetized using a total intravenous anesthetic technique.
Conclusions
It is fundamental for the anesthesia provider to be updated on interventional pulmonology procedures in this rapidly growing area of medicine.
Anesthésie pour procédures interventionnelles en pneumologie : revue des implications de la bronchoscopie avancée à buts diagnostique et thérapeutique
Résumé
Objectif
La pneumologie interventionnelle est une sous-spécialité de la pneumologie en progression grâce à l'utilisation croissante des bronchoscopes souples et rigides par les pneumologues interventionnels à des fins diagnostiques et thérapeutiques avancées. Cette analyse aborde les différents aspects techniques de l'anesthésie pour les procédures interventionnelles en pneumologie en insistant sur les combinaisons pharmacologiques, la gestion des voies respiratoires, les techniques de ventilation et les complications fréquentes.
Source
La littérature médicale pertinente a été identifiée par une recherche des publications sur différents sujets d'anesthésie applicables aux procédures interventionnelles en pneumologie dans les bases de données PubMed et Google Scholar. Les publications citées ont inclus des rapports de cas, des articles de recherche originale, des articles de synthèse, des méta-analyses, des lignes directrices et les déclarations officielles de sociétés savantes.
Constatations principales
La pneumologie interventionnelle est une branche de la médecine qui se développe rapidement. Les anesthésiologistes ont besoin de se familiariser avec les différents problèmes soulevés par chaque procédure, en particulier dans la mesure où la responsabilité de l'accès aux voies respiratoires est partagée avec les pneumologues. La méthode de gestion des voies aériennes, le mode de ventilation et la combinaison pharmacologique pourront être choisis en fonction des caractéristiques de chaque cas particulier. Le plus souvent, les voies respiratoires sont gérées avec des dispositifs supraglottiques ou des tubes endotrachéaux. Néanmoins, les patients présentant une obstruction centrale des voies respiratoires ou une sténose de la trachée peuvent nécessiter le recours à un bronchoscope rigide et à une jet-ventilation. Bien que la démarche anesthésique puisse varier en fonction de facteurs tels que la durée, la complexité et la gravité de la procédure, la majorité des patients sont anesthésiés en employant une technique intraveineuse totale.
Conclusions
Il est essentiel que le professionnel assurant l'anesthésie connaisse les plus récentes procédures interventionnelles en pneumologie dans ce domaine rapidement croissant de la médecine.
Interventional pulmonology is a growing subspecialty in pulmonary medicine with remarkable advancements in recent years having been made in diagnostic and therapeutic innovations.
1
,
2
A growing number of procedures are performed by interventional pulmonologists. Different procedures require different anesthetic considerations based on the complexity of the procedure performed and underlying patient conditions; these range from conscious sedation to general anesthesia, including the use of either conventional or jet ventilation.
3
,
4
Hence, it is fundamental for anesthesiologists to be familiar with the nuances of the different techniques commonly performed by interventional pulmonologists.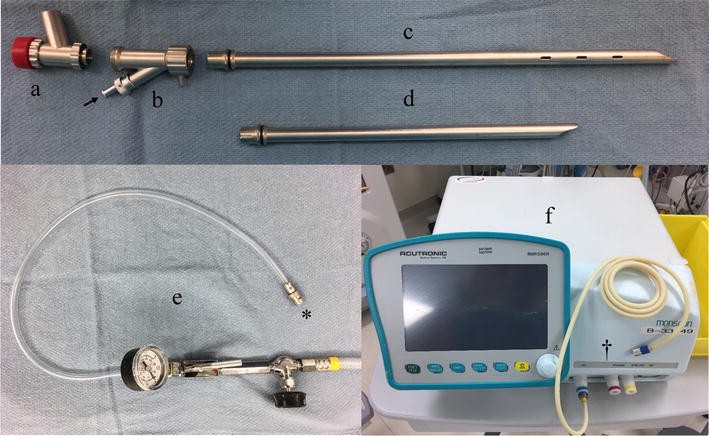 This narrative review addresses the various methods used for securing the airway as well as the pharmacologic considerations, ventilation modes, and potential complications relevant to the different interventional bronchoscopic procedures.
Pre-procedure assessment
Over 500,000 bronchoscopies are performed annually in the United States5 to address many conditions including malignancy (i.e., for diagnostic, staging, and palliative purposes), interstitial lung disease, asthma, and central airway obstruction.6 Current American Thoracic Society recommendations state that, based on the patient's underlying condition and physician's criteria, a full preoperative evaluation (including a full physical examination, laboratory tests, and relevant imaging) should be done prior to bronchoscopy.7 Emphasis should be placed on airway assessment and identification of challenging airway predictors.3,8 Interventional pulmonologists and anesthesiologists should plan each case collaboratively to minimize complications.
Generally, bronchoscopic procedures may be classified as basic diagnostic, advanced diagnostic, and/or therapeutic procedures. These are summarized in Table 
1
.
Table 1
Bronchoscopic procedures and their common clinical indications
Procedure

Common clinical indication

Basic diagnostic procedures

Dynamic flexible bronchoscopy

Diagnostic assessment of dynamic central airway collapse

Endobronchial biopsy

Diagnostic evaluation of endobronchial lesion

Bronchoalveolar lavage

Analysis of alveolar contents

➢ Diagnosis of alveolar proteinosis, opportunistic infections, eosinophilic pneumonia, etc.

Transbronchial biopsy

Parenchymal tissue sampling

Brushings

Obtaining cytologic samples of endobronchial lesions and parenchymal tumuors

Conventional TBNA

Diagnostic evaluation of mediastinal and/or hilar lymphadenopathy

Advanced diagnostic procedures

Linear EBUS – TBNA

Diagnostic evaluation of mediastinal and/or hilar lymphadenopathy

Radial EBUS

Assessment of solitary pulmonary nodule or peripheral lung lesion

Electromagnetic navigation/Virtual bronchoscopy

Cryobiopsy

Airway or parenchymal tissue sampling

Bronchoscopic transparenchymal nodule access

Peripheral solitary pulmonary nodule sampling (without a leading airway)

Advanced therapeutic procedures

Rigid bronchoscopy

Management of central airway obstruction

Management of massive hemoptysis

Foreign body removal

Stent deployment

Stent placement (metallic and silicone)

Airway obstruction secondary to malignancy or benign disease

Ablation techniques

∙ Laser

∙ Electrocautery

∙ Argon plasma coagulation

∙ Cryotherapy

∙ Spray cryotherapy

∙ Micro-debridement

∙ Photodynamic therapy

Endobronchial/mixed lesion

Bronchial thermoplasty

Severe asthma

Intrabronchial valves

Persistent airway leak (alveolopleural fistula)

Intrabronchial valve/coil placement or steam

Endoscopic lung volume reduction for severe emphysema (experimental)
Conclusions
Interventional pulmonology is a rapidly growing area of medicine. Advanced diagnostic and therapeutic bronchoscopy is widely applied in different pathologies of the airways, lungs, and mediastinum. Therefore, it is fundamental for the anesthesia provider to be updated on this area.
Evidence-based recommendations regarding airway management, pharmacologic strategies, and complications should help guide anesthesiologists when approaching common bronchoscopic procedures. In daily practice, each case should be approached individually. A thorough evaluation of individual comorbidities, risk factors, and technical aspects associated with each procedure is necessary. Given that interventional pulmonologists and the anesthesia team share the working field, constant communication between specialists is fundamental.
Notes
Conflicts of interest
Adnan Majid: Paid consultant for PneumRx, Inc., paid consultant for Olympus Corporations of the Americas, paid consultant for Broncus Medical Inc., and paid consultant for Boston Scientific Corp.
Editorial responsibility
This submission was handled by Dr. Hilary P. Grocott, Editor-in-Chief, Canadian Journal of Anesthesia.
Author contributions
Andrés de Lima, Fayez Kheir, Adnan Majid, and John Pawlowski contributed substantially to all aspects of this manuscript, including conception and design; acquisition, analysis, and interpretation of data; and drafting the article.
Copyright information
© Canadian Anesthesiologists' Society 2018