The Canadian STOP-PAIN project – Part 1: Who are the patients on the waitlists of multidisciplinary pain treatment facilities?
Reports of Original Investigations
Abstract
Purpose
The Canadian STOP-PAIN Project assessed the human and economic burden of chronic pain in individuals on waitlists of Multidisciplinary Pain Treatment Facilities (MPTF). This article presents the patients' bio-psycho-social profile.
Methods
A sample of 728 patients was recruited from waitlists of eight university-affiliated MPTFs across Canada. Subjects completed validated questionnaires to: 1) assess the characteristics and impact of their pain; and 2) evaluate their emotional functioning and quality of life (QoL). Follow-up questionnaires were completed by a subgroup of 271 patients three months later.
Results
Close to 2/3 of the participants reported severe pain (≥ 7/10) that interfered substantially with various aspects of their daily living and QoL. Severe or extremely severe levels of depression were common (50.0%) along with suicidal ideation (34.6%). Patients aged > 60 yr were twice as likely to experience severe pain (≥ 7/10) as their younger counterparts (P = 0.002). Patients with frequent sleep problems were more at risk of reporting severe pain (P ≤ 0.003). Intense pain was also associated with a greater tendency to catastrophize (P < 0.0001) severe depressive symptoms (P = 0.003) and higher anger levels (P = 0.016). Small but statistically significant changes in pain intensity and emotional distress were observed over a three-month wait time (all P < 0.05).
Conclusion
This study highlights the severe impairment that patients experience waiting for treatment in MPTFs. Knowing that current facilities cannot meet the clinical demand, it is clear that effective prevention/treatment strategies are needed earlier in primary and secondary care settings to minimize suffering and chronicity.
Keywords
Chronic Pain 
Suicidal Ideation 
Complex Regional Pain Syndrome 
Anger Level 
Secondary Care Setting 
These keywords were added by machine and not by the authors. This process is experimental and the keywords may be updated as the learning algorithm improves.
Le projet canadien STOP-PAIN – 1ère partie : Qui sont les patients sur les listes d'attente pour les établissements pluridisciplinaires de traitement de la douleur?
Résumé
Objectif
Le projet canadien STOP-PAIN a évalué le fardeau humain et économique que représentait la douleur chronique des personnes se trouvant sur les listes d'attente des établissements pluridisciplinaires de traitement de la douleur (MPTF – Multidisciplinary Pain Treatment Facilities). Cet article présente le profil bio-psycho-social de ces patients.
Méthode
Un échantillon de 728 patients a été recruté à partir des listes d'attente de huit MPTF affiliés à des universités partout au Canada. Les participants ont rempli des questionnaires validés afin de : 1) évaluer les caractéristiques et l'impact de leur douleur; et 2) évaluer leur fonctionnement émotionnel et leur qualité de vie (QdV). Des questionnaires de suivi ont été remplis trois mois plus tard par un sous-groupe de 271 patients.
Résultats
Près de 2/3 des participants ont fait état d'une douleur grave (≥ 7/10) qui entravait considérablement différents aspects de leur vie quotidienne et de leur QdV. Des niveaux graves ou extrêmement graves de dépression étaient fréquents (50,0 %), tout comme les idées suicidaires (34,6 %). Les patients âgés de > 60 ans couraient un risque deux fois plus élevé de ressentir des douleurs graves (≥ 7/10) que les participants plus jeunes (P = 0,002). Les patients ayant souvent des problèmes de sommeil couraient un risque plus élevé de faire état de douleur grave (P ≤ 0,003). Une douleur intense était également associée à une tendance plus prononcée à la dramatisation (P < 0,0001), à des symptômes de dépression grave (P = 0,003) et à des niveaux plus élevés de colère (P = 0,016). Des changements petits mais significatifs au niveau de l'intensité de la douleur et de la détresse émotionnelle ont été observés sur une période d'attente de trois mois (tous P < 0,05).
Conclusion
Cette étude met en évidence le handicap grave que les patients ressentent pendant qu'ils attendent d'être traités dans un MPTF. Sachant que les établissements actuels ne peuvent répondre à la demande clinique, il est clair que des stratégies de prévention et de traitement efficaces sont nécessaires plus tôt dans les cadres de soins primaires et secondaires afin de minimiser la souffrance et la chronicité.
Chronic pain affects approximately one in five Canadian adults1 , 2 , 1 and the human and economic burden associated with this health care problem is believed to be enormous. Despite decades of research, chronic pain continues to be largely undertreated or mistreated, resulting in a large number of patients going from doctor to doctor seeking pain relief. Multidisciplinary pain treatment is recognized as the optimal paradigm3, 2 for a good proportion of these patients, but access is restricted due to the limited number of facilities and long waiting lists.4 , 5 A recent Canadian survey identified six months as the median wait time for a first appointment in public multidisciplinary pain treatment facilities (MPTFs). This means that 50% of patients have to wait six months or more (with a range of up to five years) for access to appropriate pain treatment, with 30% of clinics reporting waitlists of more than one year and vast areas of the country remaining unserviced.4 What is the economic burden of their pain? What is the impact of having to wait months for treatment of chronic pain? Since we lack reliable information on these issues at the present time, there is a clear requirement for research into this patient population to better understand their specific needs. Also, economic data on chronic pain are very important when determining and allocating treatment resources.
The objectives of the Canadian STOP-PAIN Project were two-fold: 1) to portray the bio-psycho-social profile of patients on MPTF waitlists; and 2) to evaluate the economic burden of their pain. The results of this study are reported in two consecutive papers. The present paper (Part 1) describes the characteristics and impact of patients' pain, their psychological status and health-related quality of life (QoL). The effect of a three-month wait time on patients' pain severity and emotional distress was also examined. The companion article (Part 2) provides the results of the economic analysis.
Methods
Study design and selection of participants
A cross-sectional design was used to study patients on the waitlists of eight large university-affiliated MPTFs located in seven provinces across Canada. A subgroup of participants was randomly selected for a prospective follow up of a three-month period. Adult patients were eligible to participate in the study if they were referred to a MPTF for the first time due to chronic non-cancer pain lasting for at least six months. Patients were excluded if: 1) their medical condition required immediate evaluation and treatment, e.g., acute complex regional pain syndrome; 2) they were unable to complete an English or French questionnaire due to a language barrier; and 3) they were unable to give informed consent because of cognitive disorders. This study, which was conducted from November 2004 to October 2007, was approved by the Research Ethics Boards (REB) of all participating centres (Montreal Heart Institute REB being the leading institution).
Initial assessment
The medical directors of each MPTF mailed a letter to all patients on their waitlist inviting them to enrol in the present study. The invitation letter with a response card was sent to all new patients in the order they were referred to the MPTF during the study period. Patients who accepted the invitation were invited to provide written informed consent and to complete a self-administered questionnaire to be returned by mail. This questionnaire (Appendix 1, available as Electronic Supplementary Material) included standardized validated scales designed to collect the following information: 1) pain characteristics, including intensity (0-10 numerical rating scale [NRS])6 and impact on daily living (interference items of the modified Brief Pain Inventory [BPI]);7 , 8 2) sleep problems (four items selected from the Chronic Pain Sleep Inventory [CPSI]);9 3) psychological distress, including depression (Beck Depression Inventory [BDI-I]),10 anxiety (NRS) and anger levels (NRS); 4) tendency to catastrophize in the face of pain (Pain Catastrophizing Scale [PCS]);11 , 12 5) health-related QoL (SF-36v2);13 and 6) socio-demographics. Also, all study participants were invited to participate in a structured face-to-face or telephone interview with trained research nurses to obtain the following additional information: 1) cause of pain; 2) current and past medication used for pain; 3) current and past non-pharmacological pain treatments; 4) type of health care professionals consulted for pain; and 5) current health problems other than pain. A copy of the structured interview protocol is available as Electronic Supplementary Material (Appendix 2).
All the nurses who were involved in the STOP-PAIN Project were experienced research nurses who completed one-day training prior to the start of the study. Each nurse was provided with the STOP-PAIN Research Nurse Handbook that detailed the procedures related to all study phases.
Follow-up assessment
Using a computer-generated set of random numbers, a subgroup of patients (70% of the initial sample) was randomly selected from the initial sample for follow-up assessment by a trained research nurse. In this subgroup of patients, prior pain-related use of health care resources and pain costs were quantified prospectively using the Ambulatory and Home Care Record (AHCR)14 over a three-month period (see details of the procedure in a companion article, The Canadian STOP-PAIN Project - Part 2, by Guerriere et al. published in this issue of the Journal). At the end of this period, patients' pain intensity (NRS), depression (BDI-I), anxiety and anger levels (NRS) were re-assessed to evaluate the impact of a three-month wait time on their condition.
Data analysis
The results are expressed as means ± standard deviations, medians, or percentages. Multiple logistic regression analysis was performed to identify variables that distinguished patients with severe pain (pain intensity at its usual level in the past seven days ≥ 7/10) from those who had pain of lesser intensity (< 7/10). Only variables with a P value of < 0.25 in univariate logistic regression analysis were considered as potential predictors in the final regression model. Independent Student's t tests were used for group comparisons. Paired Student's t tests served to compare the data collected during the initial and follow-up interviews.
Results
As shown in Figure 
1
, 40.4% of the 3,343 patients who were sent a letter of invitation consented to participate in the study. A total of 728 patients entered the study (corrected response rate: 24.9%) after excluding patients who did not meet the selection criteria and those who either were not reached or did not complete the initial interview. Participants were equally distributed among the eight study sites (Table 
1
). The patients' mean age was 50.8 ± 12.6 (range: 20-88) yr, 60.6% were female, and close to half of the patients were unable to work due to illness or disability (Table 
2
).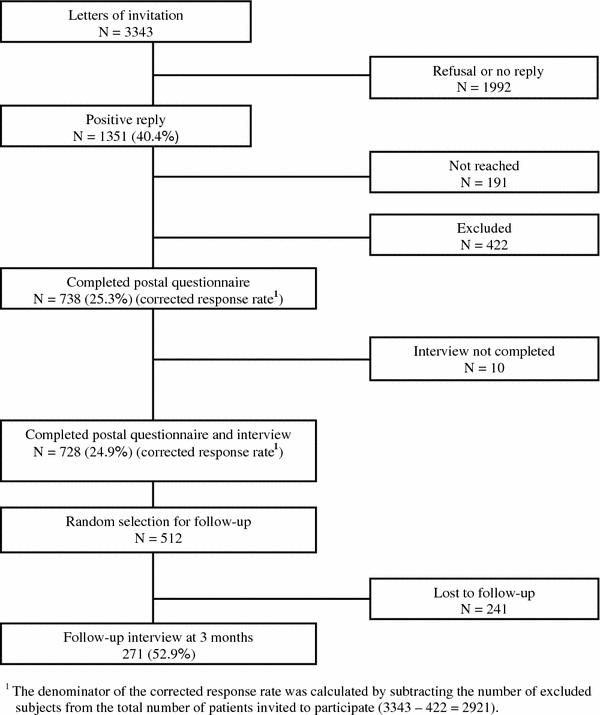 Table 1
Patients' distribution per site across Canada
| City | MPTF | % | n |
| --- | --- | --- | --- |
| St. John's (NFLD) | Centre for Pain and Disability Management | 10.3 | 75 |
| Halifax | Pain Management Unit – Queen Elizabeth II Health Sciences Centre | 13.9 | 101 |
| Montreal | Pain Clinic of the Centre hospitalier de l'Université de Montréal | 13.9 | 101 |
| Montreal | Pain Centre of the McGill University Health Centre | 13.7 | 100 |
| London | St. Joseph's Health Care Interdisciplinary Pain Clinic | 13.9 | 101 |
| Winnipeg | Pain Management Centre, Health Sciences Centre | 10.7 | 78 |
| Calgary | Calgary Health Region Chronic Pain Centre | 13.6 | 99 |
| Vancouver | St. Paul's Hospital Pain Centre | 10.0 | 73 |
Table 2
Demographic characteristics of the study participants (n = 728)
Characteristics

 

%

n

Age

< 40 yr

17.5

127

40-60 yr

58.6

427

> 60 yr

23.9

174

Gender

Female

60.6

441

Education level

Elementary school, high school

46.3

336

College-technical school

35.4

257

University

18.3

133

Employment status

Employed (including students and homemakers)

32.8

238

Retired

16.5

120

Unable to work due to illness or disability

41.9

304

Otherwise not employed

8.8

64
Discussion
The STOP-PAIN Project is the first to document the burden of illness associated with chronic pain in individuals on waitlists of MPTFs across Canada. Our results highlight the severe impairment experienced by these patients. Almost all of the subjects experienced continuous pain, and close to two-thirds of them rated their pain as severe. Also, the pain interfered substantially with activities in their daily lives. As previously observed in a similar population of Danish patients suffering with chronic pain,19 our study showed a major reduction in health-related QoL measured by the SF-36v2. The reduction in physical, psychological, and social functioning is remarkable in comparison with the Canadian population in general17 and patients suffering from other chronic diseases.18 However, these results are not overly surprising, considering that patients are referred to tertiary pain centres typically after all other health care resources have been exhausted and after patients have tried numerous treatments, including complementary and alternative medicine therapies.
The results documenting the association between pain and sleep are of special interest. More than one-half of the participants in the present study reported experiencing pain-related sleep disturbances on a regular basis. Patients who suffered from frequent sleep problems were at least twice as likely to report severe pain. The literature increasingly stresses the importance of paying more attention to the bi-directional relationship between pain and inadequate sleep, from both the diagnostic and the treatment points of view.20 - 24
With regard to emotional distress, the results on the BDI-I were consistent with those obtained on the SF-36v2 mental health subscale. Severe or extremely severe BDI scores were observed in a large number of patients. Anxiety and anger were also common in this population. Numerous epidemiological and clinical studies25 - 30 have documented the high prevalence of psychological co-morbidities in patients with chronic pain, especially in those who experience significant limitations in their activities of daily living due to pain. For example, an international WHO survey of nearly 26,000 patients attending primary care facilities showed that chronic pain sufferers exhibited a four-fold increase in the odds of having an anxiety or depressive disorder relative to patients without persistent pain.26 Another recent review31 revealed that the risk of death by suicide was at least doubled in individuals suffering from chronic pain. In the present study, suicidal ideation was present in more than one-third of subjects, underscoring the need for clinicians to thoroughly assess depression. Our results revealed that the more depressed the patients were, the more likely they were to report severe pain. Older age, tendency to catastrophize, and anger were also significantly associated with intense pain.
In our study, statistically significant differences were observed in the patients' condition over a three-month period while they waited for their first appointment at an MPTF. However, it is debatable whether these results are clinically relevant. The significant differences observed on the measures of emotional distress (depression, anxiety, and anger) all pointed in the same direction, suggesting some sign of deterioration. However, the size of these differences was small. The same is true for the results obtained on the pain measures. Given that the median pain duration in our sample was 5.0 yr, perhaps a three-month period was too short to have a meaningful effect on the patients' condition in terms of pain severity and emotional distress. In two studies of patients being treated at an urban multidisciplinary pain centre in Denmark, no differences were seen after four months of waiting,32 but when patients waited six months, health-related QoL, anxiety, and depression scores deteriorated.33 These results are consistent with a systematic review34 that found patients experiencing a reduction in health-related QoL and psychological well-being while waiting six months from the time of referral to treatment for chronic pain.35
Like any other study, the present one has a certain number of limitations. It characterized only a small proportion of the chronic pain population, i.e., those who are waiting to be seen in a tertiary pain treatment centre. Therefore, they represent one subset of the population with chronic pain. The lack of firm diagnostic data on the study participants precluded analyses of subgroups of patients suffering from different pain syndromes. The study design did not allow inferences about causal relationships among the variables examined. Another limitation of the present study is the low response rate (24.9%). Whether responders and non-responders differed in terms of their demographics or pain history was impossible to assess, since the latter group did not provide informed consent for collecting these data. However, considering they did not differ significantly from the groups of patients who completed the initial assessment in terms of age, sex, education level, employment status, and pain history (cause, duration) some generalizations can be viewed as possible from the sample who participated in the follow-up interview at three months. Nevertheless, some selection bias may remain among the responders. It is possible that severely affected patients may have been overrepresented in the individuals who completed the initial and/or follow-up interviews. Then again, they may have been underrepresented, since some patients may have been too sick, disabled, or distressed to answer the questionnaires.
Despite these shortcomings, our results have important clinical implications. In view of the severity and complexity of their condition, patients waiting for treatment in tertiary pain clinics present a unique set of challenges for assessment and treatment. Considering that Canadian MPTFs are unable to meet the clinical demand, both in terms of regional accessibility and reasonable wait times,4 it is clear that comprehensive and effective treatment strategies are needed. These should include earlier intervention in primary and secondary care settings to minimize suffering and psychological morbidity and, where possible, to prevent chronicity from developing. Factors, such as depression, sleep impairment, tendency to catastrophize, and anger, can all be modified and may require tailored interventions beyond simply treating pain. In conclusion, the poor bio-psycho-social profile observed in this sample of chronic pain patients who were referred to tertiary pain clinics should alert health care professionals and decision-makers to re-examine clinical priorities regarding resource allocation and to formulate better more cost-effective ways of delivering health care to individuals with chronic pain.
Notes
Acknowledgements
The authors sincerely thank Mrs. Hélène Lanctôt, Research Coordinator of the STOP-PAIN Project, as well as the Research Nurses who were in charge of patient recruitment and data collection: Mrs. Mary Beth Booker, Linda Ferguson, Donna Hefferton, Denise Héroux, Louise Malysh, Paulette Nauss, Lynda Oliveros, Mala Ramu, Teralyne Wilson, Joanne Smith-Yong, and Myrna Yazer. Also, thanks are due to Mrs. Li Zhu and Annik Fortier, from the Biostatistics Service of the Montreal Heart Institute Coordinating Centre, who performed all the statistical analyses.
Funding sources
This study was funded by the Canadian Institutes of Health Research/Rx&D Collaborative Research Program (Grant No. DOP 68175) in partnership with Pfizer Canada Inc. Additional funds were obtained from three research networks of Fonds de la recherche en santé du Québec (FRSQ): the Oral Health Research Network, the Neurosciences and Mental Health Research Network, and the Rehabilitation Research Network. Mélanie Racine is a Canadian Institutes of Health Research Strategic Training Fellow in « Pain Research: From Molecules to Community » . Pfizer Canada Inc. did not influence the design, conduct, or reporting of the trial.
Competing interests
None declared.
Copyright information
© Canadian Anesthesiologists' Society 2010