Single-operator real-time ultrasound-guidance to aim and insert a lumbar epidural needle
Reports of Original Investigations
Abstract
Purpose
In conventional practice of epidural needle placement, determining the interspinous level and choosing the puncture site are based on palpation of anatomical landmarks, which can be difficult with some subjects. Thereafter, the correct passage of the needle towards the epidural space is a blind "feel as you go" method. An aim-and-insert single-operator ultrasound-guided epidural needle placement is described and demonstrated.
Method
Nineteen subjects undergoing elective Cesarean delivery consented to undergo both a pre-puncture ultrasound scan and real-time paramedian ultrasound-guidance for needle insertion. Following were the study objectives: to measure the success of a combined spinal-epidural needle insertion under real-time guidance, to compare the locations of the chosen interspinous levels as determined by both ultrasound and palpation, to measure the change in depth of the epidural space from the skin surface as pressure is applied to the ultrasound transducer, and to investigate the geometric limitations of using a fixed needle guide.
Results
One subject did not participate in the study because pre-puncture ultrasound examination showed unrecognizable bony landmarks. In 18 of 19 subjects, the epidural needle entered the epidural space successfully, as defined by a loss-of-resistance. In two subjects, entry into the epidural space was not achieved despite ultrasound guidance. Eighteen of the 19 interspinous spaces that were identified using palpation were consistent with those determined by ultrasound. The transducer pressure changed the depth of the epidural space by 2.8 mm. The measurements of the insertion lengths corresponded with the geometrical model of the needle guide, but the needle required a larger insertion angle than would be needed without the guide.
Conclusion
This small study demonstrates the feasibility of the ultrasound-guidance technique. Areas for further development are identified for both ultrasound software and physical design.
Keywords
Epidural Space 
Needle Insertion 
Ligamentum Flavum 
Ultrasound Transducer 
Needle Guide 
These keywords were added by machine and not by the authors. This process is experimental and the keywords may be updated as the learning algorithm improves.
Échoguidage en temps réel par opérateur unique afin d'orienter et d'insérer une aiguille péridurale lombaire
Résumé
Objectif
Dans le positionnement traditionnel de l'aiguille péridurale, l'identification du niveau interépineux et le choix du site de ponction se fondent sur la palpation de points de repère anatomiques, ce qui peut s'avérer difficile chez certains patients. Par la suite, le passage approprié de l'aiguille vers l'espace péridural est réalisé par une méthode en aveugle sur la base de sensation subjective pendant l'insertion. Nous décrivons et démontrons ici le positionnement d'une aiguille péridurale échoguidée par un opérateur unique en 'ciblant et insérant'.
Méthode
Dix-neuf patientes subissant un accouchement par césarienne non urgent ont consenti à subir un échogramme avant la ponction ainsi qu'un échoguidage paramédian en temps réel pour guider l'insertion de l'aiguille. Les objectifs étaient d'évaluer la réussite d'une insertion en temps réel de l'aiguille rachidienne-péridurale par échoguidage, de comparer les sites des niveaux interépineux retenus par échoguidage ou palpation, de mesurer les changements de profondeur de l'espace péridural depuis la surface de la peau lorsqu'on exerce de la pression sur le capteur ultrasonore, et d'explorer les limites géométriques liées à l'utilisation d'un guide fixe de l'aiguille.
Résultats
Une patiente n'a pas participé à l'étude en raison de points de repères osseux non reconnaissables découverts pendant l'examen échographique réalisé avant la ponction. Chez 18 des 19 patientes, l'aiguille péridurale a bien été insérée dans l'espace péridural tel que défini par une perte de résistance. Chez deux patientes, malgré l'échoguidage, l'entrée dans l'espace péridural n'a pas réussi. Dix-huit des 19 identifications de l'espace interépineux par palpation étaient semblables à celles obtenues par échoguidage. La pression du capteur a modifié la profondeur de 2,8 mm. Les mesures des longueurs d'insertion correspondaient au modèle géométrique du guide d'aiguille, mais l'aiguille a nécessité un angle d'insertion plus large que sans guide.
Conclusion
Cette petite étude démontre la faisabilité de la technique échoguidée. Différents domaines où des développements futurs sont possibles sont présentés aussi bien pour les logiciels d'échoguidage que pour la conception physique.
Epidural needle placement is performed most commonly using an anatomical landmark-based technique for identifying the chosen intervertebral level and site of insertion. This procedure can be difficult for some subjects, such as the obese. Typically, needle insertion is performed using the loss-of-resistance to saline/air, which is a "feel as you go" method to ensure a proper track toward the ligamentum flavum and epidural space. Loss-of-resistance to saline/air is the gold standard method for identifying entry into the epidural space.1
Ultrasound pre-puncture scanning can identify the intervertebral level2,3 and the midline. As a means to improve successful placement, it can also provide information about best angle, direction of approach, and depth to the epidural space.4-7 The ultimate goal is to plan the trajectory of the needle to achieve successful needle placement in one single attempt without redirections. This is true for both epidural and combined spinal-epidural (CSE) anesthesia. For simplicity in this article, we use the term epidural needle insertion for both cases, although small differences exist as explained in the methods.
In their efforts to achieve the ultimate goal, investigators have described a two-operator real-time ultrasound-guided technique of epidural needle placement.8,9 In this scenario, one operator would perform a midline epidural needle insertion while observing its entry into the epidural space on a paramedian ultrasound image from a second operator. A single-operator in-plane ultrasound-guided epidural needle insertion method has been described,10 but it is a free-hand ultrasound technique, i.e., the needle trajectory cannot be superimposed on the ultrasound image for planning before insertion. The free-hand technique allows flexibility in scanning but requires considerable operator expertise.11A fixed needle angle facilitates pre-puncture determination of the depth of the needle insertion from a simple measurement along this path, as shown in the ultrasound image as a superimposed line. This superimposed needle trajectory line also helps the anesthesiologist to choose a needle insertion site and angle suitable for a direct path toward the epidural space.
Herein, we present the findings of a single-arm prospective observational cohort study of a systematic method both for ultrasound pre-puncture scanning to identify the lumbar level for selection of the puncture site and for real-time guidance of needle insertion. The primary objective was to determine the feasibility and practicality of performing this aim-and-insert technique with a single operator. Secondary objectives were to compare ultrasound and palpation-based identification of intervertebral space count, to study the effect of transducer pressure on measured distances in the lumbar paramedian plane, to compare the straight-down depth to the epidural space with the diagonal needle trajectory and the relationship to the needle guide geometry, and, finally, to compare the site of insertion selected in the pre-puncture examination with the actual insertion site. We expected the secondary objectives would provide insight into potential limitations of the proposed method.
Results
Twenty subjects gave written consent; however, one subject did not participate in the study due to unrecognizable bony landmarks. The participating subjects (
n
 = 19) were aged 35 ± 5.3 yr, weighed 80.3 ± 13.2 kg, were 160.0 ± 5.6 cm in height, and had a body mass index of 31.5 ± 5.9 kg·m
−2
. There were 11 obese, five overweight, and three normal subjects (Table 
1
).
Table 1
Subject biometrics and comments
| Subject | Age (yr) | Weight (kg) | Height (cm) | Epidural space: LOR obtained with ultrasound guidance | Comments about success of overall procedure |
| --- | --- | --- | --- | --- | --- |
| 1 | 33 | 59 | 157 | Yes |   |
| 2 | 31 | 80 | 155 | Yes |   |
| 3 | 43 | 98 | 163 | Yes |   |
| 4 | 36 | 93 | 157 | Yes |   |
| 5 | 26 | 61 | 163 | Yes |   |
| 6 | 41 | 95 | 158 | Yes |   |
| 7 | 27 | 99 | 156 | Yes |   |
| 8 | 41 | 65 | 161 | Yes |   |
| 9 | 25 | 74 | 161 | No | Loss-of-resistance to saline could not be elicited |
| 10 | 36 | 82 | 160 | Yes |   |
| 11 | 33 | 94 | 169 | Yes | No CSF aspirated, epidural catheter passed, midline spinal performed for Cesarean |
| 12 | 40 | 80 | 170 | Yes |   |
| 13 | 41 | 78 | 156 | Yes |   |
| 14 | 33 | 80 | 165 | Yes | No CSF aspirated, epidural catheter passed, midline spinal performed for Cesarean |
| 15 | 37 | 83 | 155 | Yes | No CSF aspirated, epidural catheter passed, midline spinal performed for Cesarean |
| 16 | 37 | 95 | 150 | Yes |   |
| 17 | 37 | 79 | 159 | Yes | No CSF aspirated, epidural catheter passed, midline spinal performed for Cesarean |
| 18 | 30 | 57 | 155 | Yes |   |
| 19 | 31 | 73 | 170 | Yes |   |
All subjects underwent attempted needle placement using the new real-time ultrasound-guided single-operator aim-and-insert technique. In 18 of the 19 subjects, the epidural needle was successfully guided into the epidural space, as defined by good loss-of-resistance. In one subject (subject 9), loss-of-resistance to saline could not be elicited despite good ultrasound and needle views. There was CSF aspiration in 14 of the 18 subjects confirming that the spinal needle had passed through the epidural space, giving further evidence, though no guarantee, that the needle tip was in the epidural space. In the four subjects with no CSF aspiration, a catheter was threaded easily into the epidural space. Spinal anesthesia provided a satisfactory block in all 18 subjects.
Table 
2
shows the differences in measurements between the interspaces identified by palpation and the interspaces identified by ultrasound. In two subjects (subjects 5 and 7), a difference of 25 mm was found. The magnitude of this difference was compared with the respective interfacet distances. The differences for subject 5 (24.1 mm interfacet distance) and subject 7 (23.7 mm interfacet distance) were considered to be miscounts of intervertebral level.
Table 2
Palpation compared with ultrasound: difference (mm) between the anesthesiologist's mark and the sonographer's mark. Data missing due to time constraints are labelled "n/a"
| Subject | Difference (mm) | Associated interfacet distance (mm) |
| --- | --- | --- |
| 1 | 0 | 31.5 |
| 2 | 15 | 27.4 |
| 3 | 0 | 31.6 |
| 4 | 0 | 28.7 |
| 5 | 25 (different level) | 24.2 |
| 6 | 17.5 | 27.5 |
| 7 | 25 (different level) | 23.7 |
| 8 | 15 | 27.5 |
| 9 | 10 | 27.7 |
| 10 | 0 | 36.6 |
| 11 | 2.5 | 31 |
| 12 | 2.5 | 32.6 |
| 13 | 0 | 32.2 |
| 14 | 7.5 | 28.0 |
| 15 | 2.5 | 25.8 |
| 16 | 0 | 36.5 |
| 17 | 0 | 29.8 |
| 18 | 10 | n/a |
| 19 | 9 | 24.1 |
The ultrasound-measured epidural space depths E (Figure 4), with and without contact pressure, were compared in 17 of the 19 subjects. These measurements were not obtained from two of the subjects due to time constraints in the preparation room. The average difference was 2.8 (SD 1.1) mm, and the 95% limits of agreement were 0.4 mm to 5.2 mm according to Bland-Altman analysis.
The measured diagonal distance B (
n
 = 15) is compared with the distance B calculated from the measurement of E in eq. 
3
, and the Bland-Altman plot is shown in Figure 
6
. The bias is 0.8 mm and the 95% limits of agreement are −4.7 mm to 6.4 mm.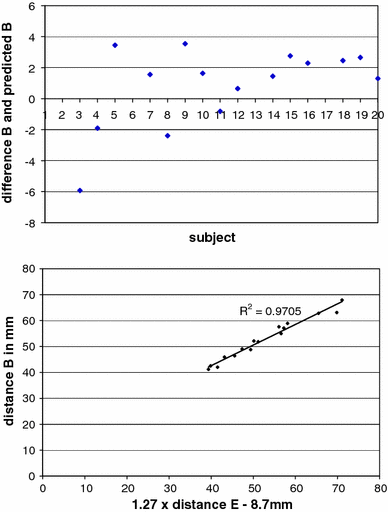 The distance A (n = 13), the distance between the actual insertion point and the mark of the middle of the transducer at the pre-puncture examination (Figure 5), is 34 (SD 6) mm on average, with the values ranging from 25 mm to 45 mm. The actual measurement of this distance (Figure 2) from the middle of the transducer to the tip of the needle guide is 35 mm, which agrees closely with the average of 34 mm.
Discussion
This study demonstrates that a single-operator aim-and-insert real-time ultrasound-guided lumbar paramedian epidural technique is feasible, with success achieved in 18 of the 19 subjects. The one failure occurred within the first ten trials, whereas the latter cases were viewed as being considerably smoother and faster, as the operator (anesthesiologist) became increasingly familiar with the technique. We chose loss-of-resistance as the endpoint, similar to previous studies on ultrasound guidance. We used the presence of CSF or insertion of the catheter as additional evidence that the needle reached its target, but, admittedly, these are not perfect measures of successful placement. Our rates of absence of CSF in subjects where loss-of-resistance was felt (4/18) were comparable with previous studies, with the added difficulty of performing the needle-through-needle technique in the paramedian plane.14 In previous studies, CSEs using a Tuohy epidural needle were noted as having similar rates of failure, i.e., 16%,15 25%,16 and 18%10 rates of absence of CSF aspirations were reported.
By using a fixed guided needle instead of a free-hand technique, the described technique has the advantage of being performed by a single operator. The fixed needle guide allows the needle to be held in the plane of the ultrasound image and allows the operator to release her/his grip on the needle momentarily without losing its alignment in the plane. Conversely, the free-hand technique requires more operator expertise to see the needle tip in the ultrasound image.17
In our study, identification of the interspace level by palpation rather than by ultrasound differed in only two of the 19 subjects. However, since previous studies3 have suggested that palpation misidentifies the actual space in 58% of the cases, it is recommended that ultrasound guidance continue being used.3
In our study, the curved shape of the transducer and the size of footprint presented three practical problems. First, with the subject sitting flexed forward, a better image was obtained by pressing the transducer onto the skin surface rather than resting it lightly. This aspect caused a difference in depth to the epidural space of approximately 2.8 mm. A less curved transducer shape with better skin contact enabling light pressure should reduce this practical error.
Second, our projected needle tract was substantially longer than the more direct midline trajectory used in the blind technique, as suggested by the 27% longer distance B than distance E in equation. 3. Our measured skin-to-epidural space distance was 88-111 mm, requiring the use of a long 125 mm New Gertie Marx® CSE-Set epidural needle. Future developments will require a transducer with a smaller footprint to reduce the track distance through the subject's tissues.
Third, distance A, the vertical distance between the mark made from the centre of the transducer face during the pre-puncture scan and the actual puncture site, (Figure 3) is 34 mm on average, ranging from 25-45 mm. The magnitude of this distance is important because the puncture site is 35 mm below the desired intervertebral space. This situation necessitates the choice of L2-3 instead of L3-4 to avoid contact with the pelvic bones, and it is entirely due to the limitation of the size of the transducer held parallel to the midline for real-time scanning.
Also, the variability of distance A shows that the pre-puncture ultrasound is useful, but, ultimately, only real-time guidance can ensure the best site and angles, as the transducer position found in the surgical preparation room differs slightly (up to 10 mm) from the position found in the operating room. We believe the pre-puncture ultrasound gives the anesthesiologist time to mark the approximate location of the transducer and to become familiarized, thus saving time in the operating room.
The current protocol requires extra equipment (125 mm CSE set, probe cover, biopsy needle guide, biopsy bracket, ultrasound machine, and curvilinear transducer), additional work for the nurse and the anesthesiologist (the ultrasound transducer must be covered by the sterile cover, and the sterile biopsy guide must be attached prior to the procedure), and extra time for the pre-puncture orientation and skin marking. The extra time may be mitigated by a reduction in the number of needle insertion attempts. Also, as the injection of saline into the subcutaneous tissues obscures the image, the anesthesiologist should minimize the amount of saline injected prior to the needle approaching the ligamentum flavum.
In conclusion, in 18 of the 19 subjects (including obese and overweight subjects), a real-time aim-and-insert ultrasound-guided epidural needle insertion was successfully performed by a single operator. This technique involved a systematic approach for both a pre-puncture scan and ultrasound guidance during needle insertion. Several limitations were also described, mostly related to the needle guide geometry. Current efforts are now underway to design a specialized transducer and needle guide that will improve the clinical practicality of a real-time aim-and-insert ultrasound-guided epidural needle insertion technique.
Notes
Acknowledgements
This work was supported by a Collaborative Health Research Project jointly funded by the Canadian Institutes for Health Research and the Natural Sciences and Engineering Research Council. The artistic renderings were drawn by Vicky Earle at the Media Graphics Group of the University of British Columbia. We sincerely thank Jessica Tyler for her guidance related to the design and execution of the study.
Conflicts of interest
None declared.
Supplementary material
Supplementary material 1 (AVI 14560 kb)
Copyright information
© Canadian Anesthesiologists' Society 2009