Obstetric hemorrhage during an exit procedure for severe fetal airway obstruction
Abstract
Purpose
To report a case of massive obstetric hemorrhage occurring during Cesarean delivery for an ex utero intrapartum treatment (EXIT) procedure. Methods to optimize the anesthetic, obstetric, and perinatal management are discussed.
Clinical features
A healthy parturient underwent an urgent EXIT procedure at 32 weeks gestation for a giant fetal neck mass. During the intraoperative period, severe intraoperative hemorrhage occurred from the site of the uterine incision. No evidence of placental bleeding, premature placental separation, or inadequate uterine relaxation was observed during the perioperative period. Placement of a uterine stapling device was unsuccessful in achieving adequate surgical hemostasis. Initial attempts with laryngoscopy and rigid bronchoscopy to secure the fetal airway on placental support were unsuccessful, and early termination of placental support was deemed necessary due to the severity of maternal blood loss. After full delivery of the neonate and termination of placental support, neonatal ventilation with bag-mask ventilation was achieved and successful endotracheal intubation occurred during repeat bronchoscopy.
Conclusions
The risk of obstetric hemorrhage due to uterine relaxation and inadequate surgical hemostasis in patients undergoing EXIT procedures is poorly reported. To reduce adverse maternal and neonatal outcomes, the premature termination of placental support during EXIT procedures may be required in the setting of severe obstetric hemorrhage.
Keywords
Fresh Freeze Plasma 
Obstetric Hemorrhage 
Uterine Incision 
Uterine Tone 
Exit Procedure 
These keywords were added by machine and not by the authors. This process is experimental and the keywords may be updated as the learning algorithm improves.
Hémorragie obstétricale pendant une procédure de traitement ex utero intrapartum en raison d'une obstruction grave des voies respiratoires du fœtus
Résumé
Objectif
Nous rapportons un cas d'hémorragie obstétricale massive survenue pendant un accouchement par césarienne pour une procédure de traitement ex utero intrapartum (EXIT). Nous discutons des méthodes pour optimiser la prise en charge anesthésique, obstétricale et périnatale.
Éléments cliniques
Une parturiente en bonne santé a subi une procédure EXIT d'urgence à 32 semaines de grossesse en raison d'une masse géante sur le cou du fœtus. Pendant la période peropératoire, une hémorragie peropératoire grave est survenue au site de l'incision chirurgicale. Aucune évidence de saignement placentaire, de séparation prématurée du placenta ou de relaxation inadéquate de l'utérus n'a été observée pendant la période périopératoire. Le placement d'un dispositif d'agrafage utérin n'a pas permis d'obtenir une hémostase chirurgicale appropriée. Les premières tentatives de prise en charge des voies aériennes du fœtus avec soutien placentaire par laryngoscopie ou bronchoscopie rigide n'ont pas réussi, et il a fallu interrompre le soutien placentaire de façon précoce en raison de la gravité des pertes sanguines maternelles. Après l'accouchement du nouveau-né et l'interruption du soutien placentaire, la ventilation néonatale à l'aide d'un masque a réussi tout comme l'intubation endotrachéale lors d'une seconde bronchoscopie.
Conclusion
Le risque d'hémorragie obstétricale en raison de la relaxation utérine ou une hémostase chirurgicale insuffisante chez les patientes subissant une procédure EXIT sont peu documentés. Afin de réduire les conséquences néfastes pour la mère et l'enfant, l'interruption prématurée du soutien placentaire pendant une procédure EXIT peut s'avérer nécessaire dans un contexte d'hémorragie obstétricale grave.
The ex utero intrapartum treatment (EXIT) procedure is a specialized surgical technique for managing anatomic fetal airway obstruction and is normally performed in conjunction with elective Cesarean delivery.1 Fetal oxygenation is preserved by the utero-placental circulation, which can offer sufficient time to achieve surgical access to the fetal airway by intubation, tracheostomy, or resection. The maintenance of uterine relaxation (by inhalational anesthesia and/or tocolysis) and surgical hemostasis are critical to the success of the procedure. However, obstetric hemorrhage during the period of placental support may lead to increased maternal and perinatal morbidity and mortality; thus, it has important ramifications for the anesthetic, surgical, and perinatal management. The following case includes details of the obstetric and pediatric anesthesia management of massive intraoperative obstetric hemorrhage during an EXIT procedure for severe fetal upper airway obstruction due to a giant cervical teratoma. Patient consent was obtained for publication of this case report, which was in accordance with local institutional guidelines.
Case description
A 34-year-old healthy female patient (160 cm, 75 kg), gravida 5, para 2, presented to our institution at 31 weeks with polyhydramnios and a fetal cervical teratoma that was diagnosed at 28 weeks by abdominal ultrasound. An ultrasound (USS) guided amnioreduction was performed, and a subsequent fetal magnetic resonance imaging scan revealed an encapsulated cervical mass measuring 9 cm × 6 cm × 7 cm with both cystic and solid components arising from the right anterolateral region of the fetal neck (Fig. 
1
). The fetal airway was reported as being patent with a leftward shift with the neck slightly hyperextended. In order to prospectively manage the infant airway, an EXIT procedure was scheduled at 37 weeks gestation. A multidisciplinary team approach, which incorporated obstetricians, obstetric and pediatric anesthesiologists, pediatric surgeons, and otolaryngologists, was planned for the EXIT procedure.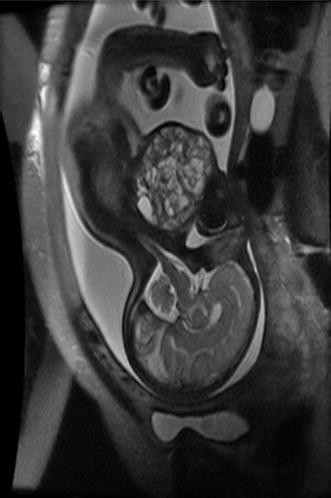 Following admission, a repeat USS reported the placental position as posterior and fundal. Seven days after admission, preterm labour spontaneously commenced, and the patient received tocolysis with oral nifedipine (20 mg every 4 hr) and subcutaneous terbutaline 0.25 mg. However, tocolytic therapy proved unsuccessful, and the EXIT procedure was expedited in order to optimize neonatal outcome. All members of the multi-disciplinary team were in attendance prior to commencing surgery.
Wide bore intravenous access was established and four units of packed cells were ordered before surgery. Metoclopramide 10 mg and ranitidine 50 mg were administered intravenously, and sodium citrate 30 mL was administered orally. The patient was positioned with left lateral tilt on the operating room table; standard anesthetic monitoring was attached and a 20 G radial arterial line was inserted. The patient was pre-oxygenated, and anesthesia was induced by a rapid sequence induction technique (propofol 180 mg, succinylcholine 100 mg, fentanyl 100 μg
iv
) with cricoid pressure. A 7.0 mm endotracheal tube (ETT) was placed. Sevoflurane (1.5–2%) was administered with 50% oxygen and 50% nitrous oxide, and muscle relaxation was maintained with intermittent boluses of vecuronium. Prior to uterine incision, the fractional inspired oxygen (FiO
2
) was increased to 100%, and the inspired sevoflurane concentration was increased to 2.5%. To optimize uterine relaxation, intravenous nitroglycerin 200 μg was administered prior to hysterotomy. The surgical team manually assessed uterine tone at regular intervals perioperatively, and uterine relaxation was deemed adequate at each assessment. Following the initial uterine incision, severe bleeding was observed from uterine venous sinuses. A uterine stapling device (Endo-GIA stapler, U.S. Surgical Corporation, Norwalk, CT, USA) was placed through the uterine incision and extended laterally in a V-shape to avoid the uterine arteries. However, the surgical team had difficulty applying the stapling device to the edges of the uterine incision, and severe surgical bleeding from the uterine incision site was observed (estimated blood loss [EBL] 1600 mL within 15 min). Fluid resuscitation was instituted (maternal blood pressure 100/60, heart rate [HR] 105 beats · min
−1
, and oxygen saturation [SpO
2
] 97%) with phenylephrine boluses (100 μg per bolus dose) to treat maternal hypotension. (Summary information of maternal hemodynamics during the intraoperative period is shown in Fig. 
2
.) The surgical team confirmed that the placental attachment was posterior and fundal, and no premature placental separation was observed. Running sutures were applied along the uterine incision with the aim of improving hemostasis prior to partial delivery of the fetus.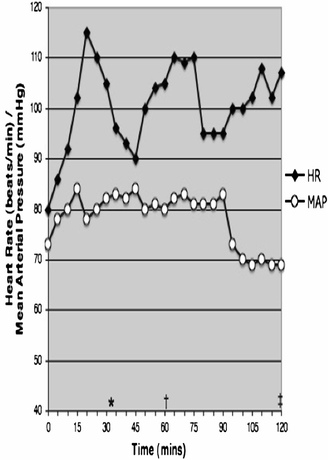 The head and shoulders of the fetus were delivered, and early attempts by the pediatric surgical team to visualize the laryngeal inlet with direct laryngoscopy and rigid bronchoscopy proved unsuccessful, as no recognizable landmarks were seen. In addition, severe maternal bleeding continued to occur at the site of uterine incision (additional 1000 mL of blood loss). Due to maternal hemodynamic compromise, fetal cyanosis and bradycardia (HR 60) were observed and treated with intramuscular atropine 100 μg. The right arm was subsequently delivered, and a sterile pulse oximeter was attached to the hand of the fetus (initial fetal SpO2 72%; HR 135). To optimize intubating conditions, intramuscular rocuronium 2 mg was administered to the fetus prior to further airway instrumentation. The surgical team was able to provide adequate bag-mask ventilation by manually lifting the neck mass off the trachea. Bilateral breath sounds were confirmed on auscultation with a sterile stethoscope, and the fetal SpO2 subsequently increased to 100%.
A Level 1 infuser was used to administer intravenous fluids, packed red blood cells (PRBC), and fresh frozen plasma (FFP) to the mother. Following an estimated 2000 mL blood loss and three units PRBC, the initial laboratory studies from the mother showed hemoglobin (Hb), 8.8 g · dL−1; platelet count, 220 × 109 L−1; partial thromboplastin time (PTT), 31.5 sec; international normalized ratio (INR), 1.3. In the face of obstetric hemorrhage with secondary effects of impaired utero-placental perfusion, the surgical (obstetric, pediatric) and anesthesia teams agreed that premature termination of placental support and neonatal delivery was necessary. The surgical team proceeded to full neonatal delivery (29 min after uterine incision). The neonate was transferred to an open warmer, and the surgical team attempted a tracheostomy, which proved unsuccessful due to the distorted surface anatomy (the trachea was assessed as being behind the carotid artery). Bag-mask ventilation was maintained, and the surgical team subsequently attempted bronchoscopy (with a 2.5 mm rigid bronchoscope). During bronchoscopy the pediatric surgical team observed "a slit" on the left side of the pharynx, which vaguely resembled the vocal cords. The bronchoscope was removed and laryngoscopy was reattempted resulting in a successful intubation with a styletted size 2.0 ETT (with a Miller size 0 laryngoscope). Intubation was achieved approximately 49 min following full neonatal delivery (termination of placental support). The fetal SpO2 was maintained between 85% and 100% during the period of airway instrumentation, and the size 2.0 ETT was changed for a size 2.5 ETT under direct laryngoscopy. Bilateral chest tubes were also placed, as there was major concern of pneumothoraces following neck dissection. Needle decompression of the stomach was also performed following intubation. Following intubation, umbilical artery gas analysis was as follows: pH, 6.8; partial pressure of oxygen (pO2), 151 mmHg; partial pressure of carbon dioxide (pCO2), 63 mmHg; bicarbonate, 22 mmol · L−1; base excess, 11 mmol · L−1. The infant was transferred to the neonatal intensive care unit (NICU).
Following delivery, the mother was administered an infusion of oxytocin (30 units in 1000 mL lactated Ringer's solution) intravenously to increase uterine tone, in accordance with our standard practice. The inspired sevoflurane concentration was reduced to 0.5%, and the nitrous oxide concentration was increased (FiO2 = 0.35); fentanyl 250 μg was also administered intravenously. The uterine tone improved within 2 min of oxytocin administration, and surgical hemostasis was achieved for the duration of the surgical period. Following delivery, no additional transfusions of packed red cells or blood products were given prior to the end of surgery; a further phenylephrine 100 μg was administered to treat hypotension prior to the end of surgery.
The mother received a total of 4000 mL of crystalloid, 1000 mL of colloid, 7 units of PRBC, 2 units of FFP, 1 unit of platelets, and 1800 μg phenylephrine in the operating room, with a total EBL of 4000 mL. The patient was then transferred to the intensive care unit (ICU), intubated, and sedated with propofol (100 μg · kg−1 · min−1). On admission to the ICU, the laboratory results were as follows: Hb, 11.3 g · dL−1; platelet count, 211 × 109 L−1; INR, 1.2; PTT, 31.5 sec. The patient was successfully extubated on post-operative day one and was discharged home five days later with no complications.
The infant was stabilized in the NICU and had total surgical excision of the tumour five days post-delivery. The surgery was complicated by unilateral vocal cord paralysis and an elevated hemidiaphragm, which resolved in the post-operative period. The infant was successfully extubated one week after tumour resection and was discharged one month later with no evidence of significant neurologic impairment.
Discussion
In our case, the anesthetic and surgical teams were faced with a difficult decision in terms of deciding the benefits vs the risks (for mother and fetus) of continuing with the EXIT procedure during severe obstetric hemorrhage prior to securing the fetal airway. Although maternal hemodynamic stability and adequate uterine tone were achieved following termination of placental support, the management of the neonatal airway became substantially more challenging.
Maintaining maternal hemodynamic stability and hemostasis are key components of the anesthetic and surgical management during EXIT procedures, and a surgical stapling device can be used to place absorbable sutures on the edges of the uterine incision to improve hemostasis.2,3 In our case, the maintenance of adequate uteroplacental perfusion with uterine relaxation was difficult due to early obstetric hemorrhage from the hysterotomy incision and failure of the stapling device to provide adequate hemostasis. Early attempts to maintain maternal hemodynamic stability and ongoing placental support with pressor agents (phenylephrine), intravenous fluid, and transfusion management proved particularly challenging. Close communication between the surgical and anesthesia teams was necessary to attempt to maintain placental support after the initial presentation of obstetric hemorrhage. Although the surgical team requested additional time to obtain surgical hemostasis, the period of placental support was altered due to the severity of bleeding at the site of the uterine incision. The termination of the EXIT procedure was felt to be appropriate in the interests of reducing maternal morbidity (secondary to obstetric hemorrhage, anemia, and hypoperfusion) and fetal morbidity (from impaired uteroplacental blood flow).
It is likely that the unanticipated technical difficulty in applying the stapling device resulted in inadequate hemostasis and subsequent bleeding at the site of the uterine incision.4 Although a prenatal ultrasound was performed prior to the EXIT procedure to identify the placental position, intraoperative placental mapping has also been recommended in order to ensure that the planned uterine incision does not overlie the placenta.5 In addition, previous reports have recommended intraoperative crystalloid infusion into the uterine cavity to prevent premature placental separation.6, 7, 8 Based on the pre-operative USS findings for our case, the surgical team was confident that there was no risk of placental trauma related to the primary uterine incision, and, therefore, they felt that intraoperative placental mapping was not indicated. The surgical team also reported that uterine relaxation was adequate and that no evidence of placental separation was apparent during the period of placental support.
A previous retrospective study has reported that EXIT procedures were associated with higher EBL values than routine Cesarean deliveries (1104 mL vs 883 mL respectively); however, no significant differences in postpartum hematocrit changes were reported between groups.9 Significant maternal blood loss (>2000 mL) has been previously described in several cases undergoing EXIT procedures, with no significant intraoperative adverse sequelae reported.1,5,10 However, management strategies for dealing with severe unexpected obstetric hemorrhage during EXIT procedures are not well described.
Increased maternal intraoperative blood loss is anticipated during EXIT procedures conducted under general anesthesia, due to the high inspired concentration of volatile agents which result in uterine relaxation. The use of high concentrations of volatile agents (approximately 2.0 MAC) prior to uterine incision has been previously advocated to promote adequate uterine relaxation during EXIT procedures.2,11,12 However, the successful use of lower concentrations of volatile anesthetics has also been reported in achieving adequate uterine relaxation (based on intraoperative surgical assessment).6,8,13,14 In our case, the inspired concentration of sevoflurane was titrated before hysterotomy to achieve an adequate degree of uterine relaxation. Nitroglycerin was also used to optimize uterine relaxation prior to hysterotomy. The challenge faced by the anesthesia team in this case related to the viability of maintaining placental support using high inspired sevoflurane concentrations in the face of significant obstetric hemorrhage. Nitroglycerin infusions with variable-concentration volatile anesthesia have been successfully used for achieving adequate uterine relaxation,10,15 and we acknowledge that this technique may have provided more titratability in maintaining maternal hemodynamic stability. The use of a regional anesthetic technique in combination with intravenous nitroglycerin has also been described for patients undergoing EXIT procedures.16, 17, 18 However, there is currently no data to substantiate whether the use of regional anesthesia with nitroglycerin is associated with decreased blood loss compared to general anesthesia ± nitroglycerin for EXIT procedures. In addition, there is no consensus regarding the decision-making for terminating placental support in the event of a delay in securing the fetal airway during ongoing maternal blood loss.
Delays in securing the fetal airway due to giant fetal neck masses increase the risk of fetal hypoxia, acidosis, and ultimately anoxic brain injury. In our case, the involvement of an experienced multidisciplinary team (including pediatric anesthesiologists and otolaryngologists) was essential for airway management, especially following termination of the EXIT procedure. Various techniques have been advocated in securing the airway during an EXIT procedure (including laryngoscopy, bronchoscopy, and tracheostomy), and several authors have produced guidelines for the surgical management of giant fetal neck masses.19,20 However, contingency plans for airway management may be necessary if termination of placental support is required, and the plans should be individualized on a case by case basis by the surgical and pediatric teams. In our case, after previous unsuccessful attempts at fetal airway instrumentation, bag-mask ventilation of the neonate was vital in maintaining adequate ventilation after the EXIT procedure. The high base excess (11 mmol · L−1) and low pH (6.8) recorded from the umbilical artery post-intubation may reflect prolonged anerobic metabolism associated with the time taken to secure airway access. A laryngeal mask airway may have been a viable alternative; however, the distorted oropharyngeal anatomy in our case may have prevented adequate placement.
There are currently no recommendations or threshold criteria regarding terminating placental support during an EXIT procedure prior to surgical access of the fetal airway. However, the physicians involved in this case were aware of the implications of obstetric hemorrhage on maternal and fetal outcomes prior to surgery, and the patient was fully counselled prior to surgery by the obstetric and neonatal teams regarding the potentially adverse neonatal outcomes. The timing of the termination of placental support was agreed to by senior members of the surgical and anesthetic teams based on the concern of impaired uteroplacental perfusion in the setting of obstetric hemorrhage.
The ethical dilemma of compromising maternal safety to improve fetal-neonatal outcome almost certainly affects decision-making in this setting. The viability of the fetus is dependent on airway access; however, it is uncertain whether persistent fetal resuscitation "on placental support" is justified if there is a high risk of severe maternal morbidity or mortality. Ethical issues and concerns in pediatric-based fetal care have recently been highlighted,21,22 and better understanding of the maternal-fetal relationship is needed for patients undergoing EXIT procedures in order to improve counseling, standards for informed consent, disclosure of medical options and the timing and extent of maternal-fetal resuscitation.
In conclusion, intraoperative obstetric hemorrhage during the period of placental support can have important implications for the obstetric anesthesia and perinatal management in patients undergoing EXIT procedures. Although previous reports have described successful outcomes following EXIT procedures, maternal and perinatal outcomes may be adversely affected by failure to achieve early hemostatic control following hysterotomy.
Notes
Acknowledgements
The authors wish to acknowledge Dr. U. Chitkara (Department of Maternal-Fetal Medicine, Stanford University School of Medicine) and Dr. A. Messner (Department of Otolaryngology, Stanford University School of Medicine) for their input in manuscript preparation.
Funding
Funding for this case report was provided internally by the Department of Anesthesia, Stanford University School of Medicine, Stanford, California, USA.
Conflicts of interest
None declared.
Copyright information
© Canadian Anesthesiologists' Society 2009