Bifunctional metal–organic frameworks toward photocatalytic CO2 reduction by post-synthetic ligand exchange
Abstract
Photocatalytic reduction of CO2 to useful fuel has been identified as a promising strategy to address the energy and environmental issues. Development of well-defined photocatalysts toward CO2 reduction has attracted increasing interest to gain insight into the reactive mechanism. Herein, by post-synthetic ligand exchange, a bifunctional Re-based metal–organic framework (MOF) was successfully prepared. It not only serves as a photosensitizer but also acts as a catalyst for photochemical reduction of CO2. Furthermore, it is found that a Re-based MOF containing 30% Re-based ligands displays improved activity compared to MOF with 100% Re-based ligands. This work provides clues to the design and synthesis of bifunctional MOFs toward photocatalytic CO2 reduction.
Graphical abstract
A bifunctional UiO-67-Re was developed as a photocatalyst for CO
2
reduction by post-synthetic ligand exchange strategy. Its synthesis and photocatalytic performance were investigated.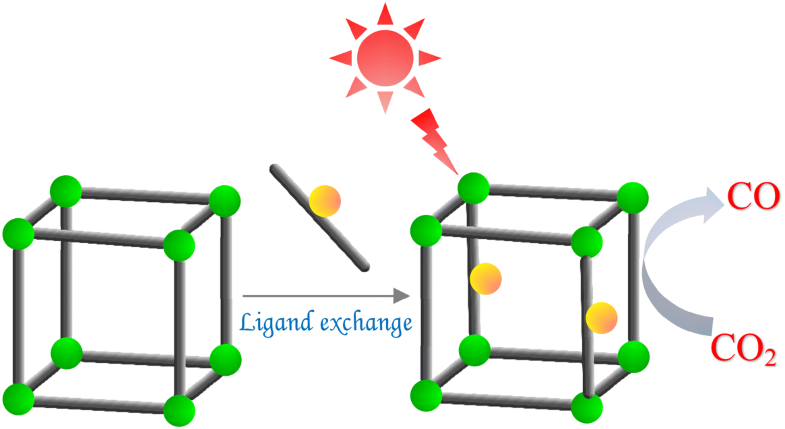 Keywords
Photocatalysis 
Metal–organic framework (MOF) 
CO2 reduction 
Post-synthesis 
Notes
Acknowledgements
This work was financially supported by the National Natural Science Foundation of China (Nos.21773242 and 51772291).
Copyright information
© The Nonferrous Metals Society of China and Springer-Verlag GmbH Germany, part of Springer Nature 2019